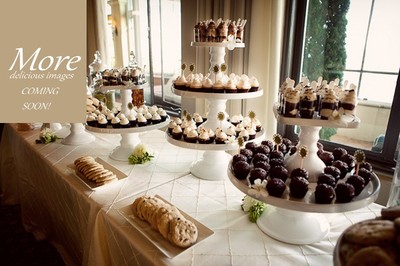 How to create a beautiful and affordable Dessert Table for any occasion!
Creating a Dessert Table for your upcoming event is easy, fun, and the new party trend. Desserts are now more colorful and creative and should be chosen based on your guests. Consider the age of your guests before choosing from the list of goodies. Children prefer a different group of sweet treats than a sophisticated group of 30 year olds, or the appreciative taste buds of their parents. Other dietary considerations like Diabetic or Low Calorie Desserts should also be considered for your adult party as well.
With a trendy Dessert Table you can satisfy all of your guests with a variety of selections and portions. Most likely your Dessert Table will be set up at the start of the party and will remain throughout. Ideally, you don't want to spend your evening replenishing the table or saving your Grandmother's table cloth from melting Ice Cream. So think about how you plan to spend your time with your guests - as the Hostess with the Mostess, or feeling like a waiter at your own party.
Now to the delicious part.
How many servings will you need? 2 servings is an average for guests. Probably because guests like to take home desserts they enjoy. So, if you're planning a small dinner party of 6 (including yourself) you may want to have 9 to 12 servings on hand.
Choose desserts that you think your guests would choose. If you know that a guests are watching calories or Diabetic, choose something they can enjoy also. Again, children enjoy fun desserts like Cookies, Cake Pops, Cake Push Ups, Brownies, and Caramel Apples. Your 20-30 year old crowd is most likely to try new and unique desserts because they are appealing. Trendy, stylish, unique desserts like Mini Cheesecake Squares, Cupcakes, and Cake Balls should go over well here. Actually, you can get away with just about anything on the Dessert Table with this group. Their parents however, will most likely stick to what they know and like.This groups is more likely to recognize and appreciate a Hummingbird Cake, Pies, Coffee Cake, or Puddin's and Cobbers.
Add some pizzazz! Chocolates can be tinted to any color to match your party theme, Puddin's and Cobblers can be served in Martini Glasses, while Cupcakes and Cakes can be decorated will all kinds of colorful, decorative edibles.
Display for easy access. Serving trays, Cake Plates, Apothecary Jars and Bowls are just of the few items you can use on your Dessert Table.
Don't forget the essentials. Cake Cutters, napkins, dessert plates, and utensils should be included on your table as well.
Decorate to impress. Adding banners, cupcake picks and wrappers will bring the color theme together to give a polished look to your Dessert Table.
Enjoy!