This guide explains three ways to make sure you get great cowboy boots on eBay. Covered topics include: how to get a good fit, how to tell a good seller from one to avoid and basic information about cowboy boots in general.
Note: if you find this page helpful please go to the bottom of the page and click "yes." If you have suggestion to help us improve this guide please contact us at About Mark-n-Tina. Thanks!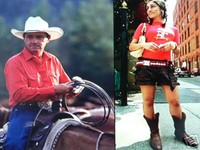 Cowboy boots are becoming more and more popular these days and as a result many people are buying their first pair. Cowboy boots may be following in the fashionable footsteps of denim jeans. Just like cowboy boots, jeans were first worn by tough, hardworking, trail-riding folks who lived and labored in the great outdoors. With time however, they became ubiquitous worldwide and now are as prevalent in Paris, France as they are in Paris, Wyoming! Cowboy boots too are beginning to be worn by people and in places you wouldn't imagine. We've sold boots around the world - to places like England, France, Sweden, New Zealand, Japan, Denmark, Germany and even New York City!!!
More and more people are catching on to what many have known for a long time; there is a unique and simple pleasure in wearing just the right pair of cowboy boots. Ruth La Ferla, a fashion reporter for the New York Times, reported (July 28, 2005 - "Having A Moment; Girls in Boots: Attitude On the Hoof") that sales of cowboy boots have skyrocketed. She attributes the trend as reflective of the unique style, comfort and confidence people find in these great boots.
Whether you love cowboy boots because they evoke a certain nostalgic aura of a time gone by or because they express a set of values and a philosophy of life you identify with... or because some pop star has started wearing them lately... eBay is a great place to buy boots. We hope this guide helps you find just the right pair for you.
Here on Ebay, you can save literally hundreds of dollars over retail price on fine western footwear. More and more people are finding eBay their first place to shop for boots. Even Jessica Simpson purchases boots here and the pair she wears in the video "These Boots Were Made for Walking" were an eBay find! (Smart girl!) Pictured below are the actual pair of boots...
If you are among the men and women who are just learning to appreciate this traditional indulgence of southern and western gentry, what do you need to know to make your first purchase successful? Below are some tips that we hope will get you started. We think of them as Three Simple Rules for Boot Buying.
DISCLAIMER: The boots pictured to the right of this guide are randomly put there by eBay and we cannot vouch for them . Just so's you know. :-)
RULE 1 - KNOW BOOTS
There are five basic areas you should become familiar with - brand, style, age, leather, and soles. Our space is limited so we will touch on them briefly.
Maker. Knowing the brand of a pair of boots can tell you a lot about them. Two kind of boots exist - those made in the USA and those made elsewhere. There are excellent boot makers from Mexico, Spain & Italy - and we sell and own boots from there. Nevertheless, boots from the USA carry more value in general. In the USA there are four levels of boot makers.
First, there are FAKE BOOTS. These really aren't cowboy boots at all but merely imposters. They have machine stitched soles that are made of manmade composites. Shafts (the part that goes up your leg) may be made of vinyl or plastic material as well. These materials will wear uncomfortably and not breath causing extreme discomfort - Let's not waste time here.
Second, there are BIG NAME boot makers who produce large numbers of boots that are sold nationwide from a variety of outlets. These boots are made by folks at companies such as Justin, Tony Lama, Larry Mahan, Olathe, Dan Post & Nocona and represent nice quality for reasonable prices.
Lucchese boots span the second and third tier of boots which are EXCLUSIVE NAME bootmakers. Firmly ensconced in this level are craftsmen at Ammons, ML Leddy, TO Stanley, Stallion and J.B. Hill boots. These makers deal in small quantities done to the highest standards. Be ready to lay out some money though (even on eBay) because boots from artisans like this are relatively rare and greatly desired.
Finally, there are NO NAME boots made by individuals who produce custom made boots. These boots sometimes bear no label but can be as fine as any you will encounter - or not. Quality depends on the individual craftsman.
Style. What style you wear depends on your personal taste however, the style of the boot impacts fit dramatically. Learn about different style toes, heels and so forth and if possible experiment with as many different styles at your local boot shop to decide which suits you best. The photo below illustrates the different shaped toes, leathers and style as well as the variance in cost. The boot on the right was made by J.B. Hill of anteater and probably retailed for over $5,000 USD. The stitching on the shafts features bead work as well as thread. Next to it are a pair of Lucchese Classic ropers made of smooth ostrich with a toe that is much more round than the Hill boots. Next to them is a pair of Justin lizard boots with a toe that falls between the two. Far left is a great pair of Nocona black alligator boots.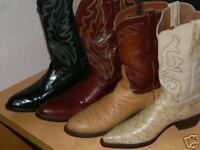 Age. All things being equal, the older the boot the more desirable. Why? First, many collectors note a general decline in boot quality over the past couple decades or so. Second, some banned exotic cowboy boots are legal to buy and own if manufactured before the ban was in place. Third, vintage boots are unique and offer owners a distinctive look that can't be matched by a pair just out of the box. One thing to be aware of of however is the importance of buying boots that have been maintained and maintaining them after you own them. (see next.)
Leather. Knowing how to care for your leather boots will extend their looks and their life by years if not decades. Buying boots that have not been maintained will result in almost certain disappointment. Cowboy boots come in a host of leathers (as seen in the photo above), from regular cowhide to ultra-exotic leathers such as frog or anteater. Each hide has it's own characteristics which affect look, durability and fit.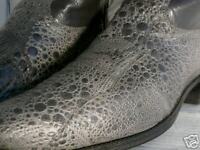 These boots are made of Frog Hide.
Soles. A reputable & knowledgable boot seller will always include a photo of the soles because they tell you a lot about a pair of boots. Good traditional cowboy boots will always have rolled and pegged leather soles.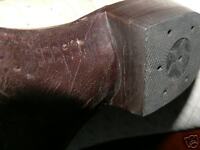 The boots above are an example of excellent rolled and hand pegged soles. Notice the neat double row of pegs. Generally the more wooden pegs in the soles - and the more neatly they are installed - the better the boot. Half-soles or resoled boots are better than boots with thin soles but not as good as original soled boots in good shape. Heel plates that are original and in good condition usually indicate a pair that has not been worn much.
RULE 2 - KNOW YOUR FOOT
Herein is the single biggest challenge to buying boots online. Don't assume you can just buy a pair of cowboy boots the same size as your shoes and be assured of a good fit. As mentioned above, there are a host of variables that affect fit. The style of the boot, what leather it is fashioned from, the style of the toe & heel and the particular brand of the boot all impact fit. Here are some tips to help you achieve a good fit.
1. If possible visit a boot shop and try on a variety of boots. Take a notebook and write down the make of the boot, the type of leather it is made of, the toe shape (they are coded), what kind of heel and what style. Which brands feel best on your foot? Are there any that just don't feel right? Keeping notes is a must because of all the variable and they will become invaluable to you when you are looking at boots online.
Note: 1.) As a courtest to the boot store and to ensure you get the help you need, consider going at a time when business is slow. 2.) Choose your sales help carefully. Not all sales people know boots. Spend some time chatting to gauge expertise. 3.) Once you find a knowledgable and helpful sales clerk consider telling them what you are doing and offer them a $10 - $20 tip, which will cover their lunch that day. Ethically it is a little dicy to take advantage of a clerks time and attention without letting them know what you are doing up front and offering them compensation. You'll be surprised how many will refuse your offer of a tip and help you with a willing heart. Either way, fair is fair, and they will appreciate your honesty.
2. When in doubt go large! If boots are too large there are some things you can do to take up some extra room. For instance, just dropping in an insole can add both comfort and reduce the boots by a full size. Even wearing a pair of thicker socks can help out. But if you get them too small be prepared to resell them on ebay. You might have them stretched (many boot cobblers will do this for about $5) but you run the risk of weakening or damaging the leather. Boots made of tiled leathers such as lizard or alligator are especially vulnerable to stress tears in the membrane which connects the tiles and thus should never be stretched. So... when in doubt go large!
3. Calculate for brand differences. Tony Lama boots tend to run a tad narrow so if you take a D width normally you may want to go with an "E" wide in Tony Lama boots. Justin boots (which I love) tend to have an arch that hurts my relatively flat feet. Lucchese fit me like a glove. The bottom line is you should get a feel for how boot brands tend to fit your particular foot. The best way to do this is visit a boot store (see tip #1!). Based on our experience Dan Post and Lucchese boots run about average, while Justin and Nocona are a little more generous and are the most likely boots to run according to your shoe size. Olathe boots also fit more generously and many swear by the sizing of Larry Mahan boots. (Again these are personal observations, sure to provoke disagreement among some boot aficiandos, which is all part of the fun!)
4. Realize you are responsible for fit. This makes these tips valuable as they can help you avoid disappointment. Remember: a seller can tell you what size is stamped in a pair of boots and provide you with outside measurements - but they can't tell you if they will fit.
5. Be prepared to resell. Even when you have done all your homework sometimes you will still get a pair of boots that just don't feel right. Happens to the best of us. A great solution is to relist them on eBay. Often you can get your money back out of them or even make a little.
RULE 3 - KNOW YOUR SELLER
Six things to look for in a good boot seller: clear photos and lots of them, knowledge of boots, clear statements about return policy, delighted feedback, responsiveness to questions and shipping/handling fees-n-policies.
1. Clear Photos. One of the most important services a seller can provide for you are clear and plentiful photos. This costs sellers money so you can appreciate a seller who offers you lots of looks at the boots you are considering. One or two photos don't give you the information you need to place a knowledgable bid. Photos need to be clear, well lighted and provide both close ups (so you can see the grain and condition of the leather) as well as full shots (so you can judge them as a whole.) Also there should be at least one photo of the soles. (Mark-n-Tina offer many clear photos but also guarantee the parts of our boots we show are representational of what you can't see or you get 100% of your money refunded.)
2. Knowledge of Boots. There is a difference between having an experienced seller tell you a pair of boots are in excellent condition and having a novice report the same thing. Sellers often list boots that have damage they are unaware of because they aren't familiar with common problem areas in pre-owned boots which merit special attention. Even serious issues can escape a casual, untrained eye.
3. Clear Statements. A reputable seller ought to accept FULL responsibility for the accuracy of their photos and auctions. Many offer to refund purchase price for misrepresented boots but leave you holding the bag on shipping costs! Why? We believe a seller ought to be willing to make clear statements about the condition of the boots and/or offer photos that clearly show any issues. Further, if anything is misrepresented you should get ALL your money back INCLUDING SHIPPING COSTS upon verification. Be wary of unclear hedging about the condition of boots. For instance a seller might say, "To me these boots look..." or "As far as I know..." There is no way to contest this type of statement later and can be a sign the seller is getting wiggle room for coming disputes. You don't want to hear, "I said they had some wear!" as an excuse for serious damage or detractors not mentioned or shown in photos.
4. Feedback. (Note: This is helpful for people new to eBay as well as cowboy boots) Just looking at the raw percentage isn't enough. Here are a few tips...
A. With high feedback sellers check recent feedbacks.
B. Keep in mind that people can get undeserved negative feedback - read between the lines so can determine whether they are at fault.
C. It is worth noting the difference between positive feedbacks that are generally subdued (such as "Good Transaction") versus feedback that is DELIGHTED (such as SELLER GOES THE EXTRA MILE!!) . Consistent enthusiasm is a great indicator of a top-notch seller.
D. Many experienced eBayers are reluctant to give negative feedbacks (even when richly deserved) because they don't want to incur retaliatory negatives. When you read auctions take note of the tone that underlies what is written. Is it warm and inviting or paranoid and threatening?
5. Responsiveness. When you are considering placing a bid (sometimes for hundreds of dollars) it is reasonable to ask the seller a question or two. After all, you are contemplating wiring or mailing a sizable amount of cash to a stranger! You should expect a clear, friendly and timely responses. Terse responses (or none at all) are a putoff. Timely, courteous, honest replies offered in full sentences are indicators of attentive sellers.
6. Shipping & Handling. Some sellers augment their profit margins with high handling fees. Others charge low fees but stuff boots inside small parcels which risks damage. Find buyers who charge reasonable rates but also take pride in their packaging. Packing material costs money so it may add a couple bucks but when you are investing in a pair of fine, exotic boots it is well worth it. Additionally, if you live overseas, working with a seller who understands the nuances of your country can help avoid lengthy delays. (For instance, a seller should never use food boxes to ship boots overseas as this can trigger inspections by customs.)
CONCLUSION
Well, there is no way to answer all the questions associated with boot buying but we hope this will help you have a good experience on eBay. There are excellent boot dealers for you to chose from on eBay and we would be pleased to become one of your trusted sources for fine, exotic western footwear. We deal is small quantities of boots (usually about 10 pair a week) so we can give each pair the individual attention they deserve. Our auctions start and end on Monday evenings.
We are thrilled that over seven thousand people have visited this guide. However only a couple hundred have let us know it is helpful because most don't notice they have the option. Would you take a second to click "yes" if this has been helpful? If you see an area we could improve contact us through our About Mark-n-Tina page and let us know your thoughts.
Sincerely,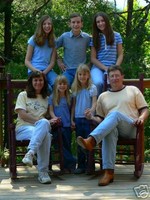 Mark-n-Tina (n-Amanda-n-Heather-n-David-n-Katie-n-Emily!)