Beware of counterfeit perfumes that look identical to genuine items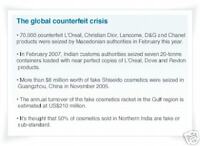 You can NOT always judge a perfume by it's bottle or box. Counterfeit perfumes and colognes from China and other countries are flooding the eBay marketplace or a yard sale near you. They look nearly identical to the originals. Like most good fakes, they are designed to deceive. The current proliferation of fake cosmetics creates a health concern as the ingredients often contain urine and anti-freeze.
I am writing to you from experience. I have bought two bottles of counterfeit Jean Paul Gautlier cologne for men for what I thought was a great deal. One 3.4 ounce bottle was "La Male" and the other was advertised as a brand new scent called "Envu". I bought both from different eBay perfume sellers. Both assured me the colognes were authentic. Both sellers eventually "disappeared" (and perhaps are now selling under a different name?).
Both arrived looking very original. The smell however was not right. It was as if the original had been diluted five times. I want to warn other consumers about what I perceive as a proliferation of counterfeit perfumes.
The advice of "Buyer Beware" has never been more appropriate than for this category. As I started checking feedback using the toolhaus website, I found that other buyers had a similar reaction. I started checking completed auctions and asking what buyers thought of their own purchase. There were mixed reactions and I will never forget one particular response. He said his wife liked the questionable "Envu" scent, but his girlfriend liked it even better! Anyone can buy a fake, but not everyone has the nose to know the difference.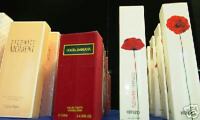 One persistent buyer even contacted the company headquarters and determined there was no such scent offered by the design house! She had left her findings in the feedback, but most people don't take notice of feedback unless it drops below 90%. Always check the feedback of perfume and cologne sellers. Many negatives can hide in a 99% feedback rating. Counterfeit products often look identical to originals. It would be very hard to judge a forgery in this manner, but not impossible. Unless of course, the seller uses a stock photo.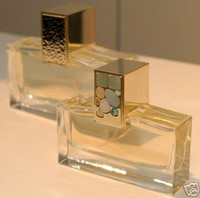 A note on testers and knock offs
Testers are often genuine products that are often over produced and therefore can be bought in bulk from department stores to be resold in a secondary market like eBay. However, both counterfeits that I bought were sold as testers. These are easier to forge as there is no need for boxes, lids or labels. Also, ask the sellers how old their products are. Some may be selling stale and outdated items at a discount.
Knockoffs, replica or designer reproductions should be clearly labeled as such. You have to be careful as many seller's will often include the designer brand in the listing. Some are clever about wording, as this example shows.

Buying scents is all about personal preference. Many designer brands pay heavily for packaging and advertising. It is not impossible to find a pleasing scent containing notes that you like for a cheaper price. Some of the earliest perfumes were made in Egypt in 1000 BC.
What to look for when evaluating a perfume /cologne
Reputable seller-- check seller's feedback, shipping prices, and return policy. How well do they respond to questions? How many of a particular item do they offer?


Price -- Is it too good to be true?

Cellophane packaging -- look at quality, thickness, and clarity. Look for excessive glue or sticky tape.

Box -- look for size, quality, embossing, color, folds, and thickness of both the outer and inner boxes.

Printing -- check for errors and make sure information is complete, including country of origin, size, and logos. Again, quality is key.


Batch number -- make sure the number is present and try googling it to see if it is legitimate.


Bottle -- look for bubbles, thickness, and clarity of glass as well as shape, overall quality, and size.

Cap -- pay attention to molding marks, color, shape, and size.

Sprayer -- Does it work easily? Check length, color, and quality of inner tube.

Labels -- check for quality, embossing, correct information and size.

Bar code -- Does it scan? Is it the correct size and number?

Fragrance -- Is it consistent? Are there objects floating in it or is it murky? Is it too oily? Check for unusual or pungent notes. Check how long it lasts.

Skin reactions -- Notice any itching, redness, or swelling.

I trust you find something useful here. I am a dedicated buyer and I have never sold anything on eBay. I am always interested in improving my guides. Please contact me with additions or corrections. ~Primroy
There are several good guides on this subject. Here is one to check out:
Fakes