Don't get ripped off! Read this before buying an instrument on Ebay! Thousands of super low quality instruments are sold every day on Ebay, all to uneducated buyers.
Read on: Learn to spot these rip-offs!
This information is purely 3rd party. I do not endorse or condemn anyone specifically!

Possible indicators of a shabby instrument:
-Usually made in China (Good instruments are made in America)
Watch out for false indicators of this. The seller may say it is by "Italian Engineering" or say that it has American made pads. The brand name may also sound American or European, but this is fake. Even a name like "USA Philharmonic Co." could be completely Chinese made.
100% American made flutes available at the store Rich Lupo Flutes and Piccolos
-A model year is given
Watch out for "Brand New 2006 Silver Band Trumpet" or something like this. Real musical instruments are not like cars, the model year is not included. Interestingly, you will never find a difference between their 2006 model and their 2007 model. It's all false advertising meant to deceive.
-The listing says "Teacher Approved"
If it says this, you can be quite sure that your teacher will NOT approve of it. This is a slogan that rip off sellers use to give buyers a false sense of security. No teacher that I know would recommend these instruments to anyone, even those who are on a budget.
-The instrument is an unusual color, like blue or purple or gold
Somewhere along the line someone noticed that young children think that a pink flute is cool. The fact of the matter is, students get embarrassed when their instrument looks absurd compared to everyone else's instrument. The lacquer film peels off after a few months as well, leaving you with ugly brown metal underneath.
-The listing says "Bankruptcy Sale" or "80% off retail"
These are usually lies that try to make people think they are getting a good deal. And don't believe the "suggested retail price", this is a joke.
-They claim they are not the cruddy imitations you've heard of
They lie. If they have to tell you that they are not the low quality disposable instruments that you have been warned about, they probably are. Real quality brands have real credentials and don't need to make these claims. Some listings will out and out lie, stating that they are very popular with school bands. Others will say they have been in business for 60 years. All lies, all rip offs.
-They are sold by Power Sellers with good feedback
Good feedback ratings has nothing to do with the quality of the product sold. People who buy these instruments get them in the mail, open the package, say "Oooh, Shiny. . ." and immediately give positive feedback. When the instrument literally falls apart in two months, it is too late to leave negative feedback. And they never answer emails or refund money.
-These instruments are cheap, really cheap.
They are usually sold in Buy it Now auctions for a price that seems too good to be true. And they are too good to be true. Buy a good quality used instrument instead.
What is wrong with these instruments?
-Made in Chinese sweatshops.
The unskilled workers are paid under a dollar per hour.
-Made of Pot Metal
, a cheap mixture of copper and LEAD. There is a serious risk of lead
poisoning, since instruments are in contact with hands and mouths. The melting
point of this metal is only 900 degrees F, which makes many repairs impossible.
-The instrument is CAST
, instead of forged or machined. This makes vital parts weak.
-String instruments are made of
low quality wood or particle board with a veneer
.
-The keys or parts bend under pressure.
Often keys will bend out of shape, or they were
made in the wrong shape in the first place.
-Parts are made wrong.
Musical instruments must be made with amazing precision to
work at all. These instruments show signs of being made in a hurry, with no quality control.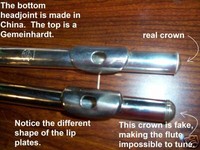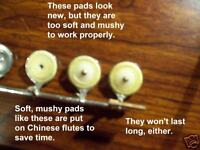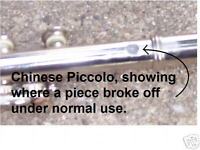 -The cases smell bad.
Some sort of cheap plastic or cheap glue is being used on the cases
that makes them smell incredibly nasty.
-They don't play in tune.
Most of the major brands have patented the measurements that
make an instrument play in tune. These brands either violate international patent laws or make up their own measurements.
-The instruments are silver or nickel
plated with chemicals including cyanide.
I wonder
if they take the time to wash these chemicals off?
-
The plating is extremely thin
and wears off soon. The silver or nickel plating is only
there long enough for it to be sold.
-These instruments are cheap
, really cheap. They are usually sold in Buy it Now auctions
for a price that seems too good to be true. And they are too good to be true. They ought to be sold in a dollar store.
-Repairers refuse to repair them.
No one wants to touch them with a 10 foot pole. They are too flimsy to repair. I've had many bad experiences with them, the parts literally break in your hand.
Thousands of students are buying these, and they are quitting. Nothing will ruin band for a kid like struggling with an instrument that doesn't work. Please, go for quality. You'll be glad you did.

When in doubt:
Do a google search for the brand name. If a big, corporate website doesn't come up at the top of the page, it may be an imitation brand.
Remember, there are no "generic" brands of musical instruments. This isn't a grocery store.
Name brand flutes for sale and more information available at my store:
Rich Lupo Flutes and Piccolos
About the Author:
My name is Rich, I am a professional flutist and music teacher. As a flute tech, I own and operate a flute repair business. My goal is provide accurate information for all students and their parents so they can make an informed purchase. All students should have good descent instruments that don't fall apart. That's all I ask. I am not paid to write this, I do not endorse any brand or company, and I am not condemning any brand or company.
Notes:
Questions can no longer be answered by me due to Ebay's new messaging system, which blocks all communications other than those from buyer/seller.
Any rip-off seller who sends me an angry or threatening email will see it posted here for the world to see.
Any seller who would like to post a link in their auction to this guide may do so.
Junk sellers, consider yourselves exposed!
Vote "YES" down below to help others find this valuable Guide!
Rich Lupo Flutes and Piccolos