If you paint a lot of small items for eBay or your home decor, this guide is for you. (Perfectionists, beware! This is MESSY!)
This Home Decor guide will show you how to create a "Dunking Station" where you can dunk smaller items in paint, then go eat bon bons and watch another episode of SG1 on the TIVO while all your eBay "trash to treasure" goodies are hanging dry.
After all, that IS why we're self employed, isn't it?!? Or is it the fact that I get to work in my PJ's?


Sorry these photos are so tiny - you can find full size pictures & tons more tips on my eBay store Decal Home Decor Tips page.
To create your own "dunking station", you will need:
2 Large Rubbermaid storage bins, with lids (put the lids back on when things are done dripping)
5 gallon bucket of "Kilz" stain blocking primer. Or Glidden "Gripper" works great too.You will want to dilute this to minimize drips and runs. Sorry, I don't know the ratio of paint to water. I just experimented until it worked right. Kilz is really thick - if you try to use it undiluted it will turn all your items into a gloppy mess. You can find Glidden Gripper or Kilz at Home Depot or pretty much anywhere you buy household (wall) paint - Eagle Hardware, Ace, etc.
5 gallon bucket of white paint - also to be diluted (I always use "Dover White" paint from Home Depot.)
1"x2" lumber
Chicken wire (I bought the smallest roll - I think it was 2 feet x 10 feet)
A *LOT* of plastic sheeting to cover the surfaces under and behind your "Dunking Station" (Speaking from experience! I ruined my garage window. Hubby is NOT happy. Paint really gets flying when I'm working fast!)
Rubber gloves, Paint hat, long sleeve shirt, sweats or jeans, shoes or slippers - all items you don't mind ruining
A bunch of cheap small wooden or syroco items to practice on (head for your local Goodwill!)
Rose Decals (or other decals coordinating with your decor - contact me for custom decals)
Here's a photo of how I setup my "Dunking Station"
I nailed together a frame of 1x2's & stapled a chicken wire dripping shelf & backboard over the top. The items get dunked in the primer, & put up on the chicken wire shelf, leaned against the back. The excess paint drips back into the bins.
TIP: Note the ruined window!! Don't repeat my mistake of not putting plastic BEHIND your dunking station. Hubby is NOT happy. I'll need to sell everything in my antique booth to pay for that - ouch!
TIP: Also, don't repeat my mistake of putting the bins at counter height - seemed like a good idea at the time - didn't want to have to keep bending over to dunk. But the sides of my bins are too high, so it's really a pain. Put yours about 2 feet off the ground & it'll be just right.
TIP: If you lean the item at an angle with one corner painting down, all the paint will drip off the lowest corner & you won't have a row of drips all along the bottom of your item. (see photo of dripping rack in use above)Wipe down all your items with a damp cloth, allow to dry completely.
Step 1: Wipedown
Wipe all your items down with a damp cloth & allow them to dry completely.
TIP: I never sand off old finishes. Why bother?!? Today's stain blocking primers really work!
If by chance your item's finish does start to bleed through, (this has only happened to me on 2 items - I've painted hundreds) let your first coat of primer dry overnight, and then give it another dunk. That should do the trick.
Step 2: Primer
Dunk your item into the diluted primer.

If your item doesn't fit all the way down into your primer, you can roll it or turn it over.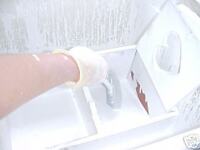 Oops - missed a spot!
TIP: I keep a sponge brush floating in each bin. This can be used to "scoop" paint over missed spots.
TIP: If the primer doesn't stick well to your item (happens sometimes with shiny metals and some hard plastics) let your first coat of primer dry overnight, and then give it another dunk. The second coat should stick.
If that still doesn't stick, give your item a light dusting with spray primer. You don't have to apply a heavy coat - just enough to "rough up" the surface. The primer will stick then.
And once it's on, it's ON. I have never had Kilz or Gripper peel off of anything - even metals or syroco/plastic items. They claim Gripper is even guaranteed to stick to glass.
TIP: If your item is one that's intended to hang on the wall, put it wall side down on the dripping rack. Then any drips or runs will be on the wall side & won't show.
Step 3: Paint
Repeat the same process with the paint. Some items will need 2 dunks of paint to cover well. Allow it to dry thoroughly first.
Step 4: Touchup
Sand off any obvious drips or runs with a sanding block. (They are easier to use than sandpaper)
TIP: If you're getting too many nasty drips & runs, you haven't diluted your paint or primer enough. I only sand maybe one or two spots on any item - often no sanding at all.
Step 5: Embellish!
Now for the fun part! You have a blank canvas for some gorgeous Rose Decals (Or other decals that coordinate with your decor)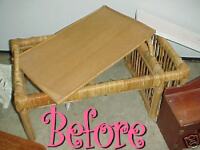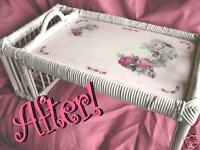 I like to sponge a different shade of white over the "Dover White" for a mottled, aged look Plus it covers anyplace I sanded, and hides any blemishes.
Then while the white is still dry and blendable, I sponge on some accents of pink, "granny green" or some other color that coordinates with my decor.
Then for the finishing touch I turn it into a work of art with decals made from antique handpainted china. Here's the link for decal instructions.
My decals are made from gorgeous antique china, & give your items a handpainted, artistic look.
They are a great way to breathe new life into boring old items. They really help to create a theme in your decor. You can order these decals, or custom decals to coordinate with your own theme in my eBay store: Cozy-Cottage Decor
Hope this Home Decor Guide has been helpful! Please vote below!

View more guides by cosycottage here!