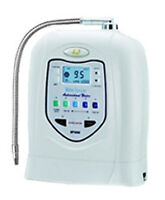 The Gold fox is the least expensive machines on the market that is worth purchasing. Cheaper machines are strictly buyer beware.We liked the fact that this machine puts out a good ionized water at a flow rate almost equal to the $4000.00 dollar SD-501!
Like the SD-501 this machine also has no direct connect option; it must be connected directly to your faucet via supplied diverter.

Cleaning cycle occurs every 12 hours and you must wait for your water while it is being cleaned. This is dimensionally the smallest machine we have tested. There is not much more to say about this model, we carry it because some people need a less expensive option and for the money the Ep1000 is a good choice.
Ionized Water at a low budget price
Buy for the water experts who will be here for you when you need help at: http://stores.ebay.com/WaterFiltersAndWaterIonizers
Chart:
Built Quality: 7
Ease of installation and daily use: 7
Look of the Machine: 7
Cleaning Cycle: 7
Strong PH and Acidic Water: 7
Number and type of plates/electrodes : 6 Titanium
Flow Rates: Fast
Waste Water: 35%
Warranty: 1 Years (5 years available for extra $120.00)
Filter Replacement costs: $45.00
Alkalinity levels: 9.0 - 10.2
Acid Levels: 3.9 - 7.0
ORP level: -150 to -300
Chlorine levels: 0 ppm
Taste: Ok
Overall rating: 7