Chanson is one of the only "true manufacturers" that make the unit from start to finish and have NSF, ISO 9001 rating on the factory, we got the distinct impression that this Taiwan manufacturer cares more about quality than the money. We have had this one in our kitchen for over 4 months now and have run 20 -30 gallons thru it seven days a week, that's roughly 2,100 gallons which simulates the average families two years of usage.
We have run this machine for an hour straight on many occasions with no issues. After all the counter top units we've had in our kitchen it's really nice to have an "under sink" unit and the VS-70 is a great looking piece. The touch panel and color display are excellent and very functional, a real pleasure to use. The machine flushes the stagnant water from the supply lines and electrolysis chambers every time you turn it on which takes about 4 seconds, we love this feature. It has an excellent auto cleaning cycle which occurs about every second or third time you turn the machine off, which never interupts your water usage. This is the first machine we have seen with an adjustable "TDS" (water hardness) which allows users with all different types of water to fine tune the performance of the machine. The faucet body itself is electroplated chrome over hard plastic, with stainless steel water chanel inside, it looks as high quality as any piece you'll see in a kitchen and the plating over plastic is actually more durable than metal plating.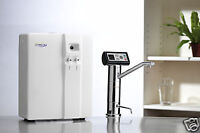 The Chanson VS-70 is the only water ionizer we ever tested that makes 3.0 acid water at full flow. We were so impressed with this machine we decided to become the importer and USA service center so we can attest first hand to the customer service and warranty quality.
The VS-70 has 7 plates, makes very strong ORP and Acid water at full flow and is cheaper than the Jupiter Delphi which makes this our new favorite undercounter machine. (this was decided before we became the importer) Except for a 1-3/8" hole needed in the sink or counter top, most customers can easily install this themselves in about 30 minutes. Our H3 prefilter makes a perfect companion to the Chanson VS-70
A great looking and performing undercounter ionizer at an industry low price!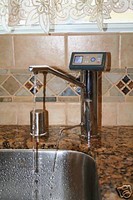 Buy for the water experts who will be here for you when you need help at: http://stores.ebay.com/WaterFiltersAndWaterIonizers
Chart:
Built Quality: 8.5
Ease of installation and daily use: 9
Look of the Machine: 9
Cleaning Cycle: 9
Strong PH and Acidic Water: 9
Number and type of plates/electrodes: 7 Titanium
Flow Rates: Medium
Waste Water: 30%
Warranty: 5 Years
Max. Repair Cost after warranty: $120.00
Filter Replacement costs: $43.00
Alkalinity levels: 9 - 11.4
Acid Levels: 2.5 - 5.5
ORP level: -256 to -856
Chlorine levels: 0 ppm
Taste: good
Overall rating: 9