There are a gazillion pashmina available on the internet at any one time. You can spend .99 with $12 shipping and have one sent from China, or $30 plus shipping for one from a reputable ebay seller--and you can buy one for $99 from Macy's too.
In many cases, they are comparable in quality but differ in types of fibers used. How can you spot a good pashmina in a crowd? What distinguishes different pashminas and cashmere scarves and their various countries of origin?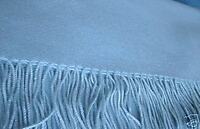 This is an example of hand tied fringe on a 2 ply pashmina and a picture of hand knotted fringe on a single-ply ring scarf pashmina
I feel duly qualified as a card-carrying cashmere addict/ebay seller who has imported dozens of custom-made 4 ply hand knit ponchos, and piles of handwoven pashminas from Nepal to sell on ebay along with handwoven cashmere that I have personally selected from factories in Istanbul, Turkey. I have also purchased lots of those colorful solid cashmere pashminas from China so that I could supply my customers when I didn't have time to hand select my pashminas.
This pashmina has a loose waffle weave to it...typical of superfine ring scarves

This is a gorgeous paisley design which is based on an ancient traditional Indian pattern used in Kashmir cashmere scarves. This pashmina was woven in Istanbul, Turkey and it has hand knotted fringe. The fiber is imported from Nepal, where the only true cashmere can be procured.
Pashmina is the name of the fiber, cashmere. They are one and the same. The term pashmina has come to encompass 70%cashmere and 30% silk scarves as well as 100% cashmere scarves...or even wool and rayon scarves are called pashminas. The definition is broadening to include all scarves, mufflers, shawls and "pashminas." Now you know. Check the fiber content of the pashmina you buy.
Pashmina is really a soft wonderful wool that is combed by hand from the "changra" goat, that originate high in the mountains of Tibet and Mongolia. This fiber is also known as cashmere, which is the old spelling of the name of the region Kashmir. Cashmere and pashmina are one and the same! A gossamer fine pashmina yarn can only be spun by hand. Mechanical processes used in many countries require the addition of silk, wool or synthetic yarn that can be carbonized after weaving. These pieces have an entirely different feel than the light, airy pure cashmere hand woven pashmina. Scarves produced from cashmere silk blends have a slight shine to them that is preferred by some people. The pure cashmere handwoven pashminas are a bit duller and softer in appearance despite their stunning colors.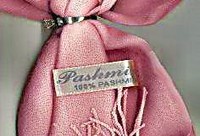 The traditional ring shawl from Nepal is so fine and thin that it is said to be able to pass through a ring. The picture above is taken of one of my scarves in the center of my engagement ring. The cashmere fibers are so fine and thin, and the scarf is handwoven, so it is very very light and airy and delicate.
The terms 2 ply, or 4 ply do not really denote very much when describing cashmere because the width of the original cashmere fiber is so fine compared to wool or silk.
Some less expensive fiber blends are created by using rayon (or viscose) and cashmere. These scarves can also be quite beautiful although I don't believe that they are nearly as lovely as the cashmere scarves.
Try a few different scarves in your price range and see what you like! You'll love the versatility as well as the beauty of these pieces.