BEWARE of the FAKE Starbucks Gift Cards Card
I have a 2002 Coffee Cups card without the "STARBUCKSCARD" insignia
Is this error worth a fortune?

What about my early core card no writing?

What about my Comfy Red Chair Card?

"Buyer Beware There Are Fakes But Not All Errors are Fakes"

The Starbucks Bogus Cards
The reason I'm writing this guide is because I repeatedly find FAKE cards offered for sale on eBay. I have always avoided this subject because I did not want to spark any ideas to quick profiteers who might decide to create fake Error Cards. There are true Error cards out there but they are few in numbers and rare. I, personally, enjoy collecting authentic card errors. I have also tested almost all cards for film removal but will not publish the results at this time. Unfortunately, sometimes unknowing collectors list cards that may look like errors but are actually fakes. They themselves have purchased the cards they sell as true errors. So for those of you who want to learn more I will elaborate more on true errors some time in the future. For now, this guide will cover what I've learned about fakes.

The Big Tall-Tale Sign

Known Gloss finish cards sold as errors with a Matte finish

Why are you writing this guide?

I also have purchased Error cards for BIG money that turned out to be fakes. The best way to prevent this for happening is to make this info available. I think a lot of collectors do know about this and have also decided not to make this information widespread with the hope of preventing a flood of artificial errors. But the errors are always popping up and unsuspecting buyers pay "big Money:" So, I've decided that the more we build awareness and publish what we find about errors, the less of the fake cards will make it on the market. Some fake cards are created using common imaging software. They are designed to look like legitimate cards sold for charity or some other bogus purpose. One clue - they display only one side of the card in low resolution. A good seller will always email you a high quality copy of BOTH SIDES of a card especially at the premium price levels of the card. These sellers are rare, but crooks will take your money before other collectors will research and disclose the truth. I will talk about the two most common Fake cards offered as Errors are the:

©2001 Early Core Card

©2002 Spring Coffee cups
I hate to sacrifice my Rare 2002 Spring Cups card to provide a visual but hopefully this sacrifice will prevent others from emptying their wallets. Also, this is the most common fake offered for sale and for big bucks. For this demonstration I used a regular razor but any sharp object will do.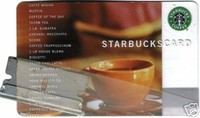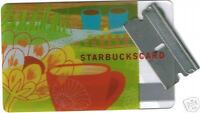 Simply grab hold of the top film on the card's edge and simply peal off the film like a banana. I have experience doing this, it took me about 30' seconds to do this on both cards, scanning the images took about 30 minutes.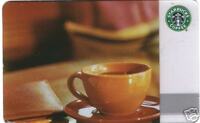 The end result is a card without the "STARBCUKSCARD" insignia -- THIS IS A FAKE.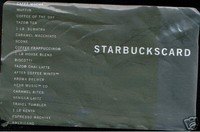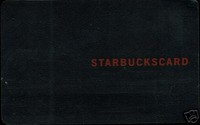 I have used a black background to highlight the films on both cards.

Can I remove the film on all cards?

The answer is NO, but there are more cards that do have removable films, I will never publish the name of the cards of starting sequence numbers.

Are there any cards that are true Errors?

Yes, the Comfy red chair is one of them, very rare but a true Error.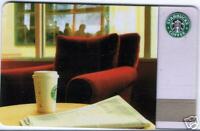 I will elaborate and modify this guide about True Error cards in the future. I decided to write this guide as result of 2002 Spring Cups Card offered as an Error - These are FAKES not ERRORS. I'd also like to let everyone know that many times the sellers of these are unaware that they are fakes - and I appreciate their prompt response to removing the cards once they have been informed of this. This guide was developed using various references to the cards that have been made available to the general public and is based on information I have researched and collected. I am not affiliated with Starbucks Corporation in any way nor do I have any insider knowledge. If you know of any other production runs not mentioned here, please feel free to email me.

Respectfully,
Chris Goulis
Topriority

Copyright © 2006 Topriority
All Rights Reserved.

Starbucks, the Starbucks logo and Starbucks Card are either trademarks or registered trademarks of the Starbucks U.S Brands LLC.. No rights to these marks are claimed or implied "Topriority" is not in any way affiliated with Starbucks Corporation.

Please vote "Yes" for this guide below, if you like more guides on Starbucks Cards.