Maybe you wore a Casio in high school and remembered it fondly. You had moved on to a more 'upscale' watch but the Casio was always there, just waiting for a new battery or band to be ready for service again. Perhaps that expensive automatic broke down for the second time and you decided that digital technology really is better. Maybe you've collected books or coins or movie posters and figured it you'd head into new territory, collect something totally different. Or maybe you rediscovered that old Casio laying in a dresser drawer and wondered if you could get it working again, wondered if it was worth anything, wondered if you could find any info about it.
Well, in any case here you are. Digital wristwatch collecting is a hobby in its infancy. A hobby without a guide book or a price guide or a collectors club where you can send 20 bucks to get a monthly newsletter. So before you start here are a few random thoughts from a collector who's purchased more than 600 vintage Casios - from the most common to the most rare. I've been surfing Ebay for seven years hunting down vintage Casios and made just about every mistake a collector can make.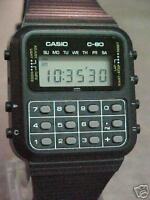 WHY CASIO? - Why not. The spirit of innovation and fun that Casio brings to their calculators, watches, cameras and other products has made them popular with consumers over the years and for good reason. What other company would dare to make a calculator that doubled as a cigarette lighter or a wristwatch that could broadcast your voice over a nearby radio? Remember the watch your friend had that played the game? It was most likely a Casio. And the watch that played all those musical tunes? Casio. How about the calculator watch you used in gradeschool to cheat in math class? Probably a Casio. When the technology makes it possible Casio builds a product to use that technology and the result has been a wide range of products that are by turns useful, fascinating, gadgety, tough, long lasting and almost always inexpensive. So it should come as no surprise that, 30+ years after they've introduced their first wristwatch, some of those watches have become quite collectible. In fact, many Casios made before 1990 are now considered 'vintage' by collectors and several models are quite tough to find.
BUY WHAT YOU LIKE - And you will always be happy with it. Be careful not to fall into the trap of buying what everyone else says is a great watch. It's no fun spending $200 for a watch you don't care for and won't wear. If you're a G-Shock collector you may not want to spend the money necessary for a T-2000 [219] Translator watch and if you're a databank/calculator collector you might not want to pony up for a DW-5400 [240]. If you're only buying vintage Casios with an eye towards reselling for a profit you may be disappointed. The hobby just isn't that stable yet. A model that sells for $120 today might only sell for $85 tomorrow.
HOW MUCH TO SPEND? - This is up to you (and maybe your wife/girlfriend too!). You can still score collectible Casios for ten bucks but you need to hunt them down. Set yourself a budget - a guy with $100 per month to spend could quickly build a decent collection. I can hear some collectors scoffing as I write this but really, it isn't the money that counts, it's your willingness to do a little searching. Look for vintage Casios in other catagories besides the Jewelry/Watch catagory. Look for vintage Casios in watch lots or in places other than Ebay.
HOW MUCH ARE THEY WORTH? - Basically they're worth what someone is willing to pay. Check the TAKARA website for the highest prices paid. Don't get caught up in the auction frenzy or you'll end up paying prices that make fellow collectors on chat forums question your sanity. Remember, there is no set price guide for these watches. Nobody is really sure how many of any given model were produced or are currently available so the marketplace sets the price. Before you spend the rent money on that rare Casio or become distraught because you lost a choice item to a fellow collector remember that everything comes up again eventually. Even the rarest models will be coming up for sale again next month or next year, so bide your time. Interestingly the rare models seem to come in spurts here on Ebay.
THE MARKETPLACE - Ebay and Yahoo Japan see the most vintage Casios but YJ is pretty much inaccessable to Westerners. Yard sales, flea markets and pawn shops are hit and miss. At least 95% of my watches have come from Ebay. Check with friends and family; everybody has owned a Casio, maybe that brother-in-law has a Wide-Temp LC in his dresser drawer that you can score for 20 bucks!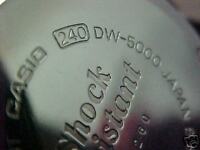 MODELS AND MODULES - every Casio watch has a model number and a module number. The model number usually tells you something about the watch - for instance the TS-2000 [215] is a temperature sensor (TS) watch and the CA-90 [134] is a calculator alarm (CA) watch. Many Casios have names and the model number reflects that name - the Map Meter is a MAP-100 [693] and the Game 30 is a GM-30 [222]. This doesn't always hold true though - the Flight Planner is a DW-7700 [984] and the Cosmo Phase is a CGW-50 [830]. The module number is the number in the box before the model number and it denotes the number Casio has assigned to that part of the watch that tells the time, the guts of the watch. As a general rule the lower numbers are the earliest. Again, this doesn't always hold true - the module 593 is still being produced (look at your F-91W) even though the module 515 hasn't been produced for 14 years. Currently Casio is making modules numbered higher than 4000. The earliest models do not have the module number in a box but right alongside the model number so you may see 79QS-39 and you will know that this is a module 79 just as a 55QS-24 is a module 55. A few of the earliest Casios do not have the module number on the back at all like the R-14 which is a module 16 or the R-11 which is a module 15. In order to familiarize yourself with models and modules find the spreadsheet mentioned below.
MADE IN JAPAN/KOREA/MALAYSIA/CHINA - The earliest Casios are made in Japan and most collectors like these 'Made in Japan' watches the best. Interestingly though, Casios first case factory was in Taiwan (they purchased it from Bulova) so even these 'Made in Japan' watches have some roots elsewhere. To the best of my knowledge the 'Assembled in Korea' watches started appearing in the mid to late 80's and the Malaysia and China watches appeared later. Plenty has been written on the various collector websites about the merits of the Japan vs Korea/Malaysia/China watches but they are all Casio. My DW-8300 [1288] 'Made in Malaysia' G-Shock is one of the toughest and most comfortable watches I own so I don't worry too much about where it was made and I recommend the same approach for new collectors.
FAKES AND LIMITED EDITIONS - You'll have to worry about the fakes if you collect newer G-Shock watches. There are more fake Frogman watches on Ebay than real ones so be careful. You'll need to be careful with the Bape watches too. Get some reference material (see below). For vintage Casios there really isn't a problem at least as of this writing. As for limited editions it could easily be said that Casio has become the Franklin Mint of the wristwatch world. Every year Casio releases a large number of G-Shock 'Limited Edition' models and these are quite popular with many collectors. Vintage Casios are usually harder to find than new 'Limited Editions' and many times cost less money. A notable exception is the DW-1983 [901] 10th anniversary G-Shock made in 1993. Casio really only started producing the limited editions in the early 1990's when the G-Shock boom hit so if you are focusing on the pre-1990 watches you won't encounter them.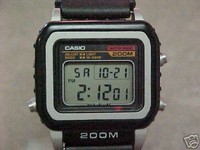 RARITY/SCARCITY/DESIREABILITY - The most expensive Casios are not necessarily the rarest and the rarest are not the most expensive. As in everything else demand is the key. And this changes. Everyone seems to want a Scientific Calculator watch which drives up the price of a CFX-20 [197] or CFX-200 [197] but these aren't that rare. The CFX-200 shows up every week on Ebay. But the other Scientific Calc is a different story. The CFX-40 [463] and CFX-400 [463] are legitimately hard to find. On the other hand there's the F-8 [58] which is so hard to find that I've only seen a handful on Ebay in more than 3 years - but nobody wants it - and I paid only $17 for mine. So how to figure what's rare? Download the spreadsheet mentioned below and look at the production dates. If a watch was produced for only ten months it's probably going to be harder to find than a model that was produced for three years. Watch Ebay - some models show up for sale almost every week, like the DW-5000 [240], while others are offered maybe twice a year, like the WW-5100 [491]. Casio is a mass market consumer goods company so they didn't plan at the outset to create limited edition watches (but see above) and you shouldn't expect too many models to be truly rare. However, the very nature of some of these watches creates their scarcity. Consider this - a model F-5 [58] introduced in 1980 for a price of $14.95 would have had a battery that lasted for perhaps three or four years. When the battery died the owner would have the choice of taking the watch in to have it replaced, which would have cost five bucks or more, or more likely, buying a new watch. And that old watch? Well, maybe he threw it away or maybe he tossed it in the dresser drawer and his wife pitched it out the next year or ten years later. The result? Although Casio must've made a ton of them the F-5 seems hard to find.
RESOURCES - Besides surfing the vintage watch auctions on Ebay, which can be an education in itself, you need to get in touch with other collectors. The best way to do this is through a collector site like pocketcalculatorshow or dwf (digitalwatchforum). On the PCS website you can find a spreadsheet of Casio watches which includes info on start and end production dates, original retail price and model and module numbers. If you are going to collect you need to download this spreadsheet. While you're at it go ahead and join the chat forum at PCS. This is currently where the most knowledgeable Casio collectors gather and you can easily avail yourself of their knowledge and experience. Japanese magazines are also a worthwhile investment, especially if you plan on collecting G-Shock or DataBank watches, and are a lot of fun with their bright colors and splashy layouts. All of the text is in Japanese of course but the pictures are worth the price alone and the model and module numbers are always in English so they make a great identification guide. Old advertisements from 1970's and 1980's magazines also make great reference material. I like the collector websites too; they give you a good idea for what's out there and a real appreciation for the variety of models that Casio has produced over the years. Any collector who takes the time and effort (and it's a lot) to put up a website should be congratulated as this is a real contribution to the hobby. Bookmark those sites. You can find them by doing a Google search or asking at the PCS website.
CASIO itself is unfortunately a poor source of solid information on their vintage products. They are, after all, in the business of selling new watches, calculators, cameras and other electronic equipment. One excellent article is available at their World website under the History tab. It tells the story of the four Kashio brothers and how they started the business by building the first electronic calculator in Japan. The first wristwatch came about in 1974, with the introduction of the Casiotron, after they had won what is now known as the 'Calculator War' by building the Casio Mini, the first mass market personal calculator. This article is essential reading for any serious collector.
MISCELLANEOUS ARTICLES AND INFO - I like the article on Business 2.0 by Andy Raskin entitled 'G-Shock and Awe Kazuo Kashios wild ideas have cost Casio some battles. But in today's copycat world of consumer electronics, he may be winning the war." It gives you a great feel for the thought process behind the way Casio introduces new products in addition to a little company history. 'UNBREAKABLE' - this is an article on the Timezone website which has unfortunately become gospel due to the void of solid written information on early G-Shocks. There are several factual inaccuracies in this article but it's enthusiasm cannot be denied. The final paragraph is excellent. GOOGLE - Do some Google searches for 'vintage Casio' and look around. The Japanese websites are great but computer translators have a tough time translating Japanese to English so you'll have plenty of laughs in the process.
SUPPLIES - Buy a bagful of cotton Q-tips, a sharp knife, a caseback opener and a springbar tool. Find an old toothbrush and some cloth for cleaning and polishing and get some WD-40 for removing those tough bezel screws. Never throw away a band or a buckle or a springbar. Might as well buy some Displex (here on Ebay) for polishing up those scratched plastic crystals and some metal polish to shine those stainless cases so they gleam. I like Hagertys but most polish is good. Be careful when polishing the gold colored cases or you'll polish that gold color right off. The metal bands will be unbelievably filthy when you buy those old watches so you'll want to buy an ultrasonic cleaner to get them looking nice again. What's the alternative? Sitting for hours with a toothpick and a toothbrush - take my advice, buy the ultrasonic cleaner. New plastic bands can be bought from Casio, EAI, Pacific Coast Parts or right here on Ebay. Buy replacement batteries in lots from Ebay. It's cheaper than the local store and you don't have to spend time trying to explain what it is you're looking for. Battery charts can be found online or bought on Ebay when you buy the batteries. You'll want one eventually. Yes, you should change the batteries yourself. No need to pay ten bucks at the local mall jewelry store and watch a high school girl behind the counter do what you could have done yourself. Get a magnifying glass and look for the letters 'AC' somewhere on the back of the module. They'll be next to a recessed hole that has a gold colored contact in it. Using a pair of sharp tweezers, or a safety pin, touch that contact and the back of the newly replaced battery at the same time. This resets the watch. I buy 'dead' Casios all of the time and approximately 90% come back to life with a new battery. Having said that I would advise against spending big money unless you are sure the watch works.
PATIENCE - You'll need this because none of your friends, family or co-workers will share your zeal for the new hobby. Watch for the vacant look in your wife/girlfriends eyes as you tell her about how advanced the DB-1000 [285] is and be prepared for questions like "Why in the world would you collect Casio watches?" from everybody who finds out you're a collector. Don't let anybody find out how much you paid for that DBX-100 [261] or they'll think you're crazy. Don't bother telling that guy with the Rolex that your DW-5200 [240] is the toughest watch in the world, he won't believe it. Enjoy your hobby. You can share the frustrations and joys with fellow collectors who will understand your madness.
In the morning when I awoke I removed the DB-V30 [1590] I wore to bed and placed it back on it's display stand and considered what I might wear to work. Ah, decisions, decisions. Let's go with the TM-100 [661], it's been awhile. I like to wear all of my watches no matter how rare. When I arrive home from work I'll change again. The AW-550 [380] seems a nice choice. Perhaps I'll change watches again if I go out. Of course the models change daily but I wear several watches per day. Don't laugh...the same might happen to you my friend. And when, or if, it does happen, you will know that you are a digital watch collector.
If you enjoyed this or found the information useful please rate it by clicking the YES button below.
Feel free to drop me an email with questions or comments at casiophile @ yahoo.com.
Happy Collecting!
For more info about vintage Casio & G-Shock wristwatches check out my other guides.
Copyright 2006 2007 2008 2009 2010casiophile