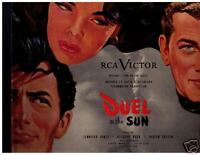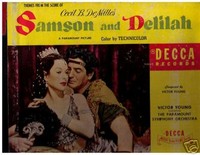 THE EVOLUTION OF THE SOUNDTRACK COLLECTOR MARKET
In this 3rd primer on collecting rare soundtracks, we're going to discuss the historical evolution of this market. When the first soundtracks were released in the 1940s on 78 rpm discs, the only 'collector's market' was strictly from a hobbyist standpoint--people purchased the soundtracks strictly for personal use and desire to replay the film score. There was no appreciation in dollar value, rather depreciation from usage and nothing more. There weren't many soundtracks released in the 78 rpm era, as the sales potential was not as great as it was for a Sinatra release or other pop recordings. On the other hand, the lesser number of copies pressed also makes them valuable in today's market. The number of 78 rpm soundtrack collectors, however, is limited as the record players are quite hard-to-find, the recordings are rather noisey and brittle, and to find a mint copy would be very difficult. Pictured above are two examples of desirable 78 rpm releases. The first is not really a soundtrack, but a film score recording by Arthur Fiedler and the Boston Pops Orchestra released on RCA Victor for the Dimitri Tiomkin score to 'Duel In The Sun', consisting of 4 discs and an 9 page color insert of liner notes and photographs from the film. The film was a David O Selznick western epic, one of the most expensive productions ever released. It appears the logic was that the notoriety of Mr. Fiedler and the Boston Pops would provide more sales than a true soundtrack would do. A mint copy of the 78 rpm set would today bring upwards of $500 despite it not being a soundtrack due to the cult interest in the film. The other photo above is for a 4 disc 78 rpm set soundtrack from 'Samson & Delilah' which was composed by the legendary Victor Young and released on Decca Records. It was not quite as elaborate a production with just liner notes and photos on the inside front and back covers. It was a legendary adventure fantasy film starring the beautiful Hedy Lamarr and the popular Victor Mature as the doomed hero. This set in mint condition commands upwards of $300 in mint condition. These are two examples of early releases on the 78 rpm format that are quite valuable. Other valuable soundtrack examples on 78s include Miklos Rozsa's 'Spellbound' & 'Quo Vadis?', Victor Young's 'Golden Earrings', and Alfred Newman's 'Captain From Castile'. Again, it must be mentioned that during the time these were being released on 78s, there was no real collectors' market in existence. As an addendum to this, I'd like to mention that we were retained by a collector in 1972 to find any music on disc for Max Steiner's 1934 score to 'King Kong'. After an extensive search, we were able to procure a 'private pressing' that Steiner made of some themes for the film onto two 78 rpm discs that he presented as gifts to attendees at a private dinner party he held. We sold the set to the collector for $375 later that year (about $1,000 in today's inflated dollars)!
In the late 1940s, the LP began to replace the 78s. This was a format which provided a longer playing time on the 12" disc, and the fidelity was noticeably superior. It was much more durable, not brittle or fragile, not to mention much lighter in weight. In the 1950s 'High Fidelity' was introduced for superior sound, and then, in the late 50s, stereophonic sound began to replace hifi's monophonic format. Again, from a historical perspective, there was no collectors' market in the sense that a soundtrack LP was worth any more than its purchase price. To try to enhance older recordings that were still in print, but not originally recorded in the stereo format, there was a appeasement of 'Reprocessed into Stereo' provided. In the early days of this procedure, however, it wasn't much more than adding an echo or filtering sounds to left and right channels by frequency range divisions. The results were anywhere from acceptable to disastrous. An example that comes to mind is the soundtrack for Franz Waxman's 'Peyton Place' which has such a 'Reprocessed Stereo' version released in the "LSO-" stereo number release. To this day, however, the 'High Fidelity' "LOC-" version still commands a higher price than the 'Stereo'(?) version.
That takes us into the decade of the 1960s, and during the mid- to latter years of that decade, the soundtrack LP collectors' market began. The irony of this burgeoning market is that what was the most sought after were the soundtrack LPs from the 1950s. That 1950s decade saw the popularity of soundtrack LPs primarily due to the release of music for the MGM musicals and the beginning of musical scores from the Walt Disney Studios which sold big to the kids' market. This motivated other studios to release soundtracks to lesser films hoping to make some extra money from the film's notoriety. Disney film scores with the 'WDL-" designation on the LPs are particularly sought after by 'Baby Boomers' today, hoping to relive their youth again. The irony here is that when they were kids, they played the records over and over, wearing them out. So there aren't many of these that escaped in mint condition. The result is that these are among the most valuable and sought soundtrack LPs. Other rarities are for those lesser films that had a low volume of copies pressed which engaged the talents of the film composers which we mentioned in part 1 of this series. Elmer Bernstein's 1958 film score to 'God's Little Acre' is an example which can command upwards of $1,000 in mint condition, not to mention his score for 'Desire Under The Elms' with a comparable value.
Then in the early 1970s (when we entered the picture too!), things really began to explode in this soundtrack LP collectors' market as several articles appeared in various music publications extolling the collectibility of these soundtrack LPs. The Holy Grail of this market was always the 1954 soundtrack to 'The Caine Mutiny' scored by Max Steiner and withdrawn within weeks of its release. It's value today is easily $40,000 in mint condition. During the decade of the 1970s, mainly through the efforts of the late writer Tony Thomas, a series of film music symposiums began in Los Angeles. He was able to engage many of the legends of film music to appear to give insight into how films are scored, experiences of working on various projects and taking questions from the audiences. Appearing at the time were Jerry Goldsmith, Leonard Rosenman, Elmer Bernstein, David Raksin, Henry Mancini, Miklos Rozsa, Ernest Gold, Lyn Murray, Fred Steiner, George Duning, Bronislau Kaper, among others. Also adding interest to the film music field was Queen Elizabeth's charity event, 'Filmharmonic', which showcased the talents of various film composers who conducted at Royal Albert Hall (I was fortunate enough to attend 'Filmharmonic '80', the 10th anniversary which featured John Williams, John Addison and Geoff Love). After this, there was a similar event which featured Ernest Gold, Lyn Murray, David Raksin, Fred Steiner and Elmer Bernstein which occurred in Oakland that included a series of seminars with the composers, as well as, a concert to conclude the event. During this time, several things began to occur in the market: prices for rarer soundtracks began to rise dramatically, and the market began to also look towards Europe for rare pressings from overseas. We'll be discussing that area in the next segment.
Again, if you would like to see what various soundtracks, original casts, imports, 45s are valued at (with over 8,000 listings!), please order our RTS PRICE GUIDE, 11th edition, which also includes credits for film composer, record numbers plus collecting guidelines. Price is $10 postpaid USA to RTS, Box 93897, Las Vegas, NV 89193. And you can also check out our Ebay Store at 'RTS Rarities' for our current offerings in soundtracks, original casts, classical, jazz, radio recordings in LPs/CDs/cassettes along with videos, books & other collectibles!