On Collecting Harry Potter - Early Five to Six Inch Action Figures
Who Should Use This Guide -This guide is a very basic overview of Harry Potter action figures from The Sorcerer's Stone and The Chamber of Secrets. If you are new the the wonderful world of Harry Potter, the Guide will help you sort through some of the many interesting and exciting action figures produced for the first two movies, and give you an idea of their relative market value and collectibility. If you have some experience collecting Harry Potter, you have likely heard all this before, and may have additions or corrections of your own to make - feel free to contact me at User ID mountainmaid56 to do that.
Introduction - The Harry Potter series has captured the imagination of millions - and created a new generation of avid readers - and shoppers! LOTS and lots of interesting merchandise has been spawned, much of it yet to be compiled into any kind of comprehensive Price Guide. This is not that price guide, either - at least, not exactly. What I've tried to do here, is tie my observations of the performance of various Harry Potter collectibles on eBay over the past 5 years, to observations about Harry Potter collectors and the phenomenon in general, and figure out some trends in values from there.I will not be assigning a specific dollar value for any particular item, since prices can fluctuate wildly depending on the season. However, within those fluctuations there are typically relative differences in action figure performance, and those are the differences I have tried to highlight.
Also, the usual admonitions apply when assigning a price to your own items - condition counts, and card or container condition may well affect value except in the case of the rarest items. Additionally, in terms of bankability, older is better and not surprisingly, the Sorcerer's Stone [SS] figures significantly outperform the newer NEC figures, at least on eBay.
Values
Let me begin by acknowledging that there is one price guide that I know of: The Collector's Value Guide; Harry Potter Collectibles; Collector Handbook and Price Guide by Checkerbee Publishing, Middletown, CT, 2001, ISBN 1-58598-073-0. This guide was printed around the time of the release of the Sorcerer's Stone movie, and in anticipation of the release of a number of lines of merchanse in 2000 or 2001. However, it does not appear to complete or go beyond the first collecting year. Also, prices in it were the manufacturer's suggest retail prices and not particularly reflective of the secondary market, or current values. By now, the Guide itself could be a collector's item, since not many copies seem to be in circulation.
[IF YOU'D LIKE TO SKIP THE DEEP THOUGHTS AND CUT TO THE CHASE, GO TO THE HEADING: THE NITTIER GRITTIER STUFF].
Secondly, I've noticed the development of at least three distinct target audiences or markets in the course of my research on the web, and each of them may contribute to the longevity of interest in these characters, and, hopefully, their enduring value.
TYPES OF TARGET AUDIENCES
First, are the families whose youngsters are just now reading Harry Potter for the first time. For anyone wishing to buy the action figures that correspond to the books, there are pretty slim pickens. However, the licensing franchisees have not re-released their original merchandise to date, so families are relying on secondary markets [eBay, flea markets and such] for many of the younger character action figures, bedding, decor, clothing, backpacks, magazines, posters, games, and trading cards, etc.
Next are those who like to collect things in sequence or sets, or who enjoy the longitudinal perspective - Harry Potter collectibles are exceptionally good for that. We can watch kids grow up without the expense of putting them through college. And because the Harry Potter series is unique in depending on the maturation of its characters, rather than being hamstrung by it, the action figures lend themselves to natural catagories of collecting - one character represented variously over 7 years, ideally, with no gaps in between.
Finally, those of us with a warm spot in our hearts for the downtrodden young orphan-types, or just fans of Joseph Campbell's mythical archetypes, can collect these evolving characters as celebrations of the Hero's Journey [at least, according to the History Channel]. And there is plenty of evidence that this last category is alive and well and willing to devote some serious resources to all things Harry Potter.
Witness the number of adult-level books devoted to the study of Harry: mythic archetypes and symbols [The Magical World of Harry Potter, A Treasury of Myth, Legends and Fascinating Facts by David Colbert, Berkeley Books, NY, 2001, ISBN 0-425-19891-X]; historical background [THE SORCERER'S COMPANION; A Guide to the Magical World of Harry Potter, by Allan Zola Kronzek and Elizabeth Kronzek, Broadway Books, NY, 2001, 2004; ISBN 0-7679-1944-0]; philosophy [Harry Potter and Philosophy; If Aristotle Ran Hogwarts; VOLUME 9 IN THE SERIES, POPULAR CULTURE AND PHILOSOPHY, edited by David E. Baggett and Shawn E. Klein, Carus Publishing Co.,2004, ISBN 0-8126-9455-4]; magical, religious and moral perspectives [God, The Devil and Harry Potter, A Christian Minister's Defense of the Beloved Novels, by John Killinger, Thomas Dunn Books, St. Martins Press, NY, 2002; ISBN 0-312-30871-X]; geography [Discovering the Real World of Harry Potter, A British Documentary Made for American Public Television, ISBN 1-56855-855-4]; and scientific origins[ The Science of Harry Potter; How Magic Really Works, by Roger Highfield; published by the Penguin Group, NY, 2002; ISBN 0-670-03153-4].
Add to that, a load of websites including the official Warner Bros. Site, The Leaky Cauldron and Owl Posts, to name but a few, plus Blogs, and Yahoo groups [ 546 groups devoted to Harry Potter as of the date of this draft], and you can see that grown-ups take their Harry Pottering very seriously [Until recently, one of the largest such groups was Harry Potter for Grown-ups, a Yahoo group so large and multi-national that it's daily postings frequently blew out people's mailboxes! Much of those postings were based on characters studies and speculation about the series' outcome from readers all over the world, but much was also devoted to the academic aspects of the novels from a wide range of literary, metaphysical and practical perspectives].
So, does this mean that one has to be a scholar to buy and sell or collect Harry Potter? Definitely not! But the high level of adult interest across several continents does suggest that grown-ups - and not just children - can fuel this market for some time to come. Moreover, that the appeal of Harry Potter - and thus the phenomenon of Harry Pottery - cuts across cultures and economies, should be given due consideration when speculating on the future value of these characters.
THE NITTIER GRITTIER STUFF -The list below is sorted by movies, and within those, by action figure series. Additionally, all of my data was collected using the roughly 5 inch to -8 inch figures. I have recently seen some early 10 inch figures selling on eBay from Turkey, and these were not included in my research, mainly because I do not have sufficient information on their performance over time.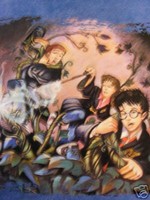 HARRY POTTER AND THE SORCERER'S STONE [SS]
Cast-A-Spell Figures - These were generally made by Mattel with the Warner Bros. Trademark License, have the Cast-A-Spell name on the box and include Harry, Quiddich Harry, Snape, Ron, Professor Flitwick, Norbert, The Knight on Horseback,[ this figure is identified as a chess piece, but actually, I think it makes its first appearance as one of Harry's few toys in the cupboard under the stairs] and Firenze the Centaur.
Of these, the Harrys are predictably the most common. Professor Snape is also fairly common, and the rest all seem to be progressively harder to find, with The Knight and Firenze being the least common I've seen on eBay.
Deluxe Creature Collection -These include Fluffy standing on his trap door, Hagrid with Norbert, and Mountain Troll with Club. Of these, the Troll seems to be the least common. There seem to be plenty of the large [about 8" or 9 "] Hagrids, and a fair number of Fluffys - although it's less common to find one with its trap door still attached.
The Wizard Collection -This series was designed to accompany the Powercaster game; each figure comes with a Casting Stone for use with the game [They are also sold and collected separately for their various powers], and with a small envelope containing a magic medallion trick. Some I have are made by Mattel and others are simply marked "China" and the packaging is a bit different. I know some were made differently for markets in different countries but if anyone has more information on the manufactures of the unmarked action figures, I would appreciate hearing from you.
Series includes: Quiddich Harry, Gryffindor Harry, Invisibility Harry, Gryffindor Ron, Gryffindor Hermione, Slytherin Malfoy, Professor Snape, Headmaster Dumbledore, Rememberall Malfoy, and Professor Quirrell. The Harrys are, again, the most common, followed by Quirrell, Snape, Hermione, and Slytherin Malfoy. Ron and Rememberall Malfoy tend to be underrepresented on eBay, and command higher prices, accordingly.
The original Dumbledore has traditionally been among the most prized, possibly because his sales were promoted as "Limited Quantity Available". Also, since it seems like at least half of all Dumbledores were manufactured with Two right arms, some people seem to collect the defective figure and some the corrected one, adding to interest. Personally, I like this character because it bears the likeness of the late beloved Richard Harris, who died after making the second movie.
Prices for the Dumbledore action figures have been quite variable throughout December 2007 and March 2008, ranging as low as $30 or $40 in some cases, but with values historically tending to be in the $70 to $135 range.
Additionally, some package backs show the Wizard Collection consisting of Griphook the Gringotts' Goblin, and Lord Voldermort. Between those two, Griphook seems harder to find than Voldermort [ and as far as I know, both the Voldermort and Quirrel characters commonly have both identities vis a vis the flip faces].
Quiddich Team - Harry,George and Fred are pictured on the back of my box, although there may be others. Harry is the most common of these, with George Weasley being rather hard to find and Fred Weasley being perhaps the rarest of all the action figures! I've seen Quiddich Fred [mint in the packages or Mint On Card] prices hit the $100 mark, and George and Fred pairs sell for around $150.
Slime Chamber Series -This series includes Harry, Ron Weasley, Fred Weasley, George Wesley, Hermione [with cat face] , and Draco Malfoy. Again, Fred seem to be the rarest, followed by George and Hermione, Ron and Draco. This series also has a slime chamber playset with a Basilisk-like creature that dispenses lovely buckets of slime and is also fairly hard to find [It may be that the whole slime-pouring notion never really quite caught on with parents].
HARRY POTTER AND THE CHAMBER OF SECRETS [CS]
Dueling Club Figures -These Mattel action figures include two Harrys,[ #57601 and #56189] Professor Lockhart, Malfoy, and Tom Riddle. Also shown on the package as part of this series are: Firenze, Norbert, The Knight on Horseback, and Aragog. The first three look indistinguishable from those in the SS series, with the only difference appearing to be the addition of Aragog the Giant Spider. There seem to be no shortage of Professor Lockharts or Harrys; Tom Riddle and Malfor would be harder to find.
Unspecified Chamber of Secrets Action Figures [Possibly Cast-A-Spell Figures] - I cannot find a better identifier on the box than that, or sometimes just the name of a character; figures include Quiddich Harry and Malfoy, CS Harry with Sword [or Bloody Harry as I've heard him called] Ron [including Slug-Spewing Ron], Dobby the House Elf, Snape, Flitwick, Lockhart with caged pixie, and another Harry [#56189]. In this group, I have seen relatively few Malfoys and Dobbys and only three of the CS Harry. A Basilisk is also featured in the pictures which may be the one from the Basilisk Attack! Game, and not very common.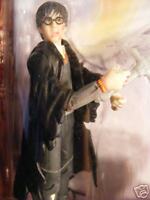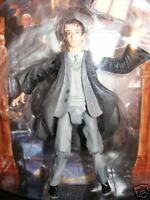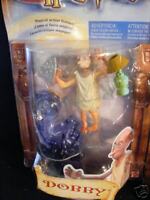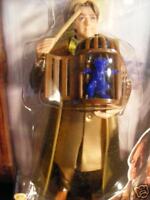 TOP 10 RAREST - To briefly summarize then, here are my top 10 picks for RAREST action figures [in order of scarcest first]:
1. Slime Chamber Fred; and
2. Quiddich Fred (tied for 1st actually)
3. Aragog
4. George Weasley
5. The Knight
6. Chamber of Secrets Hermione [Cat face]
7. Chamber of Secrets Harry [Above left]
8. Malfoy
9. Tom Riddle [Above right]
10.Professor Flitwick
HAPPY COLLECTING!!!