Well I finially got around to taking some pictures of the co2 resistant tubing eveyone has been asking about. I also have a little write up on it for those that are interested.
___________________________________________________________
Normal airline tubing can lose up to 20% of CO2 through its membrane which is a huge waste in the aquarium. Silcone tubing is slightly better but also has some problems.
Silicone tubing reacts w/ CO2 and render it less efficient (thus the silicone hardening over time under CO2 usage). It loses up to 10 % according to some people so again if you are using this for an aquarium use freshwater or saltwater you are wasting valuable co2. Silcone tubing also once hard is not pliable @ all leading to cracks in the tubing. You can buy 6 ft of silicone tubing in most pet stores for 99 cents.
Upon first use of silicone tubing it is very soft, almost to soft so no fun to work with.
Our special CO2 Resistant Tubing loses less than 1% of CO2. Also perfect for saltwater use (eg: Kalkreaktor). Rated Class I for both CO2 and saltwater applications Beer and wine Industry and hydroponic. Unlike other so-called CO2 Tubing which is rigid, ours is soft and flexible and bendable.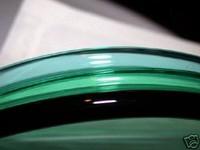 Choose between
transparent green,
transparent blue and
black. 4/6mm -ID/OD.