One of the areas with the most noticeable impact on the performance of your engine is your carburetor jetting.

The reason there seem to be different answers to the question regarding jets, is because there are many different combinations.

Just like your chassis, most of the time the set-up numbers are a general starting point. It usually will require tweaking to get the best performance.

Fine tuning can help performance, which is affected by engine air filters, headers, ignition timing, different altitude, weather, driver/kart weight, track conditions and size.

Here are a couple general ways to help determine whether there is a rich or lean condition. First ensure that the carburetor performance is not deteriorating due to trash/dirt internally or poor quality fuel.

Next take a look at your spark plug for signs of a rich or lean condition. Spark plugs showing a black appearance indicate a rich condition, and little or no color indicate a lean condition. Practice will make this more beneficial to you as time goes on. Before changing jets start with a new spark so the readings will represent your current changes.


A quick way to determine a rich condition would be to run the engine without an air filter to see if the engine performs any better indicating that there is a rich condition. If the engine runs better with the choke partially closed, then you are experiencing a lean condition.

If you are trying to tune or find the proper jet, keep it simple and only make one small change at a time.

In simple terms your carburetor has a low speed circuit that will affect the engine idle, acceleration from idle and lower rpm engine performance. Most noticeable at part throttle, starts or engine pull coming off of a turn.

Keep in mind that increasing a low side jet will also add additional fuel to the main jet, meaning that you may correct the low end performance but now make the higher RPM's richer thus decrease the higher end performance. The same will be true with a main jet change: there will be some effect at the lower RPM jetting.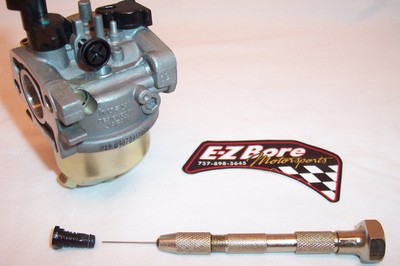 Larger low speed jet sizes can eliminate or reduce popping that occurs when letting off wide open throttle. The low speed jet also affects cold engine starts. If the engine surges, pops through the carburetor when the throttle is opened, or the engine has trouble idling down, these are usually good indicators that the low speed jet size needs to be increased. If the engine idles rough, fouls plugs, or is hard to start, then the low speed jet size could be too large.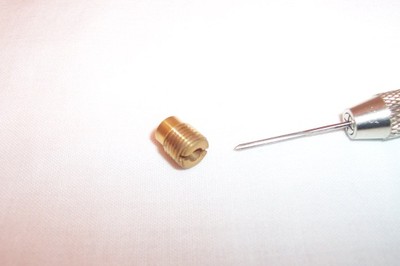 On the main jet, one method to fine tune for the best sizing is to start with a little smaller main jet size and keep increasing size until the engine doesn't provide any change or increase in wide open throttle performance or starts to stumble. Once the peak performance is found it may be necessary to backup (1) jet size for the optimum tuning.
The last variable and the buzz of late, is changing the I.D. of the emulsion tube. Very small changes here do seem to create large changes in overall carburetor performance both positive and negative. These changes will affect both low and high speed jetting by changing the venturi vacuum draw created at the top of the emulsion tube.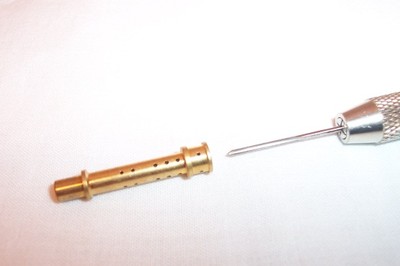 Many times racers will ask about the numbers currently on their jets and what sizes they represent. These numbers are basically unique to the manufacturer and can vary from manufacturers.
Similar jets in the motorcycle industry will vary in size from different carburetor manufactures. Example: a Keihin #110 will be the same size jet as a Mikuni #100 so you can see that the jet size would be different if you interchanged between these manufacturers. Now add the possibility that a jet has been modified, by an engine builder and you can see it is impossible to know exactly what size jet you are working with.
One way to check and determine jet sizes is by using a pin gage set. These are individual pins in .001 increments, which can be inserted into the jet to determine the actual size. We offer these in two (2) different size sets; the best starter set is the smaller .011 thru .060 diameters. This set will check the low speed jets and the main jets for most Box Stock/Clone applications.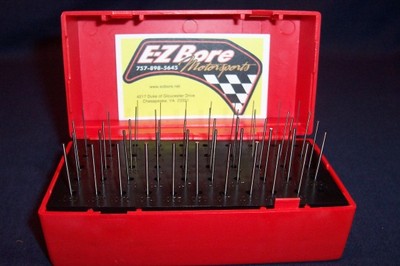 The larger set .061 thru .250 would be required to check air bleed passages and the emulsion tube I.D.
Most racers, when talking about jet sizes will refer to the US decimal size of the passage diameter. (Example .037" or in a conversation it will be stated, sometimes as a 37 jet)
Most people do not realize that a .001" (one thousandths) increase in a jet or air bleed, changes the volume traveling through that passage by approximately 5 to 7 %, which is huge comparative to the size change.
Although we offer and sell a drill bit set, we strongly recommend finalizing these sizes with new jets and using a reamer. The drill set is an economical tool for making changes and establishing a jet/pilot package that best suits your application.
With the substantial effect of a .001 change, drill bits have a tendency to leave burred or spiral cut passages. Drill bits will not offer a consistent/smooth passage size with repeated use, and will cut larger and larger as the drill becomes dull.
We offer special ground High Speed Steel Reamers, 2 and 4 flute straight shank reamers. Reamer inventories in these smaller sizes vary greatly from manufacturers and frequently will have long backorder lead times when sizes are not available.
Please feel free to contact us for availability of special sizes not offered on E-Bay.
Many times racers ask "what is the best jet size for their engine". Performance tuning should be thought of as package or combination of jet sizes that works best.

Here's why the answer can vary and is something to consider. Carburetors can be set- up with large size low speed jets and the main jet would be smaller or the reverse using a very small low speed jet and a much larger main jet. Both packages could perform equally on the dyno, creating the scenario where you buddy is running a totally different jet package/combination and if you switched to their main jet size it could hurt your engine performance.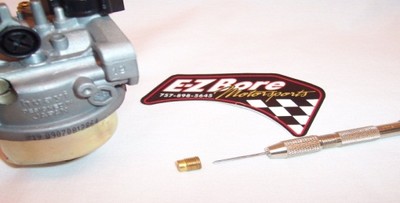 We hope some of this information in this guide has been helpful. Please leave a positive rating for this guide and remember when you are buying performance tooling we have been in business for over 25 years. Not only do we want you to purchase from us but we want you to make improvements in your race programs by giving you the knowledge to go along with you purchase. If the price is competitive you always come out on top by buying from the business "That has the Heart of a Teacher"
Remember "The Speed is in the Details"