Cleaning Carnival Glass
Have you ever looked at a piece of Carnival Glass that looked rather dark and dim. You could see that all the iridescense was intact. But it couldn't quite compare with the gleaming sparkling brilliance of other pieces you've seen. Well, it could be that your piece is covered with decades upon decades of grime, grease, grit, goo, layers of dust trapped in all of the above, dirt, lime and calcium deposits. And underneath all of that lies that gleaming sparkling brilliance screaming, Help! I'm trapped! I can't get out! Isn't there something you can do!
Yes there is. You need a bath. There are several techniques that I've read in various articles, but I have my own method. I'll go over the other medthods first and then I'll give you mine. But to begin with I want to emphasize some very important tips.
Glass can't stand rapid temperture change. So if the Carnival Glass is stored out in the garage and you've got subzero temperature outside, don't bring the glass in and put it directly into hot water. The glass can fracture and crack. In addition, in extreme cases the glass could explode. When you bring the glass in, let it warm to room temperature first. Also, don't use hot water, use warm water.
Don't wash the glass where it will come in contact with hard surfaces such as stainless steel sinks and such. Make sure the sink is lined with a plastic mat or a towel. The best is a plastic dish washing pan. The idea is not to let the glass slip out of your hands and bump against any hard surfaces.
Don't wash two pieces at the same time. The two will more than likely clank against each other.
NEVER, EVER clean carnival with a chemical or abrasive cleaner. These can remove the iridescence.
Now what to use to clean Carnival Glass.
A lot of people use sudsy ammonia. Be careful, it's very slippery. Use a soft sponge or soft cloth such as an old tee-shirt. If still dirty, soak over night. I used this method once, but the odor almost knocked me over.
A note about vases being used as well, vases. A lot of calcium and lime deposits build up on the inside. I don't collect carnival vases so I've never tried this, I read about it in an article. Fill the vase with warm water and toss in a couple of denture cleaning tablets. Let it sit for a few hours. Dump that out. Then fill with about an inch of warm water and throw in some uncooked white rice (the real kind, not instant) Put plastic wrap over the top and with your hand over the plastic wrap covered top, shake hard. The rice should remove any remaing residue.
Full strength vinegar plus the denture cleaning tabs . You don't have to soak for a few hours with this one.
For removing stubborn mineral deposits, spread a thick layer of petroleum jelly and let it sit overnight. Wipe off the next day and the deposit should be gone.
For sticky stuff use a product containing orange oil that dissolves goo.
Now for my method. I've used the sudsy amonia method on another piece, but felt there was more color before I used the amonia. I've heard from different sources that oil plays a part in keeping the iridecsence up to par. So my little pea brain went to work. Hmm... oil + cleaner = M oil soap! My test subject was a Dugan Windflower. The iridescence on the piece was there, but rather dark. I put on rubber gloves (I use the pre-moisted towlettes for any product I use that makes them) I started rubbing in a soft and slow circular motion. The dirt and grime was so thick, it came off in layers. The towlettes were black. But what I fond underneath was spectacular. Then I rubbed in an orange oil cleaner & revitalizer, buffed it in and wiped the oil off with a clean soft cloth. Night and Day. It doesn't look like the same piece, but I assure you it is. Did I really want to sell this piece of Carnival Glass after it revealed it's glorious secrets. Would you? I did sell it. But some serious thought went in to it!!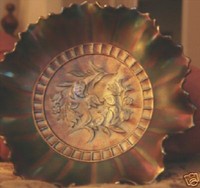 Before After