Welcome to my second guide on Christian Louboutin shoe sizing. I added this guide to expand the amount of pictures & descriptions of my own Louboutins. If you have come to this guide first, please see my other guide for detailed information on sizing for particular CL styles.
Reminder: I am an american size 6.5 and have an average width foot. Below I will list styles that I own, what size I wear and a description of how they fit me. I will continue to add styles that I do not own, but have sizing recommendations for on my first guide. Check for periodic updates!
Rolando, Plum Suede, 37: I just received these beauties and I am in love! I would get these in the fuschia, green, blue & black colors too (if I didn't have to pay rent, electric, cable....). I ordered them from Saks 1/2 size up from my normal size. The toe box is a bit tight, but I have a feeling it will stretch nicely. The suede is so soft! Personally, I could not have gone the full size up because I like a shoe to be tight on my heel. This style is remarkably comfortable considering the 5" heel height, but the hidden platform is the secret. I am surprised at how dainty the shoe looks on the foot; I was worried that it would look clunky given the pictures on the internet. This style is a must have!

Saks Fifth Avenue Picture, Retail $610 (*prices have increased since my purchase up to around $700)
Fox Trot, Black/Gold/Silver, 37: Just bought these off of eBay! These are so beautiful in person. I sized up 1/2 size, but could have probably also gone with the 36.5 as well. As usual with Louboutins, the toe box is small, which is why the size 37 fits nicely. I have adjusted the strap on the back to fit my heel. They are very comfortable and sharp looking with a black dress.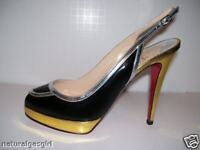 Photo from NaturalGasGirl
Madeleine, Purple/Brown, 37.5: I ordered a pair of these in mustard/brown from Saks, but was sent the purple in the picture below. I am returning them because I am not crazy about the colors. However, I wanted to add this shoe because it runs really small. I ordered a full size up and they just fit. I would recommend going a full size up for anyone wanting to own this style. The positive about this style is that it really elongates the leg. If I can find a pair in a color scheme that I like, I definitely will own this style!

Picture from Saks.com
Very Prive, Black Leather, 37: This is a must have pair for any Louboutin Lover! Although I had originally heard that these ran TTS, I ordered mine 1/2 size up anticipating the small toe box...and I was dead on. Even though the leather stretches and my heel slips a tad out of these sometimes, I feel that I need the extra room in the toe box. If you have a narrow foot, I would definitely order TTS, otherwise size up 1/2 size for comfort. (Same goes for the Numero Prive- I have updated my original guide to reflect the change in my opinion)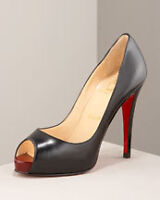 Picture from NeimanMarcus.com
Twistochat, Tan Leather, 37: This pair belies its looks; its amazing what it does for your legs! Very comfortable and perfect for business. I went up 1/2 size, as I do with most Louboutins now, and they were perfect. You can't beat the quality of CL leather!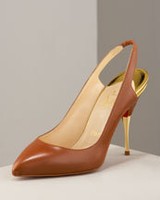 Picture from NeimanMarcus.com