Who are the Maasai?
The Maasai are a tribe of East Africa found in Kenya and Tanzania. Once Warriors, they are now Nomadic Pastoralists whose prized possession is cattle (in fact they believe that their rain God "Enkai" made them sole proprietors of all cattle, so any other tribe in possession of cattle must have stolen them from the Maasai people!). Cattle is the Maasai's main form of currency, so ensuring their safety is the most important part of any Maasai's life. Cattle provides them with milk and blood for nourishment, dung to build their homes (known as "Manyattas") and are often used in spiritual rituals and sacrifices to the gods.
Sunset in the Maasai Mara, picture by mad_matatu, 2001
For this reason, the tribe relies heavily on man's best friend, their dogs, to alert them to danger, should lions, hyenas or leopards approach the herd. The relationship between man and dog in this tribe is one of mutual respect, love and understanding because of the important role that dogs now play in their lives.
Adornment...
The Maasai tribe is probably most noted for their beautiful adornments. Their long bodies and slender features are usually found draped in red cloth and covered in beautiful jewelry, from necklaces, bracelets, earrings, head-dresses and anklets. Their jewelry is primarily made from glass beads, cow hide (another resource provided by their treasured cattle!), wire and any recyclable materials that the modern world has brought them in contact with (plastic bottles and tubs, copper telephone wires, tires and inner tubes...in Kenya we still use inner tube tires!)
Young Maasai girl adorned in traditional tribal jewelry. image courtesy of Father Quattrocchio, Consolata Shrine, Nairobi, Kenya.
Adornments for Pets!
Being such highly regarded members of the Maasai family, it is only fair that pets should be adorned in the same manner as their trusted owners. Authentic maasai dog collars are made from hand-tooled cow hide, either left in it's natural state or lightly stained with plant and flower extracts. Glass beads are then sewn on with sturdy nylon thread entirely by hand in a multitude of colors and patterns. Although there are many other companies in East Africa who manufacture these collars themselves, original Maasai collars are much more in their natural state. They will have slight imperfections that come with any product that is entirely hand made, which only adds to their beauty, originality and mystique! Since they are hand made no two will ever be EXACTLY the same, even if some patterns are more readily available than others... Sometimes certain color and pattern combinations will be one of a kind so you are purchasing a truely unique item.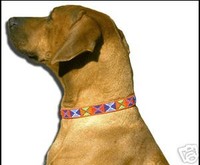 This is Sammy, one of my favorite customers! He is a Rhodesian Ridgeback and he owns 5 Matatu Collars! :) He is a Champion and wears his collars both at home and at competitions around the country! Please see my Dog Collar Gallery for more photos of fine dogs strutting in style!
Fitting your Dog with a Collar.
Because these collars are hand-made, each one must be measured separately, to ensure the perfect fit. The measurements will be as follows:
Total length of the collar: from beginning of the leather to the end, buckle excluded.

From the first hole to the last: you will see measurements like this for example: 16-22. This means that the collar's very first hole is at 16 inches and the last hole is at 22 inches. If you dog's neck measures anywhere inbetween these measurements it's a fit!
Since the leather is all natural you can easily trim off any excess leather with an exacto knife, without ruining the collar at all! Also, you can add more holes if need be with any tool for belts.
Don't know you're dogs' neck measurements? the best way to measure is this:
Measure your dog's neck around then place two fingers between the neck of the dog and the measuring tape for comfort. You don't want the collar to be too tight around him or you will create discomfort. You also don't want it to be too loose as it will come off easily.
Tip for taking your dog out on a leash:
It is always best to use a nylon collar underneath the beaded one and attaching the leash to the nylon collar when taking your dog out for a walk. Never attach the leash to the beaded collar as too much pulling from the dog could damage the collar (especially larger breeds). You'll be able to take your pal out for a walk in style without worrying about damaging the Maasai collar.
Thanks for reading my guide! I hope you have found it helpful and insightful!
Kwaheri Karibuni Tena! Asante Sana!
Goodbye! Come back soon! Thank you very much! :)