*EDIT* Please note that North American buyers have 2 domestic options: Discovery and BBC editions. HOWEVER, the NA BBC version does not feature the bonus content disc that comes with the UK BBC Blu-Ray version. The NA BBC Blu-Ray version was released after I did my initial reviews. If you are considering the purchase of the BBC Blu-Ray edition, I recommend that you purchase directly from Amazon.uk--it is often cheaper than the BBC BR NA edition, AND it has the bonus content.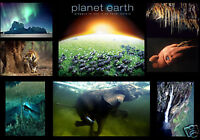 Planet Earth (the award winning BBC/Discovery series) is one of the greatest nature series ever created. No matter how you watch it, the images will be a constant feast for the eyes, even after repeated viewings. Sadly, the overall quality of the boxsets differ greatly, and my aim is to help you decide which boxset is best for you.

Please note that this page is under construction--so please come back as I improve it!




Be wary, as the runtime, narration, and resolution for the different editions are EXTREMELY dissimilar! Not counting the truncated boxsets (Planet Earth is also sold separately with 3 episodes at a time), there are 6 different complete boxsets floating around out there:


Edition 1: DVD boxset (Discovery Channel)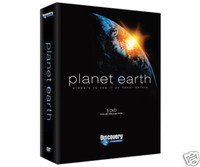 Edition 2: DVD boxset (BBC)

Edition 3: Blu-Ray boxset (Discovery Channel)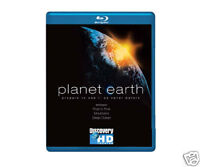 Edition 4: Blu-Ray boxset (BBC)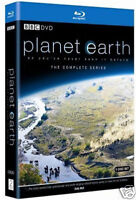 Edition 5: HD-DVD boxset (Discovery Channel)

Edition 6: HD-DVD boxset (BBC)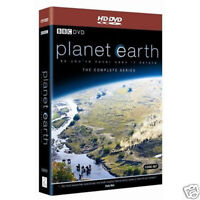 Be VERY careful, as just about EVERY version you find on ebay (and shipping within the USA) will most likely be the shorter running Discovery Edition (editions 1/3/5), which mostly has a monopoly on the US market. If you want the BBC version (see below for details), you typically have to purchase online through a british vendor (ie Amazon.uk). The BBC version is well worth an investment (if you must choose between the two), especially since you can usually procure it for about $35-$40 USD when the dollar is strong against the pound.


Concerning 480p/i vs 1080i vs 1080p
Resolutions
Both of the DVD boxsets (editions 1/2 above) are encoded in standard definition, at 480p/i. Of all the editions, you will notice video pixelation the most with these boxsets, but they have the greatest compatibility (ANY dvd players). The rule of thumb is, if you have a smaller HDTV (32" or below) or an older style SDTV (CRT), you may not notice the difference between standard and hi-definition boxsets--you may as well stick with the dvd boxsets.

For the hi-def boxsets however, all (editions 3-6) state on the box that they are 1080i capable--this is not entirely true. Almost all of Planet Earth was originally fimed in 1080p. The BBC versions are mostly encoded in 1080p, while some extras and bonus content are encoded in 1080i. For the Discovery version however, the entirety of the videos are in 1080i due to poor encoding choices. If you care about overall video quality (own an 1080p HDTV, hi-def video players, and all relevant connectors), then it is HIGHLY recommended that you choose the BBC hi-def versions in favor of the Discovery Channel versions. If you own a 1080i television or player, all hi-def versions will look similar.


David Attenborough BBC Edition
s
Most people prefer his narration because he put a lot more heart into it. However, some find this edition annoying because he talks more than Sigourney in the US version. NOTE that this version has an extra 10 minutes added to EVERY episode when compared with the truncated US version as seen below. For the Blu-Ray and HD-DVD editions, this features an extra bonus disc that isn't available with the Discovery version---so this includes 5 discs total, and 2 bonus episodes (called Natural World: Desert Lions & Snow Leopards).


Sigourney Weaver Discovery Editions
While most people are disappointed with her narrating style (not as much "acting" and emotion in it), most will agree that this is not a BAD version. The intros to each episode are more beautiful than the generic version for the BBC edition, but each episode is missing an extra 10 minutes due to US programming/commercial issues. The Blu-Ray and HD-DVD versions do NOT feature any bonus content (as in the dvd and BBC blu-ray versions). There are 4 discs total, and is overall the weakest investment of the Planet Earth Collections. The DVD version however features a bonus "Future" disc, with additional content not seen in the hi-definition versions.


WARNING: Version Compatibility
Concerning the different versions, be sure to confirm what video standard and region encoding your players accept before making a purchase. Blu-Ray, HD-DVDs, and DVDs all have different region coding based upon product marketing. Anything meant for the United States will have Region 1 encoding--because Planet Earth's BBC versions are mainly marketed for the UK, they will typically be in Region 2 (Europe).


Version Compatibility Rule of Thumb:
Blu-Ray players will play all region discs--for an up-to-date listing of region locked blu-ray discs, check the following website: http://bluray.liesinc.net/index.php?region=b


HD-DVD players will play all region discs

DVD players will ONLY play same region discs
Because of this, ANY Blu-Ray or HD-DVD versions of this series you find will play on your Blu-Ray and HD-DVD devices. The DVD boxsets you purchase however MUST be in encoded in Region 1 to play in your DVD players, so be extra careful when purchasing the BBC DVD boxset of Planet Earth.
If this guide has in any way helped you, please take the time to vote below!

A quick vote is a courtesy "thank you", and is our only reward for taking the time to write these guides! I hope this guide as helped you decide to purchase this wonderful series!!