There are various car mount holders with charging ability on earth and how to pick the right one to suit your needs as well as for safety driving? We have select a range of premium quality car mount holders (strong and robust with fine and smart design) for your selection.
Visit MobiMega's eBay Store for Universal Charging Car Mount Holder
Cigarette Lighter with Charging Application
Capdase Racer - Universal Charging Car Mount Holder 2.1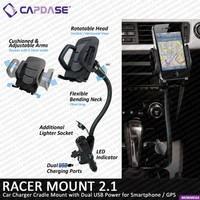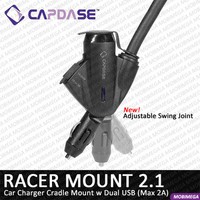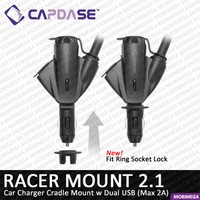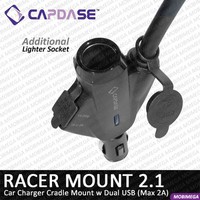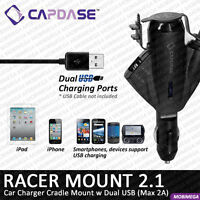 This car mount holder adds charging feature while holding your device, the included secure ring increase stability and allows this mount to fit almost any cigarette lighter socket (short or deep), it also provide 2 x USB ports (1 x 2A for fast iPad charging, 1 x 1A for ordinary smartphones, GPS and standard USB charging) and this car mount holder doesn't occupy the power socket since it built-in a lighter socket as well. Adjust for the best position, angle and orientation thanks to the bendable neck and rotatable joint. The mount holder can grab devices from 5-10cm width or length with the expandable arms.
In-car Cup Holder Application

Capdase PowerCup 2.2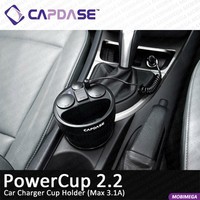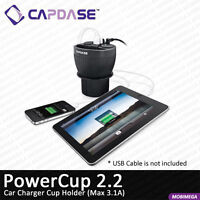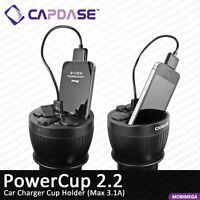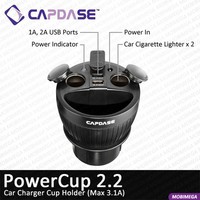 Capdase PowerCup 2.2 Offers additional features for your in-car cup holder, the adjustable base fits almost any size of cup holder, powered by the in-car cigarette lighter and split into 1 x 2.1A USB (for fast iPad charging), 1 x 1A USB and 2 x additional lighter socket.
This guide was written by MobiMega - "Your Genuine Gadget Web Store".
If you think this guide helpful, we appreciate if you could vote "YES" for this!
About MobiMega - MobiMaxx
We sell premium GENUINE gadgets for mobile phones and tablets as well as PC peripherals, all items are in 100% NEW IN BOX and well packed for fast air mail with tracking to worldwide. Top selling includes accessories for iPhone, iPad, Samsung Galaxy, Bluetooth Headsets, Car Mount Holders, etc. Worldwide retail and wholesale orders are welcomed.
Visit MobiMega's eBay Store for more excitement.