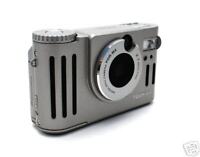 Just as there is always more than one way to accomplish a task on the Internet, so too, you can choose many ways to go about getting a picture of your product into your online listings.
You'll need to consider:
• How many items you plan to list
• What type of items you plan to list
• Whether you will have the items in your possession (Some might be too large to be kept at your site.)
If you already own a film camera and are listing only a few items, traditional film will work for you. Simply take the finished roll of film to your favorite photo processor and ask for the images to put into digital format. The photo finisher should be able to burn the images to a CD. Once you have the pictures on a compact disc, you will be able to upload them to eBay. You can use eBay's picture service to edit your photos at no additional cost
However, if you plan to sell more than just a few items, using a film camera will soon become expensive. The cost of the film is just the start. There's the price of processing; you might have to re-photograph the item; you'll spend time running back and forth to the film lab, etc. Soon, you'll be searching for other alternatives.
1. THE BEST CHOICE FOR EBAY PRODUCT PHOTOGRAPHY: A DIGITAL CAMERA
Digital photography captures images in a digital format. You can digitize an image by taking photographs with a film camera and then scanning the slides, negatives or prints. However, it's much faster and easier to capture images directly with a digital camera. Right now, there are hundreds of makes and models to choose from, and more are introduced every day.
Which one works best? If you plan on using it only for photographing items to be sold on the Internet, a more modest, scaled down model will work just fine. The first step, then, is to consider what you will be using your digital camera for. Once you know that, you can start shopping.
What features do you need specifically to take quality photos for Internet ads? Here's what to look for:
• 3 Megapixels or better
• Macro Focus (The ability to focus close-up)
• Flash that can be turned off and can be adjusted to be used as fill
• A White Balance Feature is essential
• LCD Screen
• A body that feels comfortable in your hands
• All the original software, cables and user's manuals, if you are buying a used camera
What does all that mean? And why should your camera have these features? Let's take a look.
2. HOW MANY MEGAPIXELS
If you plan on taking shots only for web publication, you don't need a super-charged megapixel monster! Save your money to buy more toys later. If you buy a name brand camera, you'll get a higher quality pixel "sensor" built into the camera. This higher quality will produce a sharper image with fewer megapixels.
Computer monitors are still far behind printed photographs when it comes to reproducing images. A monitor may not be able to display – or may not be correctly configured to display – all available colors at the highest possible resolution. Some people deliberately ignore the high resolution settings on their computer monitors so that the icons and fonts look bigger. All these things combine to further degrade the quality of an image.
If you keep your photos small and sharply focused, a 2 to 4 megapixel, brand name camera can work just as well as a super-duper 12++++ megapixel camera for internet product photography.
3. MACRO FOCUS
'Macro focus' is photo jargon for "the ability of the lens to focus close-up" Many point-and-shoot digital cameras will only focus on items three feet or farther away. You'll need to be able to focus closer than that if you are shooting small items such as stamps, coins, or jewelry. Don't forget: you'll also need to be able to get close-ups of details such as signatures, damage to the item, interesting features and more. Look for a camera that will focus to within an inch.
If you are thinking, "I can use my zoom to get close-ups," you may be correct. However, a zoom lens (also known as a telephoto lens) will flatten out the appearance of an item. That's something you don't want in product photography. You want the object to look as round and three dimensional as possible. A zoom also requires a large aperture openings, which lessens the Depth of Field. (We'll talk more about Depth of Field later.)
4. FLASH FEATURES TO LOOK FOR
Whenever possible, photograph your item with natural light. It will give the photo the truest colors. A flash can produce a harsh washed out look. I live in the Northwest, where natural light is a treasured gift. We have a long dark winter, an overcast spring and fall, and sometimes cloudy summer days. I have to rely on artificial means to light my subjects. Occasionally, sparingly and carefully, I use my camera's flash unit.
Here are the flash features I use the most:
Flash Off - In addition to washing out the subject, a flash can cause reflection spots. These spots can look like damage to a potential buyer. If the buyer doesn't read the copy in your ad (and many won't), they'll never know that the 'damage' was just a photo glitch. Flash can give your item a harsh look: the edges are too sharp and shadows too dark. You don't want to jar you customers' sensibilities and send them right out of your store or listing. Flash photographs that have hard and unnatural looking shadows detract from the elegant or welcoming look you want to achieve.
Flash That Automatically Adjusts Intensity When Camera Is Set To Close-Up Mode - This is one of the best features a camera can have for product photography. A full flash that normally is intended to light subjects three feet or farther away can wash out subjects which are only 12 inches away. If your camera has a close-up mode, it most likely will have this Automatic Intensity Adjustment feature also – but be sure to look for it.
Fill Flash – You'll appreciate this setting when photographing an object on location. When you are on site, you may not have the luxury of being able to move the item to find the best angle for your photograph. If the piece is back-lit, details will be lost in the shadows. The solution is to use a fill flash.
5. WHITE BALANCE FEATURE
New digital cameras have a wonderful feature called the "White Balance" setting.
Indoor lighting doesn't produce the same spectrum of colors that sunlight does. Our eyes and minds automatically compensate for these differences and adjust the color message, so we aren't aware of an unnatural hue in the light. Our brains filter light messages from our eyes. When we walk into a room, we see the colors as if we were outdoors on a sunny day. It might be a little dimmer, but we don't really see the light color as warmer or cooler. Film (and digital) cameras, however, record the true, unfiltered colors. When printed, the photo is apt to have an unpleasant yellow or blue/green cast. The yellows and reds are the result of the warmer tones given off by incandescent light bulbs; the blues and greens come from cooler fluorescent tubes. This light color is referred to in photography as "color temperature."
When you photograph an item with a film camera, the film records the color temperature exactly. To make an image look natural, the photographer must use "daylight balanced" lights. Until recently, these bulbs were expensive, gave off lots of heat, and required special fixtures – all of which made them expensive and less than fun to work with.
In digital photography, the camera itself can automatically compensate for variations in color temperature. You can set your digital camera's controls to an icon that (most often) looks like a little light bulb or a long fluorescent tube and the camera will do the rest. With the white balance feature, you can have a well-lit photo of your item using any light source available to you. Have a couple of shop lights you purchased to use around the house? Well pull them out, now you have another use for them!
6. LCD SCREEN (LIQUID CRYSTAL DISPLAY)
The LCD is the little screen on the back of the camera that shows the image you are photographing. There are several reasons why you want this feature for your product photography.
First, it compensates for something called "parallax." Parallax is defined as "…the apparent shift of an object against a background due to a change in observer position." In photography, this phenomenon is caused by the different positions of the viewfinder and the lens, rather than by a shift in the position of the (human) observer. Defeating parallax is what made Single Lens Reflex cameras so popular - you could see exactly what you were photographing, because you were looking through the camera lens, not through a slightly offset viewfinder.
In distances of ten feet or more, the lens/viewfinder parallax is not really noticeable. But when you are photographing an item up close, the shift in sight line can be big. Your object may be off center or cut off or, in extreme cases, cut off and off center. On a digital camera, by using the LCD display screen, you'll see exactly what the lens sees, know that the composition is centered and in focus and that the lighting is appealing.
The second reason why an LCD screen is valuable to a photographer is the immediacy it brings to digital photography. You'll be able to see the photograph as soon as you take it, and you can quickly determine if another shot is needed. Knowing right away if you need to take another picture will save you time and frustration when you are ready to list your items.
7. A CAMERA BODY THAT FEELS COMFORTABLE
Today, there are many different styles of digital cameras. Some are super small and so compact that they'd never be mistaken for anything except a piece of high tech, digital equipment, while others tend to look like traditional cameras. For my main camera, I opted for one that had the look and feel of a traditional Single Lens Reflex (SLR) camera. I've used a film camera for years, so that felt comfortably familiar to me. You may prefer a different design. Pick them all up in the camera store and ask yourself: "How does this feel?" You'll be spending lots of time holding it, so find a camera that fits well in your hand. Can you reach the shutter button easily? How does it look and feel when you are looking through the little LCD screen and viewfinder? Is the surface easy to hold on to, or is it so slick it might slip out of your fingers? A big heavy camera may be awkward for someone with small hands, but a small compact camera may be too small for someone with large hands to use.
Don't settle for the first camera you try. Find one that feels comfortable in your hands.
8. OTHER FEATURES THAT ARE FUN BUT NOT NECESSARY:
Remote Control Timer: I use a Remote Control Timer when photographing with a slow shutter speed. Even on a tripod, it's easy to jar the camera when you hit the shutter button. You can set the camera up and move away, so that neither you nor your shadow appears in the picture. Or you can save the remote for special occasions, such as holidays, weddings, and vacations - times when you want both to take and to be in the picture. Again this is a fun feature. If it's offered with your camera, experiment with it.
Date & Time Stamp: You may want to date stamp your item listings. I've never done so, but I can see a use for it if you are selling "timely" materials. You might wish to date stamp your photographs if you are competing with "drop ship" sellers. They use 'canned' photographs and do not necessarily have the items in stock. You can prove to your buyers that you have the item in inventory by date stamping your photographs.
AC Adapter: Digital cameras use lots of power, especially if you are use the LCD Screen. If you can plug in your camera in while you work, you can save on batteries. Unfortunately I've found most adapter cables a little too short to be truly useful.
9. BUYING A USED CAMERA? THINGS TO LOOK FOR:
If you've decided to look for a less expensive, used digital camera, good for you. Every businessperson must consider ways to keep costs down. If you are looking at used cameras here are some tips:
I'd say stay away from refurbished electronics. This is strictly my own opinion. My experience has been that refurbished electronic items still have the original problems… and they show up after the 30-day warranty expires. I've probably been unlucky, but I think a better choice would be to buy a pre-owned camera or even last year's model on close-out.
If you are planning on buying a used digital camera, look for one that has been well-cared for by the original owner. How can you tell if that's so? Look for a camera that still has the owner's manual, the software, the cables, and maybe even the original box. If the owner still has the original box, you may have someone who really respects his or her camera. Another thing to consider which will add value to your purchase: Is the original owner including the camera case or any additional media cards? Media Cards are (in most cameras) the storage or memory card that holds the images until they are loaded onto your computer. It's great to have extra cards, so if your seller is including them, that's a plus. However, be aware of current prices. Capacity increases and price drops rapidly with memory cards. Don't over-pay for older, smaller cards.
One last question to ask before your used camera purchase: Why is the seller selling it? Did they upgrade to a newer camera or did they not like it? If the latter, what didn't they like about it? This might be a red flag for your own satisfaction with the camera.
10. HOW TO DECIDE WHICH BRAND & MODEL CAMERA TO BUY
I suggest you pick a brand name camera. And not just any "brand name." Pick a camera from a company in the electronics or photography field. That way, you will have a wealth of hardware and software support backing you up if you run into trouble.
Don't try to save money by buying untested, gray market equipment. The investment you make in a good camera will be quickly offset by the higher sales prices your products can command when showcased by first rate photographs.
For this handbook, the cameras I used were: A 3 megapixel Olympus Camedia (now discontinued and outdated), a Kodak Easy Share 5 megapixel camera, and a Cannon Rebel XT 8 megapixel camera. I enjoyed using all three of them and think they all worked well to help me achieve the results I was after.
Now go out and buy that digital camera! When you've got your camera in hand, come on back and we'll start getting to know it.
If you've sold anything online you know how important a good, professional looking image is. Without one your bottom line will suffer. Finally, there is a book written in plain English to help you improve your online photos:
If you found this information useful, please check out the handbook: Easy Auction Photography by Cindy Shebley.
The guide above is a sample of all the valuable information available in the book. For more information please search for Easy Auction Photography here on eBay.
All information contained in this article is copyrighted by Cindy L. Shebley Enterprises. No part of this may be reproduced without prior permission of the author.