Carole Little clothing is a well known and well loved West Coast label. She designed clothing with a designer look but at affordable prices. The label reached its zenith of popularity in the early 90s with sales of more than $375 million. Carole Little became popular for her use of colorful and unusual fabric prints and flattering cuts of clothing. She often did lines with a theme such as her popular and collectible items from the Moulin Rouge ~ Paris France collection. In the late 90s, she sold her company and became involved in litigation with Chorus Line Corp.'s parent company, Levine Leichtman Capital Partners, which acquired the Carole Little brand through the acquisition of Chorus Line. The investment firm filed voluntary bankruptcy for both companies a few months after the acquisition, laying off more than 300 workers and combining debts of more than $70 million.
The Carole Little brand still exists, thanks to a licensing agreement with The TJX Companies Inc. Cherokee Inc., acquired rights to the trademarks of CL Fashion, including the Carole Little and St. Tropez brands in 2001 for $1.7 million. Cherokee, which operates a retail direct-licensing program, licensed the Carole Little and St Tropez brands to the TJX Companies, with the option to buy the labels at the end of the five-year agreement. If that happens it may be that you see Carole Little coming to a Wal-Mart near you....just remember ... it's not the Carole Little you once knew and loved!

Designer Carole Little - 2003
In 2001, she launched a new company with her longtime partner, Leonard Rabinowitz, named StudioCL Corp.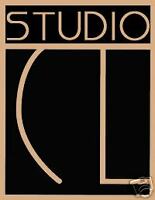 During this time she did a collection for QVC under the name In Encore and a line for Dillards named after her daughter, Francesca Rose. She also has a label called LinQ which makes contemperary tees and is sold in high end department stores. She also was co-producer of the movie, Anaconda.
You can find Carole Little clothing from all her different labels on Ebay. The oldest labels are from her Saint Tropez West label that date back to the mid 70s. She still used this label throughout the 80s and then went to the commonly seen CL black and white Carole Little label. She still did a Saint Tropez West label but it looked similar to the black and white CL label in the late 80s and early 90s. The newer Carole Little label had a smaller CL at the top and appeared in the late 90s to current times on clothing done for the TJ Max collection clothing. She is no longer involved with this line as her name was bought out and it's pretty obvious that this is not the Carole Little that was so popular from the 70s to early 90s -- neither the unique quirkiness or design is evident in these newer clothing items. Some of her clothing collections from the 90s had line names but unless you find a garment with the new tags intact, it is almost impossible to find them at this point in time.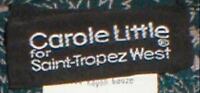 Older CL St Tropez label

CL label used through 80s to early 90s

CL label used in her Sport Line of clothing -- this was usually either a cotton knit or washable silk



CL labels used in the TJ Max line -- used in newer clothing you commonly find in stores now
To avoid disappointment in buying used CL clothing, it is best to shop with a reputable seller on Ebay who is knowledgeable about the label and is committed to selling only high quality used clothing. Things to watch out for when buying used Carole Little are particularly in the elastic areas and in any areas of stress of the fabric. Consistent dry cleaning through the years usually "kills" the elastic in older Carole Little items. The German crinkle rayon she used in most of her older garments has a tendency to wear out if worn excessively. When you buy used Carole Little on Ebay look for descriptions of the condition -- if there is no condition it's best to ask in oder to make sure you are getting something worth spending money on. If in doubt, always ask questions and check feedback before you buy.