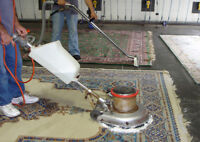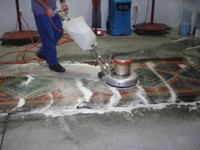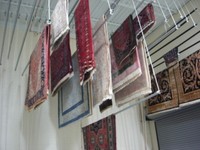 Care and Cleaning of Wool Rugs:


Rugs made of wool are easily and economically maintained. Rugs of wool are very durable and consistently out-perform other materials. Wool is much more resilient, cleans better and stays clean longer.
Cleaning:
Use a trusted professional Oriental rug dealer or cleaner to have your rug cleaned. A professional washing will bring out the richness of color and softness of the wool. Depending on the amount of traffic, a professional washing of your Oriental rug is recommended every 3-6 years. Never have an Oriental rug steam cleaned in your home!
Blotting & stain removing:
Click here to see our complete antidote chart for specific spills!
1. Work quickly
2. Blot up all excess spill with paper towels. Don't Rub.
3. Apply antidote as shown on list with a clean dry cloth, working from the edge to the center.
4. Do not soak.
5. Pat with paper towels. Dry with fan or hair blower.
6. Restore pile with clothes brush.
Some hard to remove stains:
CANDLE WAX: Place a blotter or brown paper bag over the spot. Put a hot iron over the blotter. Wait a minute or so until the wax is absorbed into the blotter. Move the iron constantly and do not let it stay in one place. Repeat if necessary.
CHEWING GUM: Press ice cubes against spot. Wait until it becomes brittle and breaks off. Use spot remover to vanish last traces. Saturate the spot with cloth soaked in vinegar or alcohol.
INK FROM BALLPOINT PEN: Saturate the spot with hairspray. Allow to dry. Brush lightly with a solution of water and vinegar.
Spot and stain removal procedures:
(Refer to our complete antidote chart for when to use these combinations).
Procedure A: Detergent - Vinegar - Detergent – Water
Procedure B: Cleaning fluids - Detergent - Water - Ammonia - Detergent –Water
Procedure C: Detergent - Vinegar - Ammonia - Detergent - Water
Procedure D: Detergent - Ammonia - Detergent - Water Detergent - Ammonia – Vinegar
Procedure E: Detergent – Water
Rotation:
To insure even wear, rotate your rugs end for end on a yearly basis. Oriental rugs fade. As does upholstery, so avoid direct sunlight.
Vacuuming:
Oriental rugs, like most carpeting, should be vacuumed on a regular basis to remove dirt and restore the life to the fibers. Do not vacuum the fringe of your rug!
Padding:

A quality pad under your rug helps protect it from wear and slippage. We will be happy to provide you with the correct padding.
Click here for the best prices on eBay for premium quality rug pads!
Restoration:
In the case of damage, just about any problem has a solution if it is professionally restored. Old and antique rugs sometimes need to be re-woven to repair worn areas. Always consult a professional.
Visit our eBay Store for spectacular prices on rugs and pads!