For those who have been thinking about trying their hand at cake decorating, or perhaps have already decorated cakes for family and friends but wished they could achieve more professional looking results, you'll want to read the tips offered in this guide. As a cake decorator for over 20 years, I know that without a strong foundation, even the most artfully decorated cakes will still lack that professional touch, and that the key is in proper baking and icing techniques. Before you even begin to create those lavish borders, or embellish with those perfectly mastered roses, you'll want to be sure to have even cake layers and crumb-less icing. And trust me, these are simple to achieve.
BAKING THE CAKE
Whether you're baking a single, 6 inch layer cake, or a massive 20 inch wedding cake, the following techniques apply:
Once you have prepared the pan for the type of batter you are using, and poured the batter into the pan, tap the pan gently on a tabletop or counter to allow any air bubbles to rise to the surface. This will help eliminate holes in the finished cake and give it a smooth, even texture.

To achieve even cake layers and eliminate the bump in the middle that often occurs when baking, begin by pre-heating the oven at a lower temperature than stated in the recipe and increasing the temperature at regular intervals during the baking time. To illustrate, I'll assume a baking temperature of 350 degrees, since most cake recipes call for this temperature. Begin by pre-heating the oven at 300 degrees and baking for 1/3 of the required time, increasing to 325 degrees for the second third of the baking time, finally increasing to the full 350 degrees for the remaining third of the baking time. For an 8 inch layer cake which typically bakes for 45 minutes, bake at 300 degrees for 15 minutes, 325 degrees for 15 minutes, then 350 degrees for the remaining 15 minutes -total 45 minutes. The gradual increase in oven temperature will ensure even baking, rather than having the middle of the cake rise first which typically happens when a cake is baked at one temperature.
When the cake is done, remove it from the oven and allow it to sit in the pan for 5 minutes only. Place a piece of waxed paper over the pan, top with a cake rack, then invert the pan onto the rack and place on a heat-safe counter or table-top. Let cake sit until cooled before icing.
ICING THE CAKE
The secret to professionally iced cakes is two-fold: eliminating crumbs and creating a smooth, even finish. How many times have you seen - or made - a cake which was nicely decorated, but the crumbs peeking through the icing didn't look so professional? Or perhaps you wished you could have that smooth finish to the icing like the cakes from the bakery? Following are simple steps to ensure smooth, crumb-free icing. And following this section, I have included a recipe for buttercream icing. Although there are many variations, I have found this recipe to work well.
A few hours before icing the cake, or the night before, make a batch of buttercream icing. Please a small amount of icing in a separate bowl, enough to provide a thin layer of icing for the size cake you have, and add a few drops of water to thin. This should not be too runny, but slightly thinner than regular consistency. With a metal spatula, Wilton spatula preferred, such as the ones shown in the photo below, place a very thin layer of icing all around the sides and top of the cake layers. You don't have to strive for perfection since the final coat will hide this layer. Set the cake aside for a couple of hours or overnight so the icing can set. Then ice the cake as usual with regular consistency icing. The initial crumb-coating will lock in any crumbs and ensure a clean, crumb-free icing. Tip: Before icing, I place my cakes on two or more cardboard cake circles, depending on cake size and weight, which I've covered with food-safe florist foil in a color which compliments the color used on the cake. A good rule-of-thumb is to use cardboard circles which are 4 inches larger in diameter than the cake layer. For example, for an 8 inch cake, use 12 inch cardboard. If you're placing the cake on a plate or other item, use the same rule-of-thumb regarding size. This will give your cake a more professional look.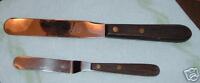 For icing with a smooth, flawless surface, use the following technique. Once you've finished applying the second coat of icing, dip the spatula into a glass of hot water. Using a light touch, run the spatula around the sides first, then the top of the cake, re-dipping the spatula in the hot water after each stroke. This takes practice, especially smoothing along the edges, but once mastered, works wonderfully! Tip: I place a pot of water on the stove to boil when I'm ready to begin the second coat of icing. By the time I'm finished, the water is boiling and ready for me to begin the smoothing step. I also place my cakes on a flat lazy susan for ease of turning the cake while icing and smoothing.

BUTTERCREAM ICING RECIPE
2 lbs. confectioners sugar
3/4 Cup shortening - Crisco preferred
1 tsp. vanilla
1/4 tsp. salt
3/4 Cup water
Combine all ingredients in a mixing bowl. Mix at medium-to-high speed until it's a smooth consistency for icing.
There are many eBay sellers offering cake decorating books, supplies and pans. Personally, I prefer pans made by The Wilton Company, as they have served me well for many years and have given me the best results. For creative decorating ideas, Wilton also publishes an annual yearbook Wilton Yearbook filled with clear, easy-to-follow directions, beautiful photos, patterns and information on ordering supplies. Search on Wilton pans, Wilton books, cake books, etc. and find dozens of listings. Cake decorating is a fun and rewarding art, and baking and decorating cakes yourself for family and friends can also save you money! And I know the tips and techniques I've shared in this guide will help you achieve professional results. Have fun, and enjoy the compliments!
And if you found any of the above tips helpful to you, please kindly click on the "YES" button below. Thanks!