Whether you're connecting a printer to a computer, setting up a home theater system, or rewiring an entire office, you're going to need the right cable. Selecting the right cable is more than just deciding on the length you want: you'll need to determine what connectors you want, the quality of the cable you're looking for, and any special features (plenum shielding, gold-plated connectors, etc.) that you may need. This guide will assist you in your search for the right cable.

Cable Basics
A cable consists of three elements: the conductor, or the wire through which the signal runs, shielding, which protects the conductor from interference, and the connector, which terminates the cable and allows it be attached to a piece of equipment.
Ideally, the goal of any cable is to transfer a fully preserved signal from its source to a selected output. Realistically, though, even the best cables suffer at least some loss of signal strength. This loss is caused by outside interference: radio frequency (RFI) and electromagnetic interference (EMI) can be picked up by the conductor, which results in distortion of the signal (such as the buzzes or pops in audio, or lines or snow in video). Low quality cables, such as those which usually come standard with A/V equipment, offer minimal protection from this interference.
Higher quality cables protect against interference through a variety of methods. Oxygen-free copper can be used in the conductor, which helps prevent corrosion, leading to longer life and consistent signal integrity. Layers of shielding – braided copper to block RFI and foil to block EMI – can be grounded on the source end, which keeps interference moving away from the output. Sturdy gold-plated connectors won't corrode as easily, and maintain a tight connection with the equipment. The connector is what signifies the type of cable: and within the categories of audio, video, and computer cables, there are numerous types, each with differing levels of quality.
Audio Cables
Audio cables feature fewer types of connectors than video, although analog and digital are still the two primary categories. As with video cables, digital is substantially better (especially in terms of its consistency and strength of signal) than analog, and length and shielding have distinct effects on the quality of the cable – a longer cable will need better shielding to protect against interference.
Here are the options for audio cables, in ascending order of quality:
Analog Audio Cables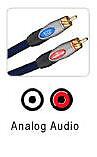 The most common audio cables, analog audio cables feature two RCA-type connectors, one red for right channel audio and one white for left channel audio. Analog audio is frequently combined with composite video, which results in the red, white, yellow cables you may have seen or used to connect a VCR and a TV.
Digital Audio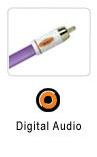 Digital audio looks identical to analog audio (both use RCA-type connectors), but represents a significant upgrade in the quality of audio signal transfer. Digital audio is specifically designed to provide wider frequency bandwidth and 75-ohm impedance.
Fiber Optic Toslink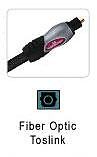 Optical cables carry digital signals as well, but as pulses of light rather than electric impulses. The benefit of this is that fiber-optic cables are not affected by the interference that plagues electric cables. Of course, the quality of the cable, especially the toslink connector, will still determine the fidelity of the signal. Fiber-optic cables are found on many CD and DVD players and most high-end receivers.
Speaker Wire
Pretty self-explanatory really; speaker wire connects speakers to a stereo or receiver. It is usually split and color-coded: red for right channel audio and black for left channel audio.
Video Cables
There are two major categories of video signals: analog and digital. Analog has been the standard for decades, but today's advancements in entertainment technology have produced excellent digital image and sound that revolutionize home theater quality. Analog signal is decent, especially since most people have probably never known anything better. If your budget can't afford digital technology, purchasing high quality analog cables can greatly enhance even standard analog video and audio.
Here are the options for video cables, in ascending order of quality:
F-Type (RF) Coaxial Cables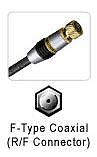 These cables are the most common and the least desirable for AV connections. With the audio and video signal 'modulated' onto one cable, it is impossible to transmit as high a quality of signal as what can be carried by a component, S Video, or even a composite video cable. F-Pin connections supply only mono audio, not stereo.
Composite (RCA) Video Cables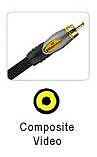 Composite video cables represent a step up from standard coaxial cables. They feature what you might recognize as an RCA connector (RCA connections are now considered the standard on most TVs, DVDs, and VCRs); but, as with F-type cables, all video signals are carried on a single conductor, which is not the ideal form of transmission. Frequently, composite video cables will be accompanied by analog audio: these are the three color coded cables you probably have used to attach a VCR (yellow for video, red for right channel audio, and white for left channel audio).
BNC Video Cables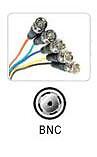 Used primarily in the professional broadcast domain, BNC (short for Bayonet Neill Concelman, after the two engineers responsible for its invention) cables are actually the same as composite video except for the shape of the connector, which screws into place and is more secure than an RCA connector.
S-Video Cables
These cables are a significant step up from composite video. By breaking the video signal into two component parts, S-video cables greatly improve picture quality over composite video cables. S-video inputs are found on most high-end TVs and AV components.
Component Video Cables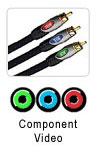 These are the best non-digital cables for high definition video. They break down the video signal into three cables, so image clarity and sharpness is maximized. Component cables look just like composite cables (both use RCA-type connectors), but since component cables break down the video signal into three cables rather than composite cables' single cable for video transmission, the signal quality is superior to the other types (component video is not backwards compatible with composite, so make sure your equipment will accept component video connectors before purchasing them). The three components are technically labeled Y, Pb, and Pr, but most manufacturers make it easy by color-coding them as red, green, and blue.
DVI Cables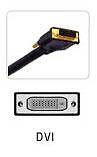 Digital Video Interface is a relatively new type of connection that supplies unmatched video quality. DVI maintains the pure video signal in its digital form from satellite and DVI-equipped DVD sources to the TV monitor or projector, thus providing the very best picture quality available. Since it is a developing technology, there is no universal standard for DVI cables and we are left with several different types of DVI connections: DVI-I, which supports digital and analog, DVD-D and DVI-A, which support only digital and analog respectively, and Dual-link DVI-D, which supports digital with increased bandwidth.
HDMI Cables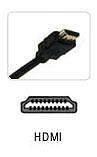 High Definition Multimedia Interface is essentially a smaller version of DVI: it is backwards compatible with DVI. However, HDMI also carries 8 channel audio, which is not supported by DVI ports, so this would be lost in the transition. HDMI is a new technology that is available on high end DVD players, plasma and LCD screens, and HDTV tuners – it has only been available for a couple of years, but is expected to become the standard for HDTV in the future.
VGA Cables
You may have seen VGA (Video Graphics Assembly) cables before, especially if you've used a computer. VGA is also referred to as 15-pin or HD15 because of the 15 pins on the male connector. The most common use of VGA is connecting monitors to computers: VGA's application in home theater is usually relegated to connecting projectors and some HDTV decoders.
Computer Cables
Cables that don't transmit audio or video fall into a broad category that we'll refer to as computer cables (you could probably call them "data cables" if you felt like it). These cables transmit data from computers to peripherals and other computers. You're probably familiar with Ethernet or network cables: these have connectors that are similar to basic phone jacks. And if you've ever used an Ipod or hooked up a printer, you've probably used USB or Firewire cables.
Here are the options for computer cables, in ascending order of quality:
VGA Cables
As we mentioned earlier, 15-pin VGA is the standard method of connecting a monitor to a computer.
Category Cables
Network cables are sorted into categories defined by the Electronic Industries Association and the Telecommunications Industry Association (EIA/TIA). The most common form of network cable are Cat5 cables, which feature four twisted pairs of copper wire (although they utilize only two of the pairs) enclosed in an RJ-45 connector, and are used to hook a computer up to a Local Area Network (LAN). Cat5 supports Fast Ethernet (100 Mbps). Enhanced Category 5 (Cat5e) is backwards compatible with Cat5, but utilizes all four twisted pairs and is thus able to support 1000 Mbps. Like Cat5e, Category 6 cable uses all four twisted pairs: however, it runs communications at twice the speed of Cat5e.
FireWire Cables
FireWire is a cost-effective and efficient external bus that features transfer rates up to 400 Mbps. FireWire is used to connect computers and peripherals, especially digital video cameras. The IEEE 1394 standard (the name FireWire is trademarked by Apple) is marketed under different names by different companies, such as i.link or Lynx.
USB Cables
Like FireWire, Universal Serial Bus is used to connect computers and their peripherals (like keyboards, mice, modems, etc.) USB supports up to 12 Mbps and appears into two styles: the more common USB Type A (identifiable by it's flat, elongated interface) and the smaller USB Type B.