BUYING HAT LOTS
Vintage Hats Sold in a Lot
Bargains for the Buyer - Not all the same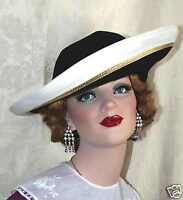 Bidding on Hat Lots on eBay
When I first starting looking for hats to collect on eBay, I noticed that there are so many to pick from that you could get lost. There are Victorian, Edwardian, 20's, 30's, 40's, 50's, 60's and current. There are wide brims, cloches, fur, straw, velour, wool, cellophane and others. So many choices! Then I noticed groups of hats sold in a "lot". Some lots were three, five, ten, fifteen, twenty or more hats all sold together for one bid. In the lot there was so many types and styles, all different aged hats, all different textures, and lots of colors. This seem a smart choice but what about the price! I noticed that some lots sold for low bids and with few bidders, while others brought high prices from many bidders, why? It was about condition of the hats and the reputation of the person selling the hats. The lots that brought more had more gorgeous hats. I noticed that the seller had established a reputation and had super feedback. It appears that hats were their speciality.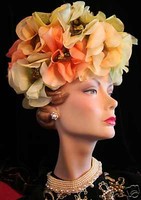 Hat Lots Seems Great for the Buyer!


At first it seemed odd that a seller would put a bunch of hats together and sell them for a reasonable price, when they could have done better placing them on ebay separately. It appeared that they were loosing money selling all these hats in a group. Some hat lots are displayed on mannequin heads, some are piled on a table, but it is an auction and the bidding is exciting. Sometimes it is fun to buy "a white elephant" or a "pig in a poke" meaning that you are taking a chance and betting on the come, but it is so much fun when it arrive and you pull out "even one hat" that is worth what you paid for the whole lot - you want to celebrate! I have noticed that the hats on racks or mannequins heads bring more money because you can see the hat better and sort of have a feel of what you are buying.
We live and learn.......I found a nice group of hats on ebay and jumped right in and started bidding, but wow, I was outbid right away and the lot sold for a higher price than I could pay. So this was a learning curve and I would try again. I ended up winning two lots of hats, one was more expensive than the other, but I was excited. My first hat lot arrived and the hats were awful, all smashed together and they smelled like cigarettes. I had not paid much so I was okay with it and I left positive feedback because I felt I really did get what I paid for. When the next lot arrived it was wonderful. The hats were all wrapped in tissue paper and no smells and the condition was great. The group was more expensive, however the hats were almost mint. I was happy! I had learned that the second lot was what I would look for in my bidding. I could feel comfortable wearing the second lot. If I was going to resell any of the hats, the second lot was a perfect display because of the condition. So even though the lot hat buying is an advantage for the buyer, you have to take facts into consideration.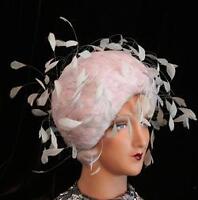 What about the shipping fees to ship a hat lot?
The shipping varies too. The shipping is higher if the lot of hats is coming across United States, or Internationally. If the buyer ships the hats in a roomy box, not smashing the hats, and wrapping each hat in tissue it will cost a little more. If the buyer ships USPS priority instead of parcel post it will cost a little more. The first group of hats I received didn't cost much to ship because the seller shipped parcel post. It took a lot longer and the hat box was pretty beat up with a hole in the side. The second group arrived in two days the same distance by USPS priority. I did pay more for the shipping but the box was larger and the hats all wrapped in tissue paper, no smashing. The shipping box was as pristine as the hats.
If you ask the seller to ship USPS priority I am sure they will be willing to do so, but it will cost more. I found out an interesting fact, when the seller ships USPS priority and print their own label, they get FREE delivery confirmation and save 5% which is sort of cool. Below are photos of the priority box and the parcel post box. The USPS priority box arrived in 2 days from coast to coasts, the other box took 8 days coast to coast but was a lot less in shipping total. (notice the hole in the side of the parcel post box)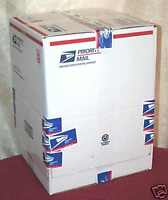 Thank you for taking the time to read the guide. If you had fun, please vote YES on the survey below. It would be greatly appreciated.