Buying On eBay: Importance of a Good Feedback
As you know eBay is one of the most popular online marketplaces, also it is an online auction website that allows internet users to post items that they have in their possession, but not longer need or want, for sale. While this offers you a large number of products to choose from, beware it is quite easy to get scammed on eBay. To avoid that always check feedbacks.
If this is your first time buying on eBay, you may not know that buyers and sellers are able to leave each other feedback. in fact, you are encouraged to do so. If other eBay buyers, were to have a positive experience (they got their item on time and it was as described), they would leave a positive feedback to the seller. But one other hand, if they experience was bad (they did not get their product, it was late or broken) buyers would leave a negative comment.
Positive comments are marked with green circles, negative ones are marked with red. There is also possibility to leave a neutral feedback, usually it is left if there was a problem with transaction and seller has managed to resolve it.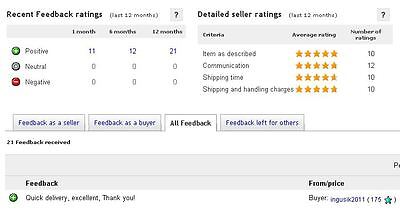 Feedbacks will give you idea what type of service and product quality seller offers you. More positive feedbacks seller has than better, it shows how good is his reputation.
To examine sellers feedback score click on the number with a star next to sellers nickname. You will be able to see all feedbacks that are left to the seller. Usually there might be some negative feedbacks left and it is not always a bad thing. Main issue usually is that item arrived few days late, but you need to remember sellers do not work for post office. Although look out from sellers who have a lot of negative feedbacks or if they have only few feedbacks at all.
It will take you only couple minutes to check feedback ratings of an eBay seller and might save you a lot of trouble and money.
Best regards to you and remember to shop safe!