SOME ADVICE ON CHOOSING AND BUYING USED MICROSCOPES
by James McHone of Stones2Gems. Polarizing and brightfield microscopes have been important tools in my geological research and teaching for the past 40 years. I have also renovated and furbished many different makes and models as a hobby and part-time business, so my experience is mostly with 20th century scopes rather than new models. Here is some advice for those in the market to buy an older microscope, with some background for people who are not familiar with real scopes. Real microscopes do NOT include the awful toys so many of us had as kids, and which are still being made and sold. My first advice: don't inflict one of those so-called educational cheap toy microscopes on a child.
Types of Microscopes. Even though they usually have two eyepieces, compound microscopes are not stereo microscopes. Stereos (also called dissecting microscopes) are used mainly to identify and examine 3-dimensional objects such as bugs, plants, or minerals, at least by people like me. And you see them in 3-d as well, quite amazing the first time you use one. Compound scopes need prepared slides or very flat surfaces and are used in science, medical research, and education, as well as for materials analysis in industry. Their view is 2-dimensional, with only a flat plane in focus, but it can be extremely detailed and very highly magnified. Accessories are needed for special techniques such as phase contrast and polarization, which can greatly help some examinations. Common powers of magnification are about 40x, 100x, 400x, and 1000x (you will probably mostly use 100 and 400), based on four objectives and 10x eyepieces. There are three general sizes or categories of compound microscopes, not including specialized machines used in industrial work:
1. Small. New and casual (non-research) users of microscopes are probably familiar with smaller frame, less expensive microscopes called "student" in the trade, and "lab" microscopes by academic types. Used examples include the Wild M11, Leitz SM, Zeiss Junior, and Olympus CH. They are relatively compact, simple, sturdy, and designed for schools, but are also used by doctors, field biologists, home schoolers, etc.-- and amateur science hobbyists, of whom there are more than you might think. These small scopes are easily carried around between storage in a case or cabinet, to the place you wish to use them. Don't confuse them with toy microscopes (which are mainly junk) -- a small microscope might well be exactly what you want and need. A good major-brand new one might go for a thousand bucks or so, or if used for a few hundred (about the same price as a new Chinese unbranded student model).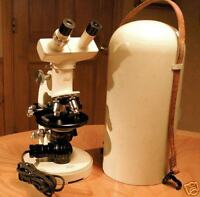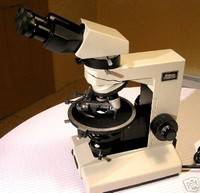 Left: Wild Heerbrugg M11 Student, Lab, and Field Compound Microscope Right: Nikon Labophot Polarizing Benchtop Scope
2. Medium. Academic and company scientists mainly use larger-frame scopes that in the trade are called "bench top" but are used for most research, so people like me call them research microscopes. There are many older models on the market, such as the Zeiss Standard, Leitz Laborlux, Nikon Labophot, Olympus BH, Wild M20, and American Optical 110. They generally stay put at a "station" in a research lab, being heavy and somewhat delicate when set up with accessories such as a camera, phase contrast, or polarization. Bench top scopes can have more capabilities than student scopes (but often use the same optics), and they are also more complicated. This size is often what an experienced, serious microscopist looks for, whether professional or amateur. A new one with a major brand name costs about the same as a good used car, but a used one can be a real bargain (more about that later).
3. Large. There are also a small number of very large microscopes called "research" in the trade. They tend to be massive, complex, and very expensive (think luxury car prices). Older examples include the Zeiss Ultraphot, Leitz Aristomet, and Olympus Vanox. They often have their own room, not just a table. They are very powerful, capable, and well made, with high-level optics. Many research companies and large academic science departments have one or more, but they are rarely seen or needed by average joes and marys like you and me. Still, older ones turn up on ebay from time to time and if you have the knowledge to set it up and use it properly (and funds for accessories), it might become your pride and joy.
Stereo microscopes are all roughly the same size but vary in quality, magnification capabilities, and price, from a few hundred dollars for a basic setup on a small fixed stand, to many thousands for a powerful research machine on a large boom stand. Usually they have a lamp that reflects on the object from above, but some also transmit light from below through a glass stage. Most stereo microscopes are "low power" or less than 100 x magnification, which is fine for most applications.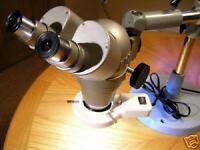 Olympus SZ on a Boom Stand, a Stereo Scope with Many Uses
Chinese Dominate Today. Most student and many benchtop microscopes, parts, and accessories are now made in China. This is true for the famous brands as well as no-name (un-branded) makes. There are a lot of new Chinese no-name machines on eBay, and very few new brand-name microscopes (you need to go to a dealer for those). Without a major name such as one of the 'big four' (Olympus, Nikon, Zeiss, and Leica), or an established smaller company such as Lomo, Unitron, Motic, Meiji, or Accu-Scope, it is hard to predict what quality you will get. Sadly, the many flavors of student/lab microscopes that once were available from the major and minor companies are now pretty much all Chinese vanilla. It can be good vanilla, however, and perhaps that is your favorite flavor anyway.
Older Models Are Still Good. On the other hand, a wonderful variety of older used brand-name scopes from the 1970's-1990's (including the companies that combined to make Leica) are quite abundant at a small fraction of their new prices. Good microscope brands no longer with us include Vickers, American Optical (Spencer), Bausch and Lomb, Leitz, Reichert, and Wild Heerbrugg. You will see them on eBay along with current brands. One problem with buying a new microscope is that as soon as you set it up at home or in your lab, it is worth much less than you paid for it. Yet the older ones can still have most of their original super quality, and they can last you a lifetime if maintained properly. Even better, you could probably sell it for about as much as you paid for it. The major things that go bad just from use are parts that need lubricants (use grease, not oil) for turning, gearing, or sliding, plastic parts may be stripped or broken, and lenses or filters can be damaged by rough handling and heat from the lighting system. If they have been maintained and not abused, I find that most older microscopes are a real pleasure to use, and to my eyes they are better looking than the new models. Works of art, in fact. Advice: a good used scope is better than a mediocre new one. Less money, better microscope.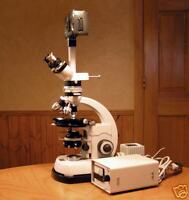 Zeiss Standard Polarizing Scope -- Still in Demand
eBay Scopes. Buying a used microscope on eBay brings risks and extra work for you, but it is also can be interesting, educational, and a lot of fun. And cheap! Final prices are often so low that I wonder how the traditional used scope retailers can stay in business. It is common for eBay sellers to know very little about microscopes (they often say so), and so their descriptions are incomplete or just plain wrong. But you, having done your homework, might see around that. Look for sellers with many positive feedbacks, and it is also good to find a seller who lists (and has listed in the past) a lot of microscopes and parts, as she/he probably is experienced enough to describe them accurately.A return allowance is a big plus. My advice: unless you are sure of what you are getting, do not buy a used microscope without a good brand name on it, and be prepared for it to need cleaning, more parts, adjustments, and also repairs, even when it was advertised as "in great condition." If you are willing and able to do the work and take the risks, you are on top of the game and could come out a winner.
Parts and Accessories are more abundant than complete used microscopes, because old microscope parts are in more demand than old microscopes. Rather than fixing a scope that needs work, some owners will instead sell it piece by piece. You can usually find parts you need on eBay if you are patient and watch for them, but you might also consider buying a non-functional scope or collection that includes the item you want. Many people will only bid on a part if there is nothing extra with it, so your cost for a collection might be quite low. If you separate, clean up, and sell your surplus pieces on eBay, the part you keep might end up costing you nothing. And selling stuff on eBay is easy and fun.
Frauds are Now More Rare. eBay has recently made transactions much safer for buyers, because your bidder i.d. is no longer public, and PayPal is generally required as a payment option while sellers can not require you to use bank transfers, western union, or money orders. So, use PayPal, and if your feel you have been cheated, complain to PayPal and they can probably help. Some major sellers might allow you to call and use a credit card, which is just as good, because the card company can help you with purchase problems. You should pay by other methods only if you are very, completely, absolutely, sure that the seller can be trusted. Watch out for offers made outside of eBay for things that ought to be in the normal system.
Buy From A Dealer. You can avoid many problems by buying from an established dealer (I am still working on becoming one). Some have eBay stores, and most have their own websites and sell outside of eBay. The value a dealer adds by cleaning, refurbishing, replacing parts, testing, adjusting, and guaranteeing a complex used microscope has to be reflected in the price, but you will almost certainly get what you pay for. Dealers want and need their customers to be satisfied -- can you say that about a seller who just wants to unload his uncle's estate? Ask questions before committing to it, and make sure it comes with all the parts and accessories that you need for your work. Other information you might want: Do the objectives and eyepieces match this make and model? Are the light source lamps (bulbs) easy to find and replace? Are the lenses clean and not scratched? What repairs have been made? What is the return policy?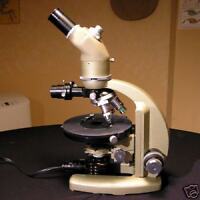 Vickers M70 Polarizing Scope with Reflecting Light -- a Student Staple of the 70s
Avoid the Really Old? "Vintage" black enamel lab microscopes, the small ones with horse shoe feet, gave way to more modern rectangular box designs (with colors) in the 1970's. The old ones are certainly interesting and collectible, and may even function fairly well, but don't expect them to be nearly as good as more modern types. Optics and ergonomics improved greatly in the 1970's, and accessories such as phase contrast and polarization became modular add-ons (much more versatile). If you want to use your scope seriously (at least sometimes), you need good optics and system functionality. You can get that in many name-brand beige or gray student microscopes from the 1970's and later, or with a somewhat older black benchtop machine such as a Leitz SM or Wild M20, but probably not in one of the small vintage student scopes. If you a looking for a decent machine that is portable, inexpensive, and built like a tank, you might consider a Bausch and Lomb, American Optical, Reichert, or Vickers lab scope from the 60's or 70's. But if it is going to sit in one place and be used for photomicrographs or serious studies, get a larger bench top microscope with the best objectives you can afford.
Go Binocular. Many people (including me) have used monocular microscopes (single eyepiece) a lot over the years, and they work OK once you learn to leave both eyes open and don't squint. But where you have a choice, spend a little more and get a binocular scope, which definitely provides a superior viewing experience. And even better is a trinocular head, to which you can attach a camera (a whole other subject worth a small book of commentary). Trinocs command a premium price, of course.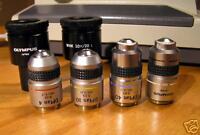 Olympus DPlans Work Well with Olympus WHK Oculars
Optics Are Important. The optical lenses are the microscope -- the stand and other parts are there to hold the optics steady, provide lighting, change focus, hold your slide, etc. A full set of four or five good objectives can be worth more than the rest of the microscope they go on, and you will not have a good microscope without good optical parts. Newer microscopes from established makers (and also the best of the no-name Chinese scopes) have highly-developed optical lenses that are better than most vintage models for sale on eBay. And to control those optics, the best microscopes will have smooth-operating, tight-fitting, long-lasting, easy-to-use mechanical parts. You can predict that cheap no-name microscopes are not likely to have both really good lenses and really good construction.
Most makers switched to long-barrel objectives (about 45 mm parfocal lengths) before the 1980's, and they usually bring in more light, thus brighter views. Many or most used 160 mm tube length designs (marked on the objectives), but some have other lengths, or infinity, so be careful as different tube-length optical parts will not work well together. A big improvement occurred when eyepieces (oculars) with larger "widefield" (W or WF) views became common, and you should look for them. These might also have an 18 or 20 field number on the eyepiece. The least expensive type of objectives are called achromats, which are partially corrected for color aberrations. But the next step up, the plan achromats, are also fairly common and provide good, flat focus across the entire view. Go for them whenever possible. The higher (more expensive) grades include plan apo-achromats, fluorite glass, strain-free components used in polarizing systems, phase contrast (a small ring is printed on the lens), and other more specialized optical parts. But these are not necessary for good normal vewing. I especially like Nikon's E Plans, which when used with CFW eyepieces provide wonderful high-contrast, bright, clear, wide focused views of your slide specimen. Also great are D Plan and S Plan objectives from Olympus, used with WHK eyepieces. Note that certain lines of objectives are paired with eyepieces that complete a "correction" (designated by C or K) of color focus in the views. All of the established brands have made good to excellent optics since the 1960's, and they improved a lot more with the introduction of widefield eyepieces. The normal, most used eyepiece power is 10x, the only one you probably need.
Left: BH-2 BHTP Polarizing Scope Right:Wild Heerbrugg M21 Pol Scope
Microscopes for children ought to be simple and easy for small hands to handle, but with decent optical quality. If you want quick, easy, educational fun for kids (and yourself), consider a small stereo microscope. Almost anything under a stereoscope can generate instant "wow." Plus, it is great for finding that really tiny sliver stuck in your finger. As for compound microscopes, there are many inexpensive small student examples available (buy it from an established dealer). And despite my earlier advice, kids might find a monocular type easier to use. If you are lucky, in a few years they will be asking for a bigger, better microscope.
BEST BRANDS?
In my eBay experience, Zeiss is the most popular brand and commands higher prices for older (about 1960-1990) microscopes and parts, closely followed by Olympus, Leitz (Leica), and Nikon, in that order. They all excel in various ways, but of the many examples from these brands that I have worked with, none satisfy like my personal Olympus BH-2 polarizing microscope. I sometimes go to my lab just to sit and gaze at it, so happy am I to have this machine (I know what you're thinking -- yes, I was also a geek as a kid). In the 'second tier' of older scope makers, I have a personal fondness for Reichert and Vickers, although admittedly their optics are not at the highest modern standards, and they are kind of homely looking. Motic, Meiji, Unitron, Accu-Scope, American Optical, and Bausch and Lomb compound microscopes are of this decent quality as well, and the abundant B&L/Leica stereo scopes are mostly quite good. The Brits in particular seem to like Lomo, the Russian brand. However...use a Wild Heerbrugg microscope from the 1960's-1980's in nice condition, and you will understand why some say they were the best ever made. James G. McHone of Stones2Gems; Geologist, PhD, CPG