I always find great GYMBOREE deals, and here's how! As soon as I caught the GYMBO bug, I could not stop buying GYMBOREE clothes for my daughter! This is how I save BIG!!!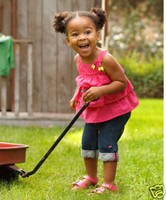 YOU DO NOT HAVE TO BUY SOMEONE ELSE'S GUIDE TO LEARN HOW TO SAVE BIG. JUST READ BELOW! Some may disagree with me for spilling the Gymboree savings BEANS, but I like to save and I always share my great deals!
1. The obvious - GYMBUCKS! When it's time to earn Gymbucks, I SHOP the sale rack and buy as much as I can to earn the most Gymbucks. As of 3/2009 the Gymboree Outlets NOW allow you to earn GYmbucks but you cannot use them at the outlet stores.
What are Gymbucks? The more you spend, the more you earn. If you spend $50, you earn $25, spend 100, you earn $50. Come redemption time, if you buy $50 worth of clothes you can use $25 Gymbucks to only pay $25 and so on. It's a great deal. You can use Gymbucks on sale items too. BUT, you cannot use other coupons, example 20% off entire purchase or store credit or gift certificates when redeeming Gymbucks.
2. To Gymboree Visa or not to Visa? That is the question! If you are good about paying off your credit cards every month, then open the Gymboree Visa. Every time you use it at Gymboree (stores or online)or at the Gymbo outlets, you wil save 5% off everything! This can add up! But, if you do not pay off your cards each month, then you will get hit with finance charges. SO be careful! When you open the card, you can typically get $20 Gymboree credit and for every referring peron who you have open a visa, then you and they will get another $20 Gymboree credit. Also, with your Gymboree Visa you can earn 1% back.
3. Buy magazines with coupons - Plum and Parenting sometimes offer 20% off entire purchase coupons. Use the coupons in conjunction with sales going on in store or on-line to save even more. Cannot be used when redeeming Gymbucks!
4. USE COUPONS TWICE!!!! Shop online and enter the code on the coupon, then use the actual coupon in the store too! If you use the coupon in store first, write down the code to use later online! THIS MAY NO LONGER WORK. Be careful!
5. eBay almost always has Gymbucks and coupons for sale. I have bought many coupons for $1-$3 and used them online and in stores to save $$$$$$
6. Look for the BIG sales. There was just a huge President's Day sale which clearanced items really low and then you could save another 20% off these low prices...PLUS I used my 20% coupons to save again. I got items for CHEAP - under $3. One retailed over $69!
6. Gymboree randomly mails out coupons. Get on their mailing list and register by email too in order to receive email notices of sales.
7. Gymbohaven.com is another good site to register with for news and sales.
8. BEWARE of Gymboree Wholesale lots on eBay that don't show you pictures!
9. There's always the sale racks. Any day - any time! Head to the back of the store and find great deals on these racks. Also, ASK the employees for deals in the back. Sometimes they are looking to get rid of older inventory and will bring the deals to you!! Don't be afraid to ask.
10. Check out Gymboreenews.com
SHOP and SAVE and dress your kids in style by following these tips!!!
Check out my GYMBOREE DEALS by clicking the link below!
Annabelle's Baby Boutique GYMBO deals!!
********IF YOU FOUND THIS GUIDE HELPFUL, PLEASE CLICK YES BELOW*************************************