Everything you need to know to get fresh, safe, dark staining henna!
Buying Henna Powder
Don't buy bookstore kits.
Henna powder has a shelf life of only a few months, and even less if stored in a warm place. There's no way of knowing how long ago these kits were pagckaged and if they have been stored properly.

Look for photos of the henna.

Fresh henna should be green, not brown. Some exporters have been known to add dye to make their henna look fresh so look for other clues, too. Does the seller mention the orgin or describe the sift? Look for indications that the seller is familiar with the product.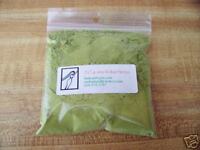 Look for photos of the results.
This photo shows the color obtained using this henna. This photo is particulaly useful because it shows the color on both the the foot and leg, where stains tend to be lighter.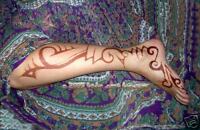 Don't by hair henna.
Henna intended for use on hair is usually of poorer quality than that intended for body art. The color will be disappointing, and the henna is likely to have particles and "twigs" too large to fit through an applicator, causing clogs. Some hair hennas may even have chemicals dangerous to skin. Read carefully to make sure you're buying henna for body art.

Buy from henna artists.
Henna artists know their stuff. They're likely selling the same henna the use themselves. ICNHA offers and optional certification to henna artist. While the certification is not required to practice professionally, it does show that the artist has been tested on their knowlege of the art. Look for this logo.
Henna is not black.
I cannot stress this enough. If It's black it's not henna, and it may be very dangerous. Some products called black henna are full of a dangerous chemical called PPD or para-phenylendiamine. This chemical is often used in hair dye, but many people are highly allergic. It is OK for most people to have incidental explosure to the scalp when used as hair dye, but intentional, prolonged contact with skin can cause painful reactions. If you get a rash around your ears when you dye your hair, you are allergic. The scariest thing about it is that each time you're exposed you're at greater risk of chemical burns and worse. This means that you can use the product once and everything may be OK, but next time could be ugly. There are some safe black products for body art, like temptu body paints, but they only last a few days.

Buying Premixed Henna Paste
"Henna pens" are not henna.
These products are safe, but they are not real henna and don't last more than a few days. This is not the same a buying a cone of premixed past.

Beware of tooth-paste syle packaging.
Henna paste packaged this way is mass produced by big companies. Because good henna paste only has a shelf life of a few days this is extremely impractical. The paste has special preservatives and air tight packaging to help keep it's potency, but the results are usually less than desireable. Besides, wouldn't you rather have 100% natural henna? A better choice is henna that comes in a plastic bottle or bag, or in disposable applicator cones. This is a good indication that the paste is handmade. Look out for imposters though! Some henna in disposable applicators is the same stuff in toothpaste tubes! Those often come in boxes and/or have the company's logo printed on them. Here are examples of how handmade henna paste is likely to be packaged.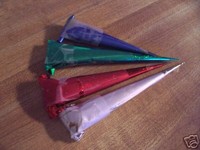 Look for photos of the results.
Once again, look for pictures of what you can expect of the henna. This photo shows deep blackberry color on the toes. That's a good sign.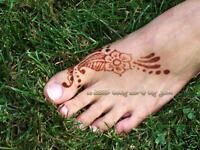 Colored "henna" is not henna.
Henna paste that comes in rainbow colors may be safe, but it only lasts a few days. There may be henna in it, but the part that stains the skin is cosmetic dye. Henna is added for texture. Aside from the poor stain longevity, the stuff is difficult to work with. In my opinion it's not worth the effort.

Pay for the rush shipping.
Henna paste doesn't live as long as henna powder. Unless it's frozen, it's really only good for 2-4 days, and if it's hot, even less! If your henna spends a week in the care of the USPS it's garbage before you even get it. It's worth your while to try and find a henna supplier near where you live. Many henna paste suppliers ship henna frozen. Of course it will thaw enroute, but it will still help lengthen it's lifespan.

Know what's in the paste!
If it doesn't say ask! If it's a secret family recipe, pass it up for someone who WILL tell you. Would you buy make-up without the ingredients listed? Family recipe or not, you need to be safe. Some people mix henna paste with toxic essential oils, kerosene or worse! If you're allergic to nuts watch out for black walnut husk in the mix. Mendi or mehandi oil is usually a blend of essential oils, but which ones? You can't tell. Henna paste should contain henna, and a liquid like lemon juice, coffe, or tea. It may also contain some form of sugar and some essential oils. Lavender, Tea Tree, Eucalyptus, and Cajeput are some of the most common. Lavender is the only one safe for pregnant women. If the paste contains essential oils look them up and make sure they are safe and don't have counterindications that effect you.

While the photos I've used for this guide are all from my store, I'm by no means the only supplier of quality henna on eBay. I believe that most henna artists will agree with the tips I've written here. I hope this guide helps!
The Next Steps:
Mixing Henna Powder into Paste
Create Beautiful, Traditional Henna (Mehndi) Designs