You say to-may-to, I say to-mah-to...whether you call them rain boots or wellies (short for Wellingtons), Burberry makes some of the best in the biz! There are many fakes and imitations...here are some tips to getting the quality and tradition that is Burberry.
-body is clear, waterproof rubber over patterned fabric (common patterns listed below)
-treaded rubber heel, usually measuring 1-1.25" (for a total average height of 13.5 -13.75")
-lined in a loose weave cotton/poly blend fabric that slips easily over tights and socks without snagging
-boots are waterproof and can be worn in the snow, but since there's no furry lining, I recommend wearing wool or thick socks (if you like furry lined boots, look for Orla Kiely's 'stacked cup wellies").
-whole sizes only and run large in order to accomodate thicker socks
-made in Italy and will be stamped as such on the bottom (please see photos)
-common patterns include: Nova Plaid (also called Nova Check or Novacheck), slightly lighter than Classic Plaid.
Classic Plaid features a 'pony' or 'horse in the background--the official name is 'Equestrian Knight'.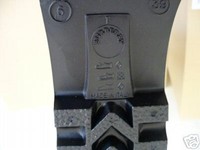 London Check version that is a gray (or grey) plaid.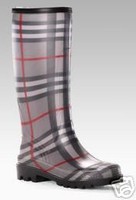 Candy Check (also known as Pink Plaid) was briefly featured on a shorter version of the boots...these are difficult to find and have clear rubber heels (instead of black).