Here are a few strategies to help you to evaluate the true worth and utility of that used tent:
First, evaluate what you need in a tent:
Mountain Hardwear PCT 2 (early 2000's)
1. What kind of camping will this tent support [for instance: family car camping in summer only; three-season; mountain climbing; long-distance backpacking; snow camping...]?
2. How many people and/or gear do I need to shelter?
3. Do I need to carry this tent very far, and how much weight am I willing to carry?
4. Would a tent that "converts" or is modular, allowing me to leave some of it behind in mild weather, meet my needs?
5. Would a hybrid or tarp shelter suffice, or do I want a more traditional roof, walls, door, and floor around me?
6. What does my "Significant Other" require in a tent? He or she needs to be happy with your choice as well, or it might be, "the Dog House" for you...
7. Do I need any specialized shelter for my dog, bike, extra gear, projected visitors, etc.?
8. How much am I willing to spend?
9. How long do I expect this tent to last?
10. Is "Re-sale Value" important to me?
11. How much risk am I willing to accept when I purchase this based on a few pictures (which can hide a lot from the Buyer) and a paragraph that was written by a stranger (which, despite positive feedback, might have been dissatisfied with this tent but might choose not to share this reason with you)?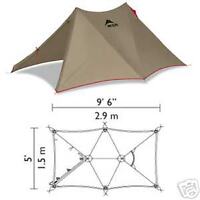 MSR Twin Peaks (2002 Model)
A few rules and considerations before you place your bid...
- It doesn't really matter how much the Seller paid for his/her tent. What matters is how much you plan to spend...
- Plan to buy your tent in the "Off Season," if possible.
- Remember to weigh your tent with all of its stakes, poles, ground sheet, etc. (if this matters to you). Tent manufacturers tend to tell only partial truth, and sometimes an outright lie when they list the "pack weight" of a tent.
- Most adult Americans will require more space than that provided by a One-Person tent. I find adequate living space for one person and gear in the typical Two-Person tent. Most Four-Person tents are rated that way because four sleeping bags when touching walls and each other will fit (but don't expect much gear to fit along with those unrolled sleeping bags...
- Compare Ebay prices to well established sellers such as REI and Campmor. Ebay prohibits outside links, but if you add three "W's" to the front of the words and ".com," you'll have the links.
- Remember that many small-time Ebay Sellers use closeout and bargain racks at established stores as sources for the tents they offer here. Many stores place a black, "X" on the stuff sacks and sometimes on tent bodies to indicate these were marked down for some reason -- beware! They might be fine, and they might not...
- Evaluate the Seller. Try not to buy from a Seller with little or no feedback unless you take the time to get to know them by email.
- After your initial bid, sit back and watch what other bidders do. Tent Sellers are notorious for Shill Bidding (using multiple addresses or associate bidders and friends to raise the final price).
- If possible, take your time and watch the bidding on several tents of the same style before you bid on that "perfect" tent.
- If not included in the original listing, require the Seller to send you pictures of the tent that is for sale -- inside and out. Don't be satisfied with stock manufacturer's pictures.
- Perform a search for reviews for the model(s) that catch your eye. One site that I like starts with three "W's," is called theBackpacker, and ends with ".com." You might find the tent you're considering is prone to extensive condensation [many single-walled nylon tents with ventilation problems such as the Eureka Zeus], or it's too heavy for your proposed use, or it floods in wind-blown rain [such as the Dana Designs Javalina]...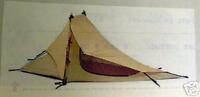 Dana Designs Javelina (1990's)
- Read the Seller's description and watch for clues that this tent has been abused, stored improperly, has mildew issues, smells bad, has holes or other signs of extreme wear, the fabric is failing or is no longer waterproof, etc.
- Evaluate why they are selling this tent. Some reasons are better than others... My normal reason is that my wife keeps pressing me to sell parts of my extensive "Tent Collection."
- If not specified in the description, ask: Has anyone ever smoked in this tent? Has it ever been stored wet? Have any amimals been in it? How old is this tent? Was this tent purchased new and was it a "second," defective, or "factory repaired" model?
- Beware the Seller who indicates he/she picked this up at an estate sale and hasn't opened it to check it out!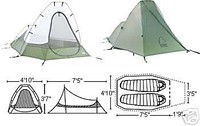 Sierra Designs Clip Flashlight (1990's - Present)
A Few More Considerations:
1. Tent materials break down over time and with exposure to the elements.
2. Mildew spores will spread to the rest of your gear... If it smells musty, find a tent without the must problem.
3. Nylon tents from the 1960's and 1970's are now beyond their serviceable lives. The waterproof coatings will smell like vomit, might be sticky, and will usually be peeling. Avoid them unless you know what you're getting into. An old tent is not normally worth the price of shipping.
4. Avoid Fiberglass tent poles, especially if the tent is more than a year old. These will splinter and break, and they're too heavy to pack into the backcountry when compared to other materials.
5. There are some hybrids on the market that require the use of your trekking poles for support. If you don't carry trekking poles, at least evaluate this requirement.
6. Low to High ventilation is the natural way for air to circulate. Many tent manufacturers have failed to design this into their tents over the years...
7. Although most tents are flame-retardent, they will burn.
8. Think about how difficult this tent will be to erect. Generally speaking, you should plan for the worst case: at night, in a driving rain, with a less than perfect site...
9. There is no tent that I have found to meet every camping requirement. You might find that several inexpensive or mid-price-range tents will meet your needs rather than one brand-new, top-of-the-line one.
10. Plan to seal exterior seams on waterproof surfaces unless they have been factory sealed. Many of my tents and hybrids are MSR brand because few other manufacturers offer factory sealed seams and I hate to waste several days and the garage space to seal them myself.
11. McNett's Seam Grip is a top-of-the-line sealer for standard nylon tent seams and McNett's Sil-Net is designed for the newer and lighter Silicone Impregnated Nylon materials. Simply follow the instructions on the tube, and don't forget to dust this sealer with talc to keep your tent seams from sticking to one another if you glob it on too thick or stuff your tent back into its sack before they totally dry...
12. Invest in a Ground Sheet, either designed for the tent from the manufacturer, or cut to match the footprint of your tent's body from either heavy plastic or TYVEK. It'll help to keep wear and tear to a minimum and it might also be necessary if your tent's floor isn't totally waterproof.
13. Oh, and PLEASE practice setting your tent up BEFORE you hit the trail... Then, when you think you understand the system, put on a blindfold and practice it that way too...
Peak 1 Cobra (1980's to present)
Good luck, and I hope you win a good one... ...or two...
***** Please remember to leave a positive vote (below) if you found this Guide helpful. Thanks! *****
For those who need a little more in a tent -- What makes it a "Four-Season" tent?
Due to several emails asking specific questions about harsh-weather/winter/four-season tents, here are a few items to keep in mind in order to evaluate your requirement.
First, let me say that the lines have blurred since those who have discovered "Ultralite" and "Tarp Tenting" fare rather well in all but the worst of winter weather (using strategies such as site selection; drainage; insulation; floor insulation; and even provisions for stoves and heaters for polar exploration and winter/high altitude guides and basecamps).
Generally, though, most agree that Four-Season tents have these things in common to deal with the gusting winds; lower temperatures; additional condensation; and ice/snow-load (when compared to Three-Season and lesser-rated tents):
- Stronger materials - especially seams and stitching
- Stronger frames and many times, additional structuaral supports (poles)
- Inner tents [although not true with several teepee-style shelters and some guide-style tents due to weight and expense]. If you've ever had the chance to compare life in an Army General Purpose Medium Tent (or a similar one in that series), with -- and without the liner -- there's no contest. I've lived in them in extreme heat and in extreme cold, and I wouldn't consider using one without a liner... That cushion of air all around all but the floor insulates the users in a big way...
- Bathtub flooring and many have welded or off-ground level seams in their floors [but some users prefer to bring their own flooring]
- Less no-see-um netting and smaller panels thereof [to limit heat transfer]
- Additional doors [such as a rear door vs a rear window] for emergency and multi-person exits
- Full vestibules covering doors [great places to shelter dogs; remove boots; cook(?) in foul weather; and to place items not wanted inside the main tent]
- In some cases, doors that do not require zippers or frost-proof materials for zippers to prevent jamming
- Added space for the rated number of people for additional and bulkier gear and living space
- Additional and perhaps more sheltered vents to fight condensation
- Cold weather testing/certification/reviews
As one would expect, these all come with addional cost to the buyer, but if you plan to do extended camping/surviving in deep snow; variable winter weather; or extended sheltering at a basecamp, these options might be well worth their price...
Of course, for deep snow and such, one would also want to add snow stakes, deadmen (a technical term for a rock or branch with a guyline around it and buried in the snow), etc., because the standard-issue stakes will demonstrate very quickly their limitations for such environments...
When evaluating used Four-Season tents, use the same strategies as listed above, and then ask how heavy was the greatest snow load; is there a musty odor (four-season tents are generally more difficult to dry and tend to be stored moist); and are there any seams that are failing.
Enjoy! Find a good one at a great price and then get out there...