Purchasing a hot stamp machine can often be a very bewildering and confusing experience for many first time buyers. Many buyers cannot differentiate between old worn machines badly in need of repair from newer working models. I have been refurbishing & rebuilding all makes & models of hot stamp machines for over 3 years now. During that time, I have learned a great deal about the functioning and capabilities of hot stamp machines. I have written this guide in an effort to try and answer any questions or clear up any possible misconceptions.

If you are in the market for a hot stamp machine, you will find that there are any number of machines currently being offered for sale both on Ebay and at various internet sites. Some of the original manufacturers of these machines are no longer in business, while others are still going strong.

Please bear in mind that this guide is based on my personal experiences only. As such, it is not intended to discredit or promote any one specific manufacturer or seller over the other. When trying to decide on a hot stamp machine that is best suited to your needs, please take the time to consider the following:
The Machine's Application - What are you planning on stamping? Poker chips, photo albums, napkins, cards etc

Volume Of Work - Frequency of useage, daily (heavy volume) or occasionally (light volume)?

Accessories - You may have just invested in a machine, and depending on how your machine is going to be used, you might still need to purchase the following additional items: pen or pencil attachments, ribbon attachment, poker chip attachment, typeholders, foil, fonts, cushion boards, etc

Budget - How much do you plan to spend? The amount of money you spend should be determined by what you can reasonably afford, and your planned useage of the machine. You may have budgeted $200 -$300 for your hot stamp machine, only to discover later that your machine doesn't heat up properly, or that you may be missing needed parts or accessories. In the long run, it may actually wind up costing you more money than you had originally planned, if you have to wind up hunting for missing parts.
*THE TOP FOUR*
Some Pros & Cons
Kingsley Hot Stamp Machines:
The first Kingsley Hot Stamp Machine originated in the 1930's, & was designed by a man named Lewis Kingsley. Mr Kingsley created the machine as a means of imprinting fountain pens. During the beginning of World War II, many of the Kingsley Hot Stamp machines were re-tooled into wire markers to imprint narrow gauge wire used in wire harness manufacturing by the aviation industry.

In 1995, The Kingsley Machine Company became a division of ITW in Glenview, Illinois. Since that time, ITW has discontinued all technical support for the older & vintage model table top Kingsley machines, preferring instead to concentrate on the heavy-duty industrial type machines used for wire marking, tubing marking, etc. However, vintage or not, that hasn't detracted from the popularity of these hot stamp machines even today. Everyone still loves the Kingsley Hot Stamp machines. They are very easy to use, and are well-known for their reputation and longevity. There are a variety of Kingsley Models, & most have an automatic foil advance on the front of the machine. The Kingsley Hot Stamp Models, M-50 thru M-75 (an M-50 mean it utilizes a 50-watt heater, an M-75 utilizes a 75-watt heater) have 4-inch throat depths, and can imprint an item that is 3 inches wide. The M-101 Models have a 6-inch throat depth, and can imprint an area 4 inches wide.

When looking for a hot stamp machine, you'll find that the earlier Kingsley models came in either a single-line or a double-line machine. Single-line machines tend to be more limited in their printing options, because you can only print a 'single' line of type at a time. In regards to purchasing foils and fonts for your machine, you'll find that Kingsley carried their own brand of foils, as well as their own type. That means if you used a single-line machine, you would then be limited to using only Kingsley fonts. Not anymore... because I have discovered a way to solve that problem. If you look on a single-line typeholder, you'll find a raised thin metal line or 'rib'. If you remove this 'rib', you will then be able to use any brand of fonts (type). All other Kingsley typeholders will also take any type/fonts not just Kingsley fonts.

Kingsley also manufactured pneumatic (air operated) machines, from their M-60 to their M-101. They are excellent machines provided you can find one in good working condition, and they work especially well for high-volume stamping. However, since a large number of these machines were converted into wire markers during World War II, be careful not wind up with one of these re-tooled machines, unless you only plan on stamping wire. You will find that they are extremely difficult to convert back into a personalizer. Also, if you decide to purchase one of these pneumatic machines make sure it has the 'dwell timer' on it. This will help insure consistent smooth professional-looking imprinting results. (For those of you who are just starting to learn about hot stamping, the technical definition of 'dwell time' is: "the period during which a dynamic process remains halted in order that another process may occur." Basically, it's just the timed interval during each 'stamp' or 'imprint'.)
Although parts for this machine are no longer available, accessories may still be purchased through Fine Imprints and Aamstamp.


Vintage Kingsley Machines:

A lot of first time buyers often purchase the older model hot stamp machines that come with the old cloth cords. Many of these machines may wind up costing these buyers as much as 50% of the price of a brand new hot stamp machine. Since many of these vintage machines may be in need of repair or are missing needed parts, they doesn't make them very good investment for the following reasons:
If you are missing needed parts, that means you may have to spend a great deal of time hunting down those parts. That can often be time consuming and sometimes quite expensive.

Many of the old heaters are 50-60 watts, and the cord at the heater entry has become brittle with age leading to breakage and breakdown. They can also spark an electrical fire.

The temperature controllers used are rheostat controllers. This means a metal wiper slides across a wound resistive wire which in turn regulates the temperature. Most hot stamping being doen is performed at a temperature of 250 to 300 degrees F. Chances are if you purchase an old machine, this wiper most likely has been 'stuck' in the same position throughout many years of usage. This does not mean that the machine will not work, but you can run the risk of having inconsistent imprints when you are stamping on a regular basis. To date, I have rebuilt over 75 Kingsley Machines, and have seen this problem time and time again. That is why when I am rebuilding hot stamp machines, I always replace the old rheostat controllers.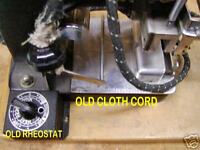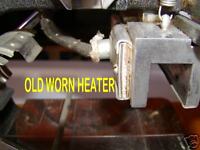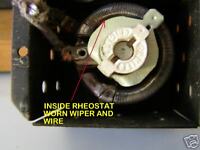 OLD CLOTH CORDWIRE AND RHEOSTAT OLD HEATER INSIDE RHEOSTAT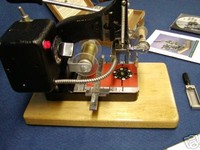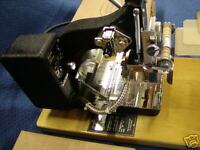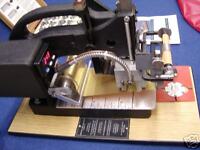 NEWER M-75 MACHINE DIGITAL CONTROL M-75 DIGITAL M-101

PROS: Very good overall design & easy to use. Also, the M-101 has a carrying handle, & is very durable and light.

CONS: Availability of parts are hard to find.


Kwikprint:



Kwikprint machines also have been around since the 1930's, and are still in business. They still sell and support there full line of hot stamp machines in Florida.
Kwikrint machine range in size from there model-25, Model 55, to there model 86. The model-55 weighs about 55lbs, the model 86 weighs 86lbs.and are great machine. Their platforms of 12" x 12" allows you to imprint very large items such as book, photo albums, leather products, etc.. Also they have a attached tilting self centering type head. Which means the type is loaded onto the hot type head while it is tilted up, then tightened, and then tilted back down to face your product. The newer Kwikprints use a robotemp controller to control temperature, which are reliable units. They offer auto foil advancing mechanism, which advances left to right, rather than front to back. The typeholders are available in various sizes 1" x 5 7/8" to 2" x 9". The moveable platform can be removed to allow even thicker items to be stamped, such as purses, luggage, etc.


USED MACHINES:

Since they also have been around a very long time, buying a used machine at over 50% of a new one is a questionable investment. The heaters are worn, the temperature was controllered on older models with a off/low/high setting. The type heads are rusted, non working. The foil advance may also not work. If you purchase a used one at a high price, more than likely you will also have to invest more to get it to work properly.


MODEL 55

PROS: Well built, Great Design, very versatile, A couple of sizes to choose from, will last a couple of lifetimes!

CONS: Expensive attachments/options, Very heavy machines so not portable


Howard Hot Stamp Machine:



Howard hot stamp machine have been in business for a number of years, originated in Chicago by Peter J. Hahn, and then the company moved to Florida. They are still in business today and still sell there full line of hot stamp machines, accessories, and parts.
There new machines range in price from $1200 to $3500 depending on your needs.
Over the years Howard machine were private labeled thru other companies. A few are "Signet" out of Canada, and "Goldmark Industries Inc. ". These machines are howard machines with a different nameplate on the front.

Out of all the various table top machines I have rebuilt and used over the last couple of years, the best built, most versatile, and easiest to use is the Howard hot stamp machine. The foil advance on the machine is ingenious, it works effortlessly every time and is adjustable. The M-150 can imprint up to 3 1/2" wide, and the M-45 can imprint 5" wide. They have a 4 1/2" throat. The temperature control is performed by a temperature switch mounted right on the type head, it heats up extremely fast. There are various Type holders for the Howard machine, the most common is the TS-93 self centering typeholder. It will automatically center your type up to 1" x 3 1/2" it is an great holder.

Used Machines: before Buying a used Howard make sure it is not too old, they can be 50 yrs old!. If the statement (it heats up) is made, be careful because the heater/ controller can be intermittent, not stable. All I am saying, if you are to buy a old machine, don't pay too high a price just in case you need to send it to Howard for repair.

A Howard machine is also available with a pneumatic controls, which is the same machine but with air power instead of your arm as a pressure source. This is the best of the best, because the controls allow you to set the dwell time of how long the type will be in contact with you item. I have used this type of machine on various products with excellent results. This machine also allows you to use it manually with a handle.


M-150

PROS: exceptionally versatile, great design, best value!!!!!

CONS: if only it had a carrying handle on top of frame!






Gold Magic Systems:



A very inexpensive hot stamp machine, The company is owned by: RJZ Magic Systems and is now located in Willow Hill, PA 17271 717-349-2407 www.rjzmagicsystems.com
It uses a robo temp temperature controller in which work good. The type holder is a 1 1/2" x 3 1/2" chase. A chase is a opening that is then filled with type, dies, emblems. Then you must fill the empty spaces of the chase with a metal fillers, usually lead, copper, steel, aluminum, etc. A chase for a hot stamp machine are great to have, but it being the only way to hold type is not preferred. You want to be able to change your type easily, and a chase filled with type and spacers is difficult to change. The reason is the type and spacers must be held in place tight, otherwise it will fall out when you tip it over to fit in the machine.
The table, frame, and ram are very well designed for durability for repetitive stamping. There is no foil advancing with a gold magic machine. It is performed by pulling the foil from the spool over your work manually. Also there is no spring return when you pull down the handle, you must manually return the handle back up. Though I think this is not a problem, because even with a spring you would have to hold it anyhow, as not to let the handle snap back. The table has 2 thumb screws in the back that you can attach accessories to so you can line up your work.


GOLD MAGIC 1SX

The gold magic system hot stamp machine is a great inexpensive machine. Its features are basic but very easy to learn.

PROS: Well built, very durable, good design, inexpensive.
CONS: No foil advance, limited type holding tools.

Best Regards,
John
Malcolm's Machines