Wet noses, tiny paws and adoring eyes are just some of the many things we love about puppies! The puppies in our lives require special attention and I have listed some tips for caring for your precious pooch during the early years!
Making your home a safe environment!
Puppies are extremely inquisitive and before you bring a new puppy home it is important to prepare for the big event. Putting safety locks on cabinets that contain cleaners is as important as it is with a new child. It is also very important to conceal any electrical wires your puppy might try to play with. Move house plants out of reach as they can contain harmful toxins.
Keeping your pup entertained and active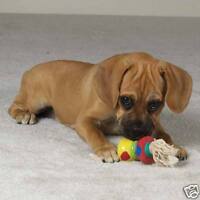 Some of the things we love about puppies are that they are active and curious, so it is a good idea to have plenty of toys for them to play with. This can save you from coming home to 250 feet of TP dragged around the house. And your darling puppy, greeting you with tail wagging enthusiasm couch pillow in tow, with the stuffing hanging proudly clinched in his teeth. Teething toys are perfect for satisfying your pup's urge to chew! Some require rugged rubberized types, while others prefer soft fleecy toys.
Behaviors for a lifetime
Puppies tend to learn bad habits quickly. And when they are young and cute these tend to be overlooked. Jumping up on your guest legs when a lab weighs 5 IBS may be cute, but when full grown is not only annoying, it can become dangerous. Once your puppy has had all needed vaccines and your vet has given the ok, it is a good idea to enroll your pet in a training course to teach those good habits, and break the bad ones at an early age. You will need to get a good harness or collar and leash for the course. This will also allow your puppy to interact with others and begin the socialization process.(this is also where your Chihuahua gets to show all those big dogs whose really the boss) If you are not able to enroll your dog in a course, make sure you begin training your puppy at home to avoid bad habits from forming.