Black Flag got a lot of press in the 1980s when the group helped define the Los Angeles punk music scene. A study in the March 1985 issue of Punk Research newsletter found that Black Flag was the most publicized hardcore band in America, followed by the Dead Kennedys and the Circle Jerks.
I've always been a fan. I saw them in the early 1980s with Henry Rollins on vocals, and it was a great show. Probably the most fun I've ever had slam dancing. There's something special about this band. Greg Ginn is such an incredible guitarist, and a nice guy too. I wrote him back in the 1990s c/o of SST Records, and he took the time to write back. Henry Rollins is such a remarkable personality--more than an awesome singer. He's also a beautiful mind, with thoughts well worth expressing. Check out his super interview show on cable TV.
Back in the 1980s I tried to collect as much as I could on the band. Here's some of the sources I discovered, ranging from articles and reviews in underground music zines, to coverage in the mainstream media. If you collect Black Flag memorabilia, look for these items on eBay.
Underground Zines
Bang, #3, 1984 (Medford, Massachusetts); review of "My War" LP
Collage, #1, 1985 (Los Angeles, California); feature on Henry Rollins
Duck Butter, #9, 1984 (Austin, Texas), pages 22-23
Flipside, #28 (Whittier, California), pages 6-7; 2-page feature on the band, with interview between Rodney Bingenheimer, Greg and Henry, plus lyrics to "Rise Above" and photos
Maximum Rock 'N' Roll, #6, May-June 1983 (Berkeley, California); funny ad for "Anti Black Flag Aerosol" to rid your community of punks; plus review and ad for "Everything Went Black"
Maximum Rock 'N' Roll, #8, September 1983 (Berkeley, California); photo of Henry Rollins skateboarding in feature on skateboarding in punk music
Punk Research, March 1985 (San Diego, California), pages 2-3; bibliography on Black Flag
Ripper, #3, Nov. 1980 (California), pages 12-18
" #5, Oct. 1981, page 10
" #6, Dec. 1981, pages 24-28
Slash, Volume 2, #10, Nov. 1979 (California), page 14
Sound Choice, #1, 1985 (Ojai, California); review of "Slip It In"
Twisted Image, Special Gore and Violence Issue (circa 1980s) (California), pages 14-16
Mainstream Media
Daily Aztec, Jan. 21, 1986, "Poet in the rough" (San Diego); photo of Henry Rollins at San Diego State University doing a poetry reading
Los Angeles Times, Jan. 24, 1981, "Punk rock concert erupts in violence", section II, page 5, column 1; news about police actions at a concert by Black Flag and The Runs at Polish Hall off Crenshaw Blvd., where damage was estimated at $4,000.
" Feb. 13, 1981, "Punk Concert at the Stardust Ballroom" by Terry Atkinson, section VI, page 4, columns 1-2; review of concert at the Stardust Ballroom for Black Flag, Fear, Circle Jerks, Adolescents, Minutemen and China White
" Aug. 30, 1981, "What makes punks tick? Images of violence vies with 9-to-5 concerns" by William Overend, section VII, pages 1, 14 and 15
Los Angeles Times Calendar, Feb. 1, 1981, "Police and Punks tangle again" by Patrick Goldstein, pages 75-77
" July 5, 1981, "Southland punk discs: A primer" by Richard Cromelin, page 56
San Diego Reader, Aug. 29, 1985; great review of the band by John D'Agostino with photo and news about a concert at Wabash Hall in San Diego
Washington Post, July 19, 1981, "Slam dancing in the big city" by Richard Harrington, section G, pages 1-2
Books
Street Art: The Punk Poster in San Francisco 1977-1981, by Peter Belsito, Bob Davis and Marian Kester; published 1981 by Last Gasp of San Francisco, pages 38-39, 45, 57; brief band history, posters for concerts Aug. 1981 and Oct. 1980 with Pettibone art; mention of a September 1979 free concert at Polliwog Park in San Francisco with photo; covers of "Jealous Again" and "Six Pack"; photos of the band
Updates
Let me know if you have any updates to this list. I'll keep adding to it. As the history of Twentieth Century music is studied, fans and scholars alike will want to learn more about Black Flag. This Guide will serve as a reference source.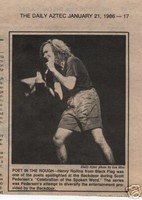 If this Guide is helpful, please take a moment to leave feedback. My goal is to become one of eBay's top Guide writers, and I need your positive vote. Good luck with your collecting!