Looking for a little wardrobe re-vamp?
No need to buy a complete, head-to-toe ensemble. Even just one item can update your whole look. Take a look in your closet for key pieces and use a little creative thinking. First, make sure you clean out your wardrobe for anything that doesn't fit anymore, is out of style, or broken.
Once you've gotten yourself organized, here are eight investment pieces to add to make old clothes new again: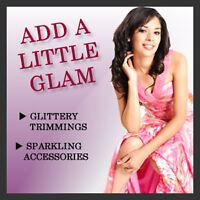 • Add a little glam and sparkle to your outfit-It's really easy! Include items like a scarf, or a top with glittery trimmings on it to make your outfit pop.
• Grab a pair of stylish boots that won't kill your feet. Wedges, flats, heels, you decide. The point is that they are stylish and are sure to compliment any fall wardrobe.
• Neon add-on's and the eighties are hot right now. Adding a little color to your dark layers Twill give you a little pop on the street and make heads turn.
• No woman can go through life without a couple of handbags. Include more modern choices that have large frames and patent trim.




• Missing the edge in your wardrobe? No problem…Street chic items with zippers, chains, and buckles will be sure to rock your wardrobe and give you the edge you need.
• Trust us, it's all about the details girls! Embrace your inner obsessive compulsive by adding sweaters and coats with demur details.
• You work hard for your money, so have a little "fun outfit." Jazz it up with ruffles and lace for that extra special touch!
• Let go of your slouchy pants this fall. Raise your style and shift your focus to your waist with a wide or twin belt.
Now that you have some great new ideas on how to make your current wardrobe look new, the fun begins. Time to go shopping!
The best way to keep looking fresh is to add new styles to your wardrobe once a year.
Stop by BHFO get started on wardrobe re-vamp! >>