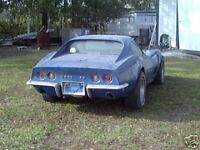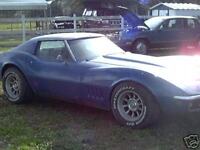 PICTURES OF CORVETTE WHEN RECEIVED
US Corvettes had used corvettes for bid on ebay, I do not know if they still do and may be selling under different user names. I saw a picture of the corvette that I had always wanted, a 1969 Corvette with an Automatic transmission, 350 engine, blue with black interior. The price was very low for what was discribed and the pictures that were on ebay of the corvette looked great. Before the auction ended, the corvette was removed from ebay. I thought it had been sold so I contacted Michael Montrief at US Corvettes. Michael told me that he had problems with ebay because he did not have a dealers licence but another guy that he was in business with had the dealers licence and he had tried explaining this to Ebay, he said that the car was still for sell.
I asked what would be the lowest price and he took $300.00 off of the price listed on Ebay so I agreed to buy the corvette after asking many questions. When it arrived, it looked terrible. The pictures that he had of it must have been taken years ago. The car was missing all kinds of parts such as emblems,Antenna, front grill brackets, missmatched screws everywhere ETC., had lower front end damage, had been taken apart and then just thrown back together, the wiring harnesses had all been cut and spliced. According to the listing, the only thing that was in question about not working was the wipers but NOTHING WORKED when I received the car, it didn't even have Power Steering as described in the discription. When I emailed US Corvettes, I didn't receive any replies and they would not answer any phone calls. If you see any Corvettes on ebay that even look like they would come from US CORVETTES or a guy named Michael Montrief in Huntington Beach Cal. AVOID Buying it because it probibly is a wrecked corvette no matter how good the Pictures look or how great the discription sounds. Michael what goes around comes around and doing people wrong will catch up to you one day. You can see the Corvette, pictures and discription that was advertised at this URL address http://www.uscorvettes.com/69cpechi/index.html
Do not be deceived like I was looking at the pictures of the Corvettes that are for sell by US Corvettes because they are more than likely all a piece of junk.
Unless you want to have to restore a corvette like I am having to do, BEWARE OF THIS SELLER: US CORVETTES.
One suggestion that I received from a reader to add to this guide is to ask the seller for either a dated picture or a recent newspaper to be shown in the picture to be sure that it is a very recent picture and not an old picture of how the Corvette use to look.
Thanks for the suggestion.