Hello Everyone : )
My passion is for completely natural quartz and I do not like fakes! Although I often admire the labor involved with making some of these fakes they are still fakes
Below I have written some info about quartz fakes to help educate the ebay community about these fakes.
If you see someone selling these fakes without labeling them as fakes then dont buy from them. If you dont buy them.......then they wont sell em : )
This first scam is at the top of my list.....
Azeztulite / Satyaloka
Azeztulite and Satyaloka are scams
You won't find this stuff listed in any mineralogical records because the locations given are not correct and there were never any mines that produced quartz by this name!
Azeztulite is one of the simplest frauds on ebay
These are nothing more than pieces of regular milky quartz, or points, or who knows what. Sellers will apply this "fancy" name to any worthless piece of quartz they can in order to hike the price higher.
NONE of these are from a "secret" or "old" pocket in Vermont, North Carolina or India.
Several sellers of this stuff are buying our quartz from Arkansas then they re-list them for much more than what they paid!!! Even my own quartz has been twisted in this way!!
Rough white quartz is pretty much worthless! At most its worth about $1 per pound and that price is mainly the cost of sorting and cleaning. Sellers of this stuff toss the white quartz into a rock tumbler to smooth it up.. and they then charge $4 per gram. One pound equals 453 grams.. if you take the time to do the math these sellers are making $1,812 off of one dollar worth of white quartz.
Details of this fraud can be found at "mindat.org" and "the-vug.com"
Please do not fall for this scam, it only encourages more frauds to be listed on ebay : (
Glass Crystal Points From China
These are all over ebay and they are nothing more than pieces of man made glass!
These glass points have been cut and polished to the shape of a crystal point or DT
These are usually completely clear and are of enormous size
If you see a 3 foot long crystal point that is water clear from tip to base, listed for $10, then it is most likely a fake. A natural crystal of this clarity and size would fetch 1000's of dollars
These slag glass points usually have odd looking fractures in them. These fractures are man made using a cloth and a ball peen hammer to give the glass a more "natural" look.
I have also seen the fractures made by heating the glass then dipping it in some room temperature water...thereby producing the fractures
Man made Fractures in a Glass Crystal Point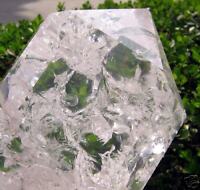 Colored Crystal Points From China
These may be any color but are usually red or yellow
Listings may say that the points are made by melting natural quartz and mixing in some metal
I was also informed that these are being sold as crystal balls
These too are nothing more than man made GLASS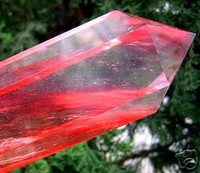 Fake Smokey Quartz From Arkansas
This stuff is all over the place and many collectors have been fooled by it!
This is regular clear quartz that has went through a Radiation Treatment to give it the Jet Black Smokey Color!
Many sellers claim that the color comes from a "heat treatment" but "heat" does not produce smokey quartz, Radiation does!!
In nature the earth produces small amounts of radiation over millions of years. This gives natural smokey crystals light wisps of smokey color
Some sellers also claim that man made radiated smokey quartz is pretty much the same thing as natural smokeys. Anyone who knows what natural smokey quartz looks like will beg to differ.
Here are some tell tale signs that a piece has been radiated to make it smokey
1. Jet black color.....and I mean Black!
2. White base......milky quartz cannot be turned smokey
3. No transparency or minimal transparency. These will turn transparent brown if left in the sun too long making them harder to spot.
4. No zoning.....Natural smokies have variations in the smokey color as seen below.
Fake Arkansas Smokey Quartz

Natural Arkansas Smokey Quartz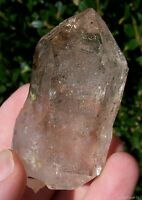 Polished Quartz Labeled as Natural
There is nothing natural about polished quartz except for the quartz itself. The whole form and crystal shape is man made
Polished crystals have dull edges unlike the sharp clean lines of naturally formed quartz
Polished crystals are often cut flat on the base
Here are some things natural crystals have that set them apart from the polished pieces
Growth Lines
Record Keepers
Barnacles
Intense Natural Shine
Titanium Gas Phantoms
These have been around for quite some time and they are totally bogus!
Long ago a crystal miner here in Arkansas made up this fancy name to raise the price of his pieces.
Some sellers claim that they have been tested and shown to contain Titanium
It is impossible for Titanium gas to be included inside of quartz. Titanium does not turn into a gas until it is twice the melting point of quartz. So if the conditions during formation are hot enough to produce titanium gas the quartz will be a melted pool of nothing.
The interior white wisps are Gas Inclusions.........but not titanium and there is nothing special about the gas inclusions. Want to know what gives white quartz its milky color.......tiny gas bubbles! Sometimes the bubbles are large and give the illusion of a metallic shine.
The eruptions seen on the faces of these are due to rapid growth.......not the presence of the gas! A few mines produce markings on the faces that look like lightning......this is caused by Calcite making contact with the face during growth.
Smooth surface growth = Rapid Formation
Lightning Shaped Surface Markings = Calcite Contact
The mineral content of these is no different from any other clear quartz!
Fake Citrine
Brazil produces alot of amethyst. So much in fact that they find other ways to market it. Along the line somewhere someone figured out that amethyst turns a very dark citrine color when cooked in a oven.
This fake citrine is a much darker color than the real deal
It is usually seen in the common Brazilian amethyst forms.....Druzy...and stemmed points
Fake Citrine from Brazil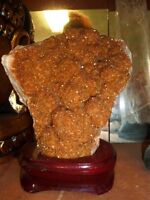 Green Quartz From China
There are two types of green quartz.......
Natural Green Chlorite included quartz
And fake green coated quartz
This stuff is produced by using heated water and high pressure.....this causes damaged crystal clusters to form new growth that caps the damaged areas
When certain minerals are present during re-crystalization they can change the color of the re-formed quartz.
In the case of these green clusters chromium is used to achieve the green color
It is easy to see the difference here!
Bogus Green Quartz From China

Natural Green Chlorite Quartz