So, you drag your old Aurora/AFX track out after 30 years. Look at your race case full of cool Aurora Thunderjet cars that you spent hours racing with in your basement as a kid. Your wife is telling you, "Sell them on EBAY or you will find them in the GARBAGE!" WAIT! "I am going to set up the track so my three and six year old daughters can enjoy!"
The purpose of my guide is to share my "journey" as a father of three and six year old little girls who decided to build an HO slot car track to surprise his children on Christmas eve. I am not a collector or expert with HO slot cars. But, I believe my experience will be valuable and FUN for all to hear who decide to buy, build, and enjoy slot cars with their young children with the help of EBAY. My guide is most suited for the challenges of children less than 8 years old. But, I have proven that slot cars are just as well suited as HO trains are for the younger kids. They just present different challenges but provide fun and memorable family time for all!
My thoughts and experience:
Buy or make a 4x8 platform from flat quality plywood cut in two 4x4 sections. Particle board or flake board warps or is to heavy. boosa14 (EBAY seller) suggested to utilize 5x9 ping pong board table board for a little extra space. I could not find this at Home Depot or Loews, but I bet a local lumber yard could help. Why two 4x4 sections? Space and flexibility! We can take it apart and move it to another location in the basement. We can set up a 4x4 section only if we prefer. When the kids get tired of one layout, we take it apart and build another. My experience is that if you build a one piece 4x8 layout, nail it down, and stick it in the corner, YOUNG CHILDREN WILL GET BORED. Save the building of the big layouts if they continue the hobby through their teens.
Buy green felt to cover the two 4x4 sections. You can find rolls that you buy by the yard at a fabric store like Joannes. A custom HO track builder boosa 14 suggested the felt since it holds the track from sliding around when not nailed down. Mine works great and is easy to clean. I put my two 4x4 sections on a STURDY 4x6 folding table. I mounted two window latches on the bottom side of the two 4x4 sections.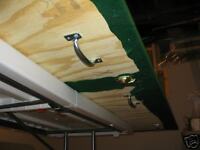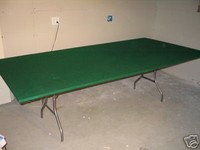 This lines up the seam in the boards and pulls them together tightly. Make sure you use the two 4x4 sections with the grain of the wood going in the same direction. This keeps the seam even and flat.
Track:
OK! Listen closely. If I had it to do all over again, I would have sold all my vintage 1970 AFX track on EBAY to "collectors" and spend alot less on new TOMY AFX track. Remember, I am not a collector! Other than keeping my old T-Jet cars, my goal is to spend time with my kids, racing, and not worrying about a "collectable" being destroyed by the fun my kids are having. After buying lots of 1970's AFX track, I realized that the "tabs" that usually break on the track is a bigger problem than what I imagined. Yes, you can use the clips to fix the track but who has the patience? After researching many HO Slot Racing web pages, the consensus is that the new Tomy AFX track is reliable, available on-line and at hobby stores, and is affordable for those of us that want to race. Also, many "cool" pieces are available such as hair-pin curves, etc. In the mean time, if you do not want to part with your old 1970's AFX track, buy the inexpensive adapters (AFX to TOMY AFX) and expand with the TOMY.
If you still fall into the "collector" column and you want to pass on the track to your kids, buy the old Aurora T-Jet track with the rods and clips. Hands down, everyone agrees the Aurora track will last and hold it's value, but I believe it's a waste of money when you simply want to race with your kids! Only my opinion.
If you do not possess the talent to build a track from scratch (Face it! Some of us are just "gifted" to only play golf), then I suggest buying a new Tomy AFX Super International Race Set. It comes with four G-Plus cars and a huge variety of track sizes for $95 to $150. Or, buy one of the beautifully restored turn-key Model Motoring tracks by boosa14 . If you have challenges, their help is only a phone call away.
Do as I say, NOT as I do:
Cool cross tracks, wiggle tracks, loops, squeeze tracks? DON'T DO IT! Yes, you and little Johnny will have a great time crashing your cars! But, other than the slower T-Jets, these pieces knock the car off almost every time. My 3 and 6 year olds never got the cars around the track more than once with these pieces. I stood with a carnival kane knocking the cars back on the track for 10 minutes until the kids got frustrated and left. Hopefully you played "Twister" in your lifetime. You have to be very flexible to put cars back on the track every 30 seconds. I replaced the specialty pieces with straights and HAPPY DAYS! I have only one intersection, and a banked curve for the kids to use. I actually put up a small second track inside the main track made up of these cool pieces for us to run our T-Jets on. Everyone is HAPPY!
Let's talk about CARS:
After watching my 35 year old T-Jet cars slammed into the drywall as my kids got the hang of the controllers, I decided I needed "other" cars for them to race. I bought a few lots of 70's AFX cars. Some worked out, others did not. I suggest magna-traction only since they stick to the track better. Remember, I am not a collector! Honestly, for the money, buy new AFX SRT, Turbo, or G-Plus. You can pick them up new for $13 to $15 in every size and color you kids want (Try jewelslots ). THEY STICK! And they are fast! This caused another problem. My kids are now bored with the T-Jets after experiencing the G-Plus. I bought a couple cool "Formula" style G-Plus cars, but after my kids sailed them off the banked curves and broke the wings, I invested in the "Nascar" style bodies on G-Plus, Turbo,or SRT AFX chassis.
The Tomy AFX Turbo cars have worked out the best for the young kids based on their drivability characteristics and reasonable price. You can always buy used cars on Ebay at good prices. Just don't get in a bidding war with a "collector." Remember, you just want cars that are durable and are fun to race with your kids. You must be able to imagine these cars in a million pieces on the concrete basement floor, or embedded in the drywall! I did invest in a couple new Johnny Lightning T-Jet "style" cars. They are reasonably priced and come in many different body styles. I have not had any luck with the JL quality...they run tight and noisy for me.
Car Race Cases?
I shopped for two identical small AFX cases for my girls. They were always overpriced or damaged. (Plus, they were not PINK!) I found small fishing tackle boxes with adjustable compartments and handles at WalMart. ( Tackle Organizer by KETER PLASTIC LTD., Item No. 17331393)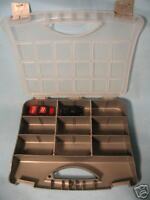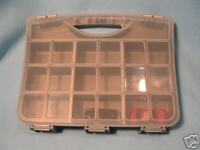 They were not more than $7 each and will hold 9 to 12 cars. I sat the girls at the kitchen table and let them paint the "race cases" any color they wanted. The girls have been earning quarters for helping Mom or Dad around the house. We sit down and have a "race car sale" and trade quarters for a few slot cars I sit out. They collect their own cars for their race case and we have a great time racing each other. I also gave the girls a couple junk AFX bodies to paint on their own. Then we put them on spare AFX Magna-Traction chassis to race...thay have a great time!
Daddy, when are we going to decorate the track?
Part of my "saga" includes the day my three year old began to play in the bathroom sink two weeks after I finished building our track layout. The bathroom flooded directly over where the track was in the basement. Needless to say, the green felt covering dried out, and I spent hours with a hair dryer on the track. After I rebuilt the layout, my two little girls asked me, "Daddy, when are we going to decorate the track?" After years of playing "Barbie" and "Little People" with them, I didn't realize the importance of a race track being decorated! Houses, trees, people, EBAY!
Are we collectors? No. You do not need vintage HO houses. You can find many nice lots of Plasticville and Atlas HO scale accessories for reasonable prices. Do NOT get caught up in the collectors bidding on the cool Aurora, Atlas, Plasticville, vintage HO race buildings. Absolutely amazing what these guys are paying for buildings that fit in the palm of your hand. I saw a curved Aurora bleacher sell for $255! You can buy the reproduction for $19. I saw a $20 Plasticville railroad pedestrian bridge pictured with Aurora HO track and cars. Sold for $70+. AMAZING! If you liked building car models when you were a kid, buy the building kits like Plasticville and Life-Like. They take less than an evening to build and paint, and the kids absolutely love to help!
For an inexpensive touch, simple things like guardrails and billboard retaining walls can add unique "race track" look to your layout. After accumulating every color guardrail on the market (T-Jet yellow, Tomy orange, AFX yellow and glow-in-the-dark), I have settled for a combination of the orange, the AFX billboard retaining walls, and my "custom painted" Aurora Speed Corners (collectors will love me for this!). I have had great results with painting (YES Painting!) the old yellow Aurora Speed Corners alternating red and white similar to the track borders available for a few of the Tomy specialty pieces.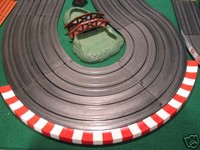 You can still find these at an inexpensive price and I love the way the cars slide through the turns with these. Some similar borders are available from track builders, but I was looking for inexpensive and practical. They look and work great! The kids love them!
I recently found a "nifty" item that solves our problem of G-Plus "flight school" on turns. My girls have done well with controlling most of the slot cars on turns except for the occasion when they are overwhelmed with "racing excitement" and forget to "ease back" the throttle on the turn. These Mattel guardrails fit most any HO track are are made to look like "race track fences" with fake lights.
I purchased mine from box-kid (EBAY seller), but they did not include the yellow decals for the lights. Function is perfect since they keep any car from flying off the table. I use them only on turns after long straights where my girls frequently attended "flight school." I am not satisfied with the look of the fake lights and may eventually make them into flags.
I have already discussed the amazing prices being paid for slot car buildings and bleachers. If you can find the 1970's AFX bleachers or grandstands for an inexpensive price, they are easy to fix up or add people for a great looking track. I have accumulated three with various lots I purchased. I found racing clip art on-line that was free and could be printed on label paper you find at Office Depot. You download the art, size it and print it on labels with your computer printer. Cut them to size for adding custom retaining walls, billboards, and signs to buildings and bleachers. I even converted the Plasticville railroad crossover bridge (I found one on e-bay for $5.99) to a DUNLOP Racing Bridge with a couple new decals I made myself! It looks great!
The pictures below are an example of a before and after of one of the Aurora curved bleachers I picked up on EBAY for $20. It had some broken pieces and had been painted baby blue (looked like it was used for a baseball outfield bleacher). You can also purchase reproduction bleachers from Model Motoring for $19. With new paint and adding AFX flags, it looked like new. The flags are paintable and can be purchased in bulk on EBAY from SlotCarCentral at a good price. One warning! Two flags were broken in the first two minutes when my three year old attempted to fly a G-Plus to Cleveland. Do not place these on turns after a long straight where "light speed" can be attained! Keep to the inside or in-field curves for a long life for your bleachers.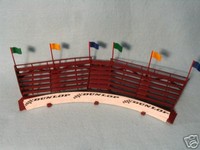 I hope to add some of the links to some of the sources I found in the near future. Check back from time to time as I share some of my experiences with our slot car tracks and my kids fun. I added pictures of the latest track my girls and I built on a weekend in March. We took the bridges down and added a Tomy hair pin turn! They actually have done well keeping the cars on the track.
GUYS! Remember! A 3 and 6 year old decorated the track in the picture. So, don't laugh at the train signals or the light poles in the middle of the track. Actually, I believe they did a better job than I could...at least that is what my wife told me!
Thats my story for now. I will update as I have experiences to share! I also will post some of the Ebay suppliers that have been very helpful. These folks are great business people with exceptional product and service. Please check them out!
*******************************************************************************
Interested in more "slot car specific" buildings? Check out my latest guide:
HO Slot Car Racing Buildings/Accesories with EBAY searches . Link
*******************************************************************************
I wish I could share my 3 year old daughter's uncontrolled "giggling" one evening as she kept sailing a G-Plus into a Plasticville Water Tower I just finished painting! ABSOLUTELY...makes life great!
Best Regards, and may God bless our children. ZMAN.