Did you know that many, or most of the 1960's Beatles memorablilia are either reproductions or counterfeits? Well, unfortunately, they are. Here are the reasons why. The Beatles had a short span of years when almost everything sold had a Beatles theme on them. Bubble bath, sneakers, clothing, jewelry, posters, just to name a few. Even after the Beatles broke up, their authentic collectables were bought and sold by dealers. But after only a few years of Beatlesfests, all of the authentic items were gone. They had all been either purchased by fans, or were held onto by collectors who knew that they would be worth a lot of money in the future. So to quench the thirst for so many fans still wanting to pay top dollar for Beatles memorabilia, reproductions were made. Even after 40 years since the Beatles had their fame, fans are still paying top dollar for Beatles items. This led to the production of counterfeit items. Rulers, guitar picks, marbles, a 78 rpm record-listed but pulled off eBay, and many more items never even existed in the 60's. Much of what you see advertised as "Authentic Beatles NEMS, or Seltaeb (Beatles spelled backwards) dated 1964 and copy written," were produced in China, or somebodys printing shop, or even in their garages. Made to closely resemble the originals, they are not exact matches. Authentic plastic guitar pins have a picture inserted into the body of the guitar, and a flat, round piece of clear plastic covering it. The fakes have blurry pictures not placed into the body of the guitar, but rather raised up using a clear plastic lens. On the neck of the fakes will read NEMS, while the original never had that marking. "A beatles brooch attached to original card that reads NEMS 1964", has a round pendant and a picture of Paul smiling. The original is a heart shaped pendant with a picture of Paul not smiling, but his eyes are looking upwards. Type Beatles into search on eBay and you will get over 20,000 items for sale. Many are authentic collectables made in the years that the Beatles were no longer a group, such as McFarlane Yellow Submarine action figures, or Franklin Mint musical domes. Nothing wrong with that, as they are listed truthfully. But when someone buys a blank disk go case for $5.00 and puts a 5 cent decal on it, and lists it as an "Authentic 1960's Beatles disk go case," there is definately something wrong with that!
You may ask what can a buyer do to not get ripped off when buying 1960's Beatles memorabilia. These are my recommendations. First, type the item name into search. If you find numerous items of that same nature, beware. Use common sense. Would any seller really list an authentic 1960's Beatles movie lobby card, jewelry, set of uncut trading cards, used/unused Beatles concert ticket, autographs, poster, pins, buttons, badges, clothing, hairspray, sneakers, lunchboxes, notebooks, bobbleheads, concert memorabilia, T shirts, sweat shirts, programs, flight bags, flicker pins, flicker rings, on and on for a no reserve $9.99 starting price auction? I doubt it.
New Alert; 1964 8" bobble head dolls made by Car Mascot, Inc. have been reproduced including the box. Some sellers are intentionally damaging them to make them seem more believable. Other sellers are claiming a fantastic find and selling them as mint in box.
TIPS
Check the seller's previous transactions. If that seller has sold many pieces of the same supposed 1960s Beatles item, they are probably fake. How could 1 person get so many of these extremely rare items. If the seller buys blank disk go cases and sells real 60's Beatles disk go cases-probably fake. If a seller has an abundance of different "Authentic NEMS or Seltaeb 1960's Beatles items", probably fake. If a seller has an "Authentic autograph with Certificate of Authenticity" and is selling it for less than $1000.00's- probably fake. One seller got caught selling fake original Beatles concert posters. His defense? "They are original, I created them!"
Visit Beatles websites. Search for Beatles items through the internet. Look at the prices that these authentic original 1960's Beatles memorabilia collectables cost. Then ask yourself, "Why would someone list a $10,000 piece of Beatles historical item for $50.00?" By now I think you know the answer.
In conclusion, there are very few original authentic 1960's Beatles collectables available. To obtain one, expect to pay $100.00's to $1,000's and up. Otherwise you are putting your hard earned money into some devious seller's pockets, and obtaining a ten cent piece of junk.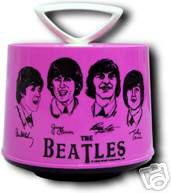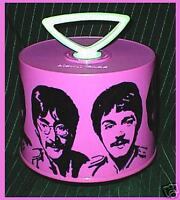 The only authentic Beatles Disk Go Case appears at the left. Many variations are made The Beatles with signatures or The Beatles Fan Club. Also, since the sellers use decals, ask if the Beatles images are raised outward from the case. It should feel rough and not smooth at all. The bottom of the case must say Charter Industries or it's a fake. The original cases were made in about 7-8 colors, but nothing else changed. If you don't care about it being a fake, do a search for disk go case. Buy one. Go to Beatles labels, decals, stickers, find the ones you like best and apply it yourself. The cases cost about $5.00 and the labels are about $1.00 each unless you buy in bulk. Bottom Line: Seller buys a generic blank disk go case, adds maybe a 25 cent decal costing him about $5.25. The unknowing buyer pays seller $125.00+ as that is what these fake disk go cases sell for, only on ebay.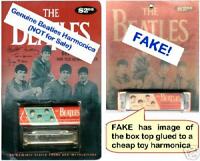 Beatles rip off artists only care about 2 things. Themselves and your money. They count on the fact that you don't know what a real authentic Beatles collectable looks like. Therefore, they use the cheapest method available, cut every corner, and produce a far inferior product. Because, the less they spend on ripping you off, the more they make for themselves. This side by side example of a real Beatles harmonica and the fake one shows just how inferior their fake stuff is. Look at how the picture quality differs, notice the card backing is shorter, the real harmonica comes with a Beatles box to put the harmonica in. The fake one copies a picture of the real box and glues it to the harmonica itself! Find a Beatles picture that you like. Glue it to some thin cardboard. Go to a toy store and buy a cheap harmonica. Glue another picture to the top of the harmonica. Attach harmonica to your cardboard picture. For $3.00 you just made a fake Beatles harmonica. Or, bid $50.00+ and win a fake one instead, as that is what they go for, only on ebay.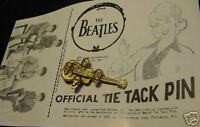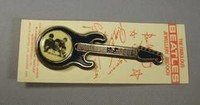 Call it an official tie tack pin, jewellry brooch, bracelet, necklace, pendant, heads on a guitar, heads not on a guitar-singles or all 4 Beatles, or anything else attached to the NEMS ENTERPRISES, LTD. 1964 backing card, and you have a fake. These are sold daily on ebay over and over again. They are poor quality remakes of the originals, or some completely counterfeit-THEY NEVER EXISTED IN 1964! Think about this one for a second. What girl during Beatlemania would go out and buy a piece of Beatles jewelry and not take it off the backing card and wear it immediately!?! Do you believe they said, Oh how lovely, I will safely store this in a drawer in my non smoking pet free home so in 40+ years I can remove it and sell it on ebay???? Isn't it more believeable to think we get a printing company and copy a design, make some shoddy jewelry, and tell people it's an authentic 1964 item because that is what's marked on the card? Original, authentic jewelry on original, authentic backing cards do exist. Offer any collector $100.00 for their original, authentic piece of jewelry and they would laugh in your face. But, you can get these now starting at $9.99 with NO RESERVE, only on ebay.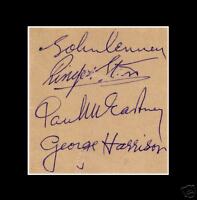 Beatles Autographs. I read a few other Beatles guides on ebay that dealt solely with Beatles autographs. They were very good, and my recommendation is for you to read them. They go into great detail about how to spot a fake from a real autograph. They write about Certificates of Authenticity. C.O.A.'s I would just like to add that if a person can sign autographs, he also can forge and sign fake C.O.A.'s. My best advice would be to learn who are the current experts today on identifying Beatles autographs. And, stay away from C.O.A.'s from a small shop around the corner of my house. (Actual listing-I am not making this up). Also, if a listing has a low starting price & no reserve, it's a fake. Be careful not to buy a copy of a Beatles autographs. Some sellers can trick you up by cleverly disguising that they are selling a copy. Finally, if the price is lower than many 1000.00's of dollars, it's a fake. If you want to believe that you can get a set of Beatles autographs for less, you might as well believe in Santa Clause, the Easter Bunny, and the Tooth Fairy. People have won a set of (fake) Beatles autographs for a few hundred dollars, only on ebay.
Many of these have been making their way around ebay for a while now. Some claim theirs are from a newly discovered carton found in an old abandoned store. Others claim they are the Canadian O'pee Chee cards. The seller begins by explaining how Beatles cards were made. They were all originally on one sheet. Because the cutting machines had to be perfectly set, there was an additional expense if adding print to the back sides of the cards. So, until they got the machines set up these backless cards are what they used. In reality, these are called printers proofs, and the process described above is indeed true. However, the ones being sold are not authentic printers proofs, as the authentic ones are valued at over $1,000.00. The movie A Hard Day's Night used a sepia picture. This involved a mixture of black, white, and red colors. Upon looking at these uncut sheets under a microscope, the fakes have far less red in them, and the picture is closer to black & white than to sepia. These are newly printed Beatles cards being sold as printers proofs, only on ebay.
Contact me anytime with questions about Beatles items. Whether you are selling or buying, I am always happy to help. I know the majority of Beatles sellers are honest and legit. Due to the huge popularity of The Beatles and the continued large following some 40 years later, they have been the target of many unscrupulous people trying to make a fast buck.