You have no doubt heard the warning about not following external links to eBay or PayPal already, but where is the constructive advice? Here it is: CREATE A DESKTOP SHORTCUT to make linking to PayPal and eBay EASY and completely SECURE every time!
Buyer (and eBayer) Beware
Never EVER follow an external link to your eBay or PayPal accounts. The only way to know that you are not giving up your password to someone that has spoofed a link to PayPal or eBay, just so that they can gain access to your account ( and your money ) is by opening up a new window for your PayPal transaction. DON'T EVER FOLLOW A LINK, especially if it is in an external e-mail. These people are good, and they know how to fool you by setting up very convincing looking fake PayPal and eBay communications, and invoices.
Set up a shortcut on your desktop
I have a link to PayPal set up on my desktop, so that I do not have to mess around with the address every time, and so that I'm never tempted to follow external links to it. I just double-click on my own shortcut, and it takes me straight there. My shortcut looks like this, but you could make yours however you want. Just use paint or another drawing program, or feel free to copy mine.
To make a new shortcut on the desktop on a Windows-based system, simply use your mouse to right-click on the desktop. Then select New and Shortcut from the pop-up context menus.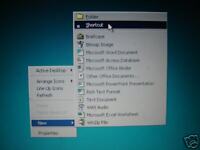 Then you are prompted to enter the location. And after that, it asks what picture to use. Browse to the one you want. Afterward, you can change the properties of a shortcut (including the icon, or picture it has on it) by right-clicking on it and selecting properties from the drop-down menu. The resulting dialog-box looks something like this: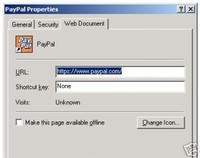 Once created, your desktop shortcut can easily be added to your START menu, to un-clutter your desktop and make it even EASIER to access. If you are using another operating system, the process should be equally as simple, albeit slightly different. This trick can also be used to launch eBay, and even to automatically bring up your My eBay page, which is where you want to be anyway. When I discovered this, it made my life MUCH easier, and I now feel much safer using eBay and PayPal. You will too!
I hope this helps you out! If it does, vote YES to keep it alive!
Your comments are appreciated! Please add COMMENTS HERE. THANKS!