Baule Mouse Oracles - African Divination Carvings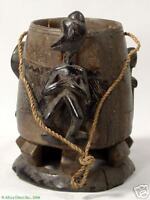 Divination plays an important role among the Baule in determining their day to day activities, solving personal problems, indicating the causes of illness or simply providing comfort to face life's challenges.
To use the "Mouse Oracle", a mouse is captured and placed in this receptacle, where he promptly scurries to the lower, hidden section. The diviner places sticks and food in a careful arrangement, then covers the bowl and leaves it for several hours.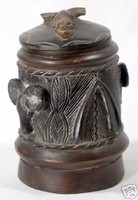 When he returns, he can "read" the rearranged sticks. Mouse divination is probably of Guro origin and is one of several divination techniques used by the Baule. The Baule believe that mice used to be able to speak, and now reveal their knowledge by communicating with the sticks or bones or birds and bats.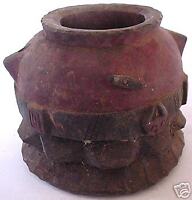 Recommended Reading:
See an example, and excellent explanation of mouse divination , in Pemberton's THE ARTIST'S EYE, THE DIVINER'S INSTINCT.
To see examples of Baule Mouse Oracles as well as a fine selection of other African Artifacts please visit our ebay store at Africa Direct
All text and images copyright Africa Direct, Inc. 2006