Bakelite & Catalin: All you need to know and how to test it
First thing you need to know is that Bakelite and Catalin are two different plastics, but are both commonly referred to as Bakelite. All of the "Bakelite" jewelry that you see is actually Catalin. Bakelite was generally only used for electrical appliances, handles on pots and coffee pots, etc. because it will not melt. Bakelite/Catalin exposed to open flames will only char. Knowing how to test for Bakelite and Catalin can also help you date other items that have Bakelite or Catalin elements, i.e. handles. Bakelite was invented in 1907 and Catalin came around in 1928. The use of Bakelite and Catalin for everyday items pretty much died out after WWII. Therefore most items containing Bakelite or Catalin elements are from around 1907-1945.
Bakelite: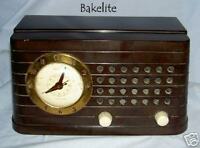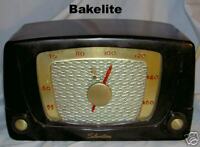 Bakelite is a thermoset plastic made out of formaldehyde, phenol and a filler to make the product stronger and cheaper; usually wood, rags, cotton, and sometimes asbestos. Therefore it should not be reworked, it could be very harmful to your health. Also because it has filler in it, once the first layer of Bakelite is destroyed it is impossible to restore to its original luster. True Bakelite was only made in two varying colors: brown and black. It could only be made in these two colors because of the extreme heat it endured while being cured.
Catalin: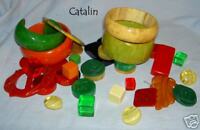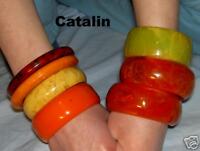 Catalin is also a thermoset plastic made of formaldehyde and phenol with no fillers. Therefore it can be restored and reworked (using the right saftey precautions of course). Catalin is usually very colorful. Over time Catalin develops a patina, there is NO white Catalin (unless it has been restored, reworked, or has never seen sunlight). Sunlight causes the Catalin to yellow or "petina". All of the original white Catalin has yellowed over time, and clear to "apple juice", blue to green or teal, purple to brown or tan, while green, orange and red stay about the same. White marbling in marbled pieces will be yellowed. Catalin also shrinks over time, that is why most of the radios have cracks, warping, and the fiberboard on the back no longer fits.
French Bakelite/Galalith:

French Bakelite dates from about the 1920's. Some people consider Fakelite French Bakelite, and will advertise it as French Bakelite, even though that is not the case. Therefore you should be very careful when purchasing French Bakelite/Galalith. French Bakelite doesn't yellow like Bakelite and Catalin. Using the hot water test French Bakelite should smell like burnt or rotten milk, and believe me it only takes a small whiff to smell it!
Celluloid
:
Celluloid is another early plastic. Celluloid is an early plant based plastic made from cellulose and camphor. It is usually very brittle and is also highly flammable. It is sometimes called "French Ivory" in which cases it appears to be ivory. Celluloid was made to produce a number of items, my favorites being jewelry, buttons and dresser sets. When heated up using friction or hot water celluloid smells like camphor, or Vicks Vapor Rub.
How to spot fakes:

One dead give away that something advertised as Bakelite/Catalin is a fake is if it is white (unless it has been restored or reworked, in which case it should be mentioned in the description). Any metal on the jewelry should be riveted into the plastic, not glued (again, unless it has been restored/reworked). There should also be no mold lines. All Bakelite/Catalin has been machined, sanded and/or hand finished and therefore there should be no marks left on the piece. It is also heavier and more dense than other plastics. There is no modern Bakelite/Catalin jewelry, except for reworked pieces by various artists made out of vintage Bakelite/Catalin. Although they still manufacture it for some electronics Bakelite and Catalin pretty much died out after WWII.

Beware of Fakelite, it looks like Bakelite and Catalin. You should not pay more than $20-$30 for a Fakelite bracelet. One dead giveaway that someone is selling fake bakelite is if their title states "Bakelite Style". They have stockpiles of this stuff; which is still being manufactured; that can be bought at low prices. And they won't be running out soon. If you want a real guaranteed vintage piece stick to Bakelite/Catalin.

Testing Bakelite and Catalin:

409 Test:

The 409 test is the easiest test for the beginner. All you have to do is wipe the piece; preferably in an inconspicuous area; with a Q-tip loaded with 409 and it should wipe off yellow. YET, this test doesn't always work on black Bakelite/Catalin or reworked/restored pieces. Be sure to rinse the piece with water after testing, the ammonia can destroy the finish. If the piece has metal on it be sure to dry it off well to prevent rusting.
Simichrome Test:

You can also use Simichrome (a metal polishing compound). Load a Q-tip with Simichrome and wipe the piece, and it should come out yellow. AGAIN, this test doesn't always work on black Bakelite/Catalin or reworked/restored pieces. Simichrome can also be used to polish your pieces, using a soft flannel cloth.
Friction Test:
The friction test is simply done by rubbing the piece until it is warm and smelling the piece. To do this test you usually have to have a great nose. Once you are familar with the ways different plastics smell this test can come in very handy!
Hot Water Test:

The hot water test is by far the most accurate, though you must have a good nose and know what formaldehyde smells like. You can just hold the piece under hot running water or you can heat some water in the microwave and dip the piece in the water. Submerge the piece for 15-30 seconds. Immediately smell the piece. If it is Bakelite or Catalin it will smell like formaldehyde. Celluloid (another vintage plastic) will smell like camphor or Vicks Vaporub. If it smells like rotten or burnt milk it is French Bakelite/Galalith. Once you know the smell of Bakelite/Catalin you will never forget it. This test will work on all pieces no matter the color or if it has been reworked or restored.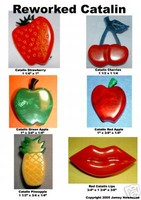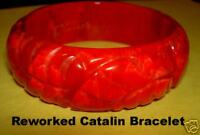 Once you become well acquainted with Bakelite and Catalin, you should be able to easily spot it. Though you should still test all pieces before selling, no one is perfect.