Buyers Beware.
Sellers Take Heed!!!
There is a rash of counterfeit products in the marketplace and Magpul is not an exception. Virtually every product that Magpul makes has been counterfeited ( I am not talking about the fully licensed PTS items). Whether it is the Magpul MS2 Multi Mission Sling System, the Magpul ASAP Sling Attachment Point or a simple item like the Magpul iPhone Field Case counterfeiters have figured out a way to creep these counterfeit products into the marketplace. You can find them on online auction sites, local gun shows and even at some hometown retailers.
Below is a comparison of the Magpul UBR Stock and a Chinese made counterfeit.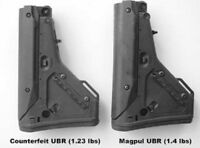 If a picture is worth a thousand words this one says it all. The difference is obvious. The quality difference is obvious. Can you tell which is real and which is fake?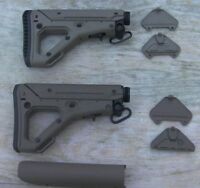 TOP- Real
Bottom- Fake
Trademarks-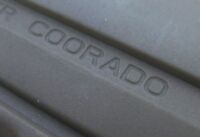 The fake comes with two cheek rests. One of which is lower profile than the standard one, with Colorado spelled wrong.
The other standard cheek rest, provides correct trademarks on the right side. However, on the left side the Chinese copy reads "Magpul Industries Corporation" while the real one reads "Magpul Ind Corp Patented"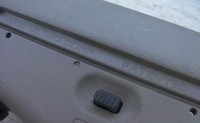 REAL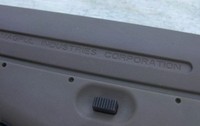 FAKE
Material, Color & Texture:
Material: The real one's material is the nice Polymer we know, love, and expect from Magpul. On the other hand, the china one is a plastic.
Color: The real one's color is a bit lighter than the fakes, and of course, matches all other FDE that is on the market (For the most part). The fakes, is a deeper FDE, almost like a light brown.
Texture: The real one's texture is very nice. The texture is very robust and strong and provides a 'pattern' of sorts which can be seen. The fakes, is a smooth finish with a rougher surface than the real.
The back screw that mounts to the included receiver extension on the real UBR is a flat head while the fake uses a 4mm allen.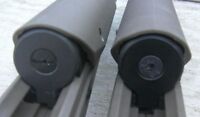 Stock settings:
The real one features engraved numbers, black. The fake features laser engraved numbers:
Real on the top, Fake on the bottom: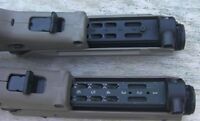 I hope by providing this information you have been empowered and can make an informed purchase decision. The only way to stop counterfeiters is to report them and the sellers who sell their products.
Good Shooting and Be Safe,
Black Rifle Tactical