If you find this guide to be helpful, please vote "yes" at the end!
The authentic Christian Dior monogram material (as well as all others like gucci, LV, etc.) are very easy to copy, duplicate. Bootleggers can design a handbag with everything from the "authenticity card" down to the couture stitching but as long as it is not an exact duplicate of the authentic item, and is advertised as a replica item for "entertainment purposes only" they can make them. eBay does not allow sellers to sell any items that are not authentic. Sellers can not use the name of the designer in their headings for auctions and state that items are not authentic in the description. I have seen some of the worst quality replica handbags selling for $300 and in some cases eBay has not been able to catch them. It is up to buyers and sellers to report fake and bootleg items to eBay to protect all eBayers, buyers and sellers.
Just because you see items advertised on this page does not mean they are authentic. I have no control of what eBay advertises on any of the guides.
This is one of the hottest items on eBay, don't be tricked into thinking you are buying an authentic handbag! Here are a few clear ways to tell if your item is authentic or not.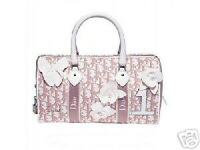 This bag comes with a rhinestone LOCK ONLY not a lock and a key.
The zipper pull is a leaf-like oval shape. Clearly not a circle, square, or rectangle.
The zipper has short white leather zip thingys (not sure what you call them:)
There is a white cotton dustbag with dark gray writing. No authentic Dior bag will ever be satin with red writing.
The hangtag has a barcode and style number.
The flowers are pure white and thick. Not ivory colored and thin.
No authentic handbag will ever have clear plastic covering the handles.
At the bottom of the purse there are four metal feet that can support the purse so that it never sits directly on a surface.
The rhinestones are shiny and perfect, not dingy and dull.
The color is a light pink, rose color, not hot pink, exotic pink, or dark pink.
The inside is pink satin with one zipper pocket. THERE ARE NO LOGOS on the interior.
Every boston bag regardless of collection is always 28cm x 15cm x 12cm. Nothing over and nothing under. 11in x 6 in x 5 in
There is a tag on the inside of the bag with a date stamp.
There are 3 flowers and one butterfly, a number one and Dior writtten out in rhinestones.
There is one flower directly above the number one which is to othe right of the bag. There are two flowers in between the dior strips, one right beside the strip and one underneath going toward the left, and one butterfly at the top left corner of the bag.
Dior is written out twice on the strips and is NOT AT ALL THE LEAST BIT COVERED by the handle.
The bottom of the handles are leaf shaped with metal fasteners.
There are no letter Ds that connect the handles to the bag.
Dior should scroll upward so that you would have to turn the handles to the right to read it right side up.
Please note the following pictures are of bootleg bags or bags that are not at all authentic. If you think people would never buy these you're wrong because every one was sold on eBay, two which went for well over $280.