OK - I admit it - I'm a DECAL-AHOLIC. My hubby complains that if the dog sits still for too long around our house, he'll get painted and covered in roses!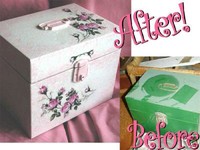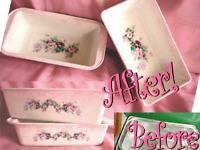 Tips & Tricks for applying Rose Decals
Here are some tricks for applying water-slide decals like a pro:
-->You'll get the best results if you use your decals on a white or cream colored surface (paint it & distress it "Shabby Chic" style - see my other guides for these instructions.)
--> Prepare the surface you're applying them to with a glossy clear coat (like Delta Ceramcoat - you can get this at Michael's) This will allow you to slide the decals around until you get them just where you want them.
--> Use warm water to soak the decal (I just figured this out - have been using decals for 4 years now - duh) And give it plenty of time to soak - this will make it slide off the decal's paper backing more smoothly onto your item
--> Put a couple of drops of water on the item's surface before you slide the decals on, this will help them slide around better and will make it easier for you to get any air bubbles out.
--> After you put the decal in place, use a wet tissue or napkin to press out any bubbles or creases.
--> After the decal is dry, topcoat it with Delta Ceramcoat - use matte if the rest of your painted item has a matte finish, or glossy if your item is glossy. Then your decal will look hand painted, rather than having a finish that doesn't match.
Before & After Rose decals
Here are some projects I recently completed with the above method. Painted them with a good primer (I use Kilz water based primer - blocks stain and rust and will stick to ANYTHING - even glass)
Before: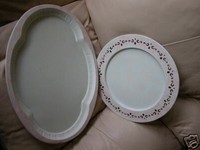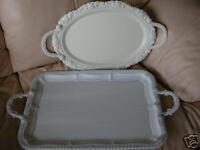 AFTER!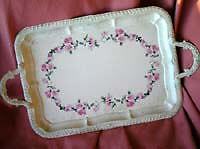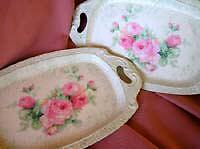 Then I put on a base coat of creamy white - see instructions shortcuts and tips for painting in my other guides:
Trash to Treasure with Decals: Shabby Chic Home Decor
Easy Cheap Crackle Finishes: Shabby Chic Furniture
Confessions of a Lazy Painter: How To Paint Stuff QUICK
Top 10 Furniture Painting Shortcuts & Tips
Shabby Chic: How to Distress Painted Furniture
After the basecoat of creamy white I blended in a different white with a sea sponge, to give it more of an aged look. Then added a border of sage green or pink to each tray.
Once that was dry, I added the decals and got an instant collection of tole trays - all for a super inexpensive price!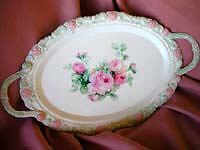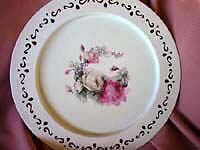 Over 100 decal designs reproduced from hand painted antiques can be found in my eBay store