This is a "quick" guide to help ebayers find out which Apple Airport Card is needed for which Apple Macintosh Computer or Laptop. This guide is designed to help match the correct Apple Airport card with particular laptop models. Apple has sold two basic designs of their Airport Card, the
Original Apple Airport Card
and the
Apple Airport Card Extreme
. Physically they are very easy to distinguish from each other. The
Original Apple Airport Card
has the physical from factor of a PCMCIA card and the
Apple Airport Extreme
is about half that size.
1.
Original Apple Airport Card

802.11b Apple Part # M7600LL/A

(discontinued by Apple can only be sourced on Ebay or other re-sellers)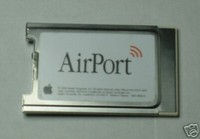 The following machines need this card in order to connect to a wireless network.
Clamshell ibooks G3 (300, 366 & 466 Mhz)(installation slot located under keyboard)
white dual USB G3 ibooks (400 to 900 Mhz )(installation slot located under keyboard)
slot loading colored G3 iMacs ( 400 to 700 Mhz) (requires adapter to logic board M8753G/A)(located next to 2 ram bays)(NOT G3 350 Mhz !!)

Power Mac G4 towers ( AGP thru Mirror-drive doors)(installation slot on motherboard)(exception Mirror-drive door models with 800 Firewire)

eMac G4 (700 to 800 Mhz)(installation slot located in Combo or Superdrive bay)( this model was know as P69, only the model that shipped with Nvidia Geforce 2 MX graphics cards. The 800 Mhz that shipped with the ATI Radeon 7500 check below needs Extreme Airport Card, this info is found under About this Mac when clicking on the Apple Logo check under Graphics/Display after clicking "More Info")
Cube G4
iMac G4 15 inch(700 and 800 Mhz)
iMac G4 17 inch(800 Mhz) only !

The following machines can use this card but also offer much cheaper alternatives if running OS 10.2.4 or higher in PCMCIA 802.11g cards.
Pismo Powerbooks (400 to 500 Mhz)(installation slot located under keyboard)
Titanium Powerbooks (400 to 1000 Mhz) (installation slot located under bottom cover)
The original Airport Card might look like a PCMCIA card but it will NOT work in any PCMCIA slot, it is design specifically for the Apple Airport Card slot found on the machines listed above. Should you want to connect to a wireless network specially with an older Powerbook G3 like Lombard, Wallstreet, 1400, 2400, 3400 or others you need to find a PCMCIA card compatible with your Mac OS. If you only run classic you will need to find some older 802.11b cards like for example Orinoco Silver card and run at least OS 9.0.4, plus applicable drivers. Or you need to run OS X 10.2.4 or higher and you can then get an 802.11g card just like mentioned above for the Titanium's or Pismo's. The great advantage of running a PCMCIA card in a Titanium is that the very very poor reception with the Original Airport Card is no longer a problem.
Please feel free to contact me and comment on the information provided in this guide specially if you see an error.
Alternatives to Original Apple Airport Card 802.11b are very few. The only direct replacement is even harder to find then the apple card. Sony made the Original Apple Airport Card for Apple, the Sony Part number is PCWA-C150S or ERA-201D1, same card except it has an antenna on the top of it that once unpluged yields an Original Apple Airport Card with Sony labeling.
The other option is an older Lucent Orinoco Silver or Gold card, stop continue reading. NO this card does not work as a 100% replacement, but it can be used very easily as a testing card to see if the airport card slot is working. The card will be recognized and work in an Original Apple Airport card slot, but it physical size with it's antenna attached makes it impossible to close the casings on many Apple products that use this card. Hence I write good for testing purposes, to see if the airport card slot is working. The very advanced might want to think of the few real hackers that have decided to strip the lucent orinoco cards down to the silicon board only and used them in clamshell and ibook g3's. The result is a slight buldge in the keyboard, it is very much a hack and not recommended. Lastly I hear there is people that have broken off the antenna part and re-soldered an airport card antenna connector to these. Again the Orinico Lucent Wavelan Silver and Gold cards a very much experimental, I keep one around for airport card slot testing purposes and caution users to be very careful going this route.
2. Apple Extreme Airport Card 802.11g Apple Part # M8881LL/A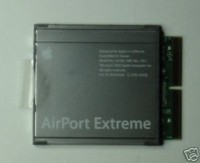 The following machines need this card to be able to connect to a wireless network.
Power Mac G4 mirror-bay door with FW800
Power Mac G5 PCI-X models

eMac G4 (800Mhz - 1.42 Ghz) (extreme only works in OS X 10.2.3 or later)(slot by combo or superdrive)(again owners of 800Mhz machines need to check if they which graphics card they have see above under Original Airport Card)

iBook G4 (slot under keyboard)
iMac G5
iMac G4 15inch(1 Ghz or faster)

iMac G4 17inch(1 Ghz or faster)
iMac G4 20inch(regardless of speed)
Aluminum Powerbook G4 12 inch
The following machines can use the this card or any other PCMCIA 802.11g card to connect a wireless network.
Aluminum Powerbook G4 15 inch model A1046 & A1095, the models A1106 and A1138 have the built in version like shown below with the 17" models. Check my ebay guide on aluminums

The following machines come with the Apple Extreme Airport Card already built in
Aluminum Powerbook G4 17 inch 1 Ghz, 1.33 Ghz or 1.5 Ghz (should you have a broken card in a 17 inch machine, the card actually used is not the same as in the picture above but has a ribbon attached to it already that connects it to the logic-board)(many different part numbers used on the ribbon color of the connect is brown vs white in the one below)

Aluminum Powerbook G4 17 inch 1.67 Ghz (low Res) card looks the same as ribbon type below except the connector to the logic board is white not brown as the low res earlier models.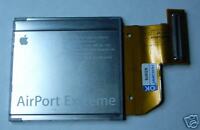 3. Apple AirPort Extreme and Bluetooth Combo Card A1126
Aluminum Powerbook G4 1.67 Ghz High Resolution 15"

(A1138)

& 17"

(A1139)

use Apple Part #661-3614 (Airport Extreme and Bluetooth 2.0)

Mac Mini G4 1.33,1.42 & 1.5 Ghz (not the intel mac mini)

G5 iMac isight 17" & 20"
iBook G4 1.2 , 1.33 & 1.42 Ghz
also same card as used in PCIe G5 as listed below except without runaway board and screws/rivots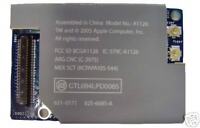 4. Apple Airport Card Extreme and Bluetooth Upgrade Kit Apple Part MA252G/A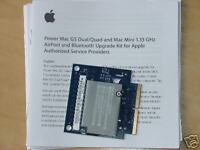 Power Mac G5 PCI-Express models

Bluetooth and Airport Express module #661-3692 / 603-8559-A


adapter card to plug into G5 #922-7152 / 603-8562-A

This kit is a module for both Airport Card Extreme and Bluetooth 2.0


5. Apple Airport Card Extreme upgrade kit for Mac Pro MA688Z/A or B



Mac Pro 2.0, 2.66 & 3.0 Ghz (Airport Extreme 802.11n only not Bluetooth 2.0)
Also this card is backwards compatible with MacBook, MacBook Pro and MacMini featuring the Core Duo Intel chip sets.
The Core 2 versions have this already.
Please Rate this Guide, your rating makes this guide mean something. If you believe I should correct or edit my guide in any way feedback is always welcome. Not mentioned are the cards for the macbook/macbook pro's will have to update this shortly with more info.