The goal of this guide is to help antique doll collectors and sellers judge the age, possible country of origin and authenticity of china dolls. eBay is a fine venue for collecting and selling
antique china dolls
, however many offered for sale are misidentified. It is common to find vintage reproductions being described as antique, and antique dolls dated much earlier than their real age.
The early years, rare beauties:

The earliest and rarest of the antique china dolls date from the 1840s and were made by pioneer porcelain makers such as German companies

KPM Berlin

(Konigliche Porzellan Manufaktur c.1763 -present) and

Meissen

(1710 - present), and Royal Copenhagen

of Denmark (1775 - present). These china dolls are of the highest quality. China dolls from this early period seldom show up on eBay. They are highly desirable and command the highest prices.

KPM Berlin, Meissen and Royal Copenhagen products were
always
marked inside the shoulder plate with the company signature. If unmarked then they are not made by these companies. KPM Berlin dolls are distinguished by a red line on the edge of the eyelid, but no line in the eyelid crease.
It should be noted that Royal Copenhagen reissued 3 models of china shoulder heads starting in 1978 that were based upon their original 1840s models. The male version of these reissues is only marked inside the back of the shoulder plate. The 2 lady reissues have the word Denmark and 3 wavy blue lines on the outside and the model numbers inside. There were 3 models reissued, a 5 1/2" shoulder head of a lady with bun, a smaller lady with bun, and a boy the same size as the latter. It was a small production run that was only made for a couple of years. These more modern versions are hard to find and are desirable, however they are not as valuable as the original antique ones and should not be confused with them. The Royal Copenhagen example below, on the bottom left, is one of the reissue heads.

Other early companies followed. Most in Germany (
A.W.Fr.Kister, Limbach, Kestner
, etc.), Poland (
TPM
, Carl Tielsch), Czechoslovakia (
Schlaggenwald
), France (
Jacob Petit
and others), and Sweden (
Rorstrand
). There is debate about whether England produced certain china dolls as well. Note that there were literally hundreds of small porcelain manufacturing companies springing up by now, and many of them made china dolls, so this list of manufacturers is just the tip of the ice burg.
The china dolls from the 1840s - 1850s can be found with a variety of hairstyles, such as the Lydia style with long ringlets almost to the shoulder, the Greiner style with shorter hair and exposed ears similar to the papier mache Greiner dolls, and the lady dolls with swoops of hair on either side pulled back into a bun.


The middle years, peak popularity:

In the 1850s and 1860s the popularity of the china head dolls grew. More styles by more companies were available, though the most common was the covered wagon hairdo. Most came from German companies such as

A.W.Fr.Kister, Kestner, Kloster Veilsdorf

,

Limbach

, and

Conta & Boehme

, among others. Hair styles became more varied and elaborate, some were made as portraits of famous ladies such as Jenny Lind. Special features such as glass eyes, and the so-called Motschmann type bodies were sometimes made. The French companies

Rohmer, Barrois and Huret

marketed some fashion dolls in china, though most were in bisque. Again, this is not a complete list of all the companies producing china dolls.

Covered Wagon Alice/Kister French/Barrois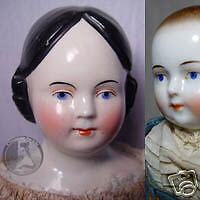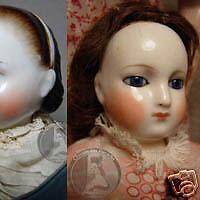 From the 1860s and 1870s, to the end of the 19th century, the companies

Alt, Beck & Gottschalck, C.F.Kling and Hertwig

joined the ranks of china doll producers. Alt, Beck & Gottschalck was probably the most prolific manufacturer. Some blond chinas and male dolls were also produced during this time. A few black chinas were also made. The faces became more childlike with rounded cheeks. The most common hairstyles were the high brow type and flat top style.


1860s -1870s china head dolls
The late years, decline:

By the end of the century the popularity of china dolls was losing out to the bisque dolls. Most china dolls of this period were modeled as children. C.F.Kling continued to make chinas during the end of the 1800s. Hertwig continued into the first quarter of the 1900s, but the quality of china dolls declined in the early 1900s. The most common hairstyle was the lowbrow type. Hertwig introduced Pet name chinas in 1895, usually placed on cloth ABC or flag bodies. Dolls of this era are the type of china most often seen on eBay. Also the trading company Bawo & Dotter contracted with both Hertwig and Kling to make dolls for them. The low brow chinas continued to be sold as late as the 1930s-1940s.

In 1890 the McKinley Tariff Act was passed, requiring imported goods to be permanently marked with the country of origin, The Act went into effect in 1891. Therefore, if a doll head is impressed with the word "Germany" it dates no earlier than 1891. In 1921 the Act was amended to require the addition of the words "made in". Any dolls impressed "Made in Germany" date after 1921. The Act was also amended in 1917 to allow imports to be marked with a rubber stamp or pasted label. Those labelings often didn't withstand the passage of time and are now unmarked. Most of those items were made in Japan, though they previously used the Nippon mark. Goods that were made for domestic use in Europe or Asia wouldn't have had to comply with that law.

There were a few high quality china head dolls produced during the first quarter of the 1900s.

Dressel & Kister

made fine figurines, half dolls and some shoulder head dolls.

Nymphenburg

also briefly made a high quality china doll during this time.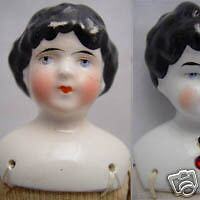 Kling Hertwig Dressel&Kister

During the mid 1900s there was a vogue for reproducing the old china head dolls. A few were high quality manufactured products, such as those made by

Emma Clear's Humpty Dumpty Doll Hospital

.

.

Emma Clear dolls are desirable collectible dolls today.

Ruth Gibbs

also produced a nice simple china doll in the 1940s and 1950s

. Mark Farmer

marketed a wide variety of cheaply made china dolls in the 1950s, both assembled and as parts. The Mark Farmer dolls are frequently sold as antique on eBay, but have low value.

Japan

produced china dolls. The earliest Japanese china dolls are blond or black haired with pierced ears from the 1940s. The Japanese also made doll kits for home handicrafters in the 1970s. These are also sometimes offered for sale on eBay misidentified as antiques, though of low value. They were originally labeled by a sticker inside the head, but this is often lost. They are also marked with an embossed number 5 on the back of the shoulder plate.

There was a big home handicrafter fad for making ceramic pottery "china" dolls in the 1950s-1970s. The quality of these dolls ranged as widely as the talents of the home crafter, but is usually poor. Often these dolls exhibit a fine crazing to the surface glaze. Sometimes the facial features are wildly painted. These often show up on eBay misidentified as antiques. They have little value.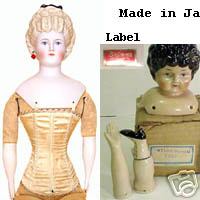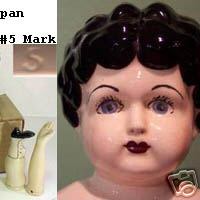 Emma Clear Japanese kit doll Home made

Tips for Collectors:
Marks

: Most china dolls are unmarked, and some companies with known marks were inconsistent in marking their products. Often the only marks found will be simple incised numbers or painter's tic marks inside the shoulder plate. Late period Hertwig dolls may be impressed with GERMANY or Made in GERMANY on the back of the shoulder plate. Alt, Beck and Gottschalk china dolls may be marked with a model number on the back of the shoulder plate. Kling's emblem is an impressed bell and may also have a model number. KPM, Meissen and Royal Copenhagen products are always marked. The KPM mark varied over the years but usually has a sceptor included in some form. The Meissen mark is crossed swords. The Royal Copenhagen mark is 3 parallel wavy lines. Emma Clear dolls are often marked Clear plus a 2 digit number for the year made, or the letter "C" for Clear plus the 2 digit year number.
Values

: In general the value of a china doll depends on the shoulder head. A damaged shoulder head can be worth 75% less than a similar undamaged one. A china doll that is still on its original body and dressed in its original clothing may be worth 25% more than a similar "assembled" doll, but it can be difficult to tell if the assembled parts are all antique. The most commonly found china dolls in today's market are the low brow style, with hair molded low over the forehead such as the Hertwig example above. The low brow type of china doll was mass produced from the 1890s through 1930s/40s. It is still possible to buy these heads alone for just a few dollars, and complete dolls of modest size for under $100. Larger low brows with complete original bodies, antique bodies and clothing, and an added feature or 2 can still be found in the $300 or less range. Blonds are slightly less common, as are those with added special features such as jeweled necklaces. These late period chinas are a good way for a new collector to begin. Some collectors like to specialize by collecting examples of all the names in the Pet Name series by Hertwig, or trying to find heads of the same model in a range of sizes. In contrast, the china dolls of the earliest period are difficult to find. Examples by KPM, Royal Copenhagen, and Meissen have sold recently for well over $10,000 at doll specialty auctions. China dolls from the peak middle period, with special features such as glass eyes and elaborate hairdos, can also fetch several thousand dollars. It is wise to start small and educate your eye before making such an investment.

Crazing in the glaze.

*This usually indicates a vintage ceramic non porcelain reproduction of poor quality.

Shoulder plate damage that is hidden

by tightly sewn on clothing or cloth cover. *This was frequently done to cover a damaged shoulder plate. Ask to see that area revealed.


Restored or repaired damage.

*Old repair materials tend to yellow with age. Be wary of yellowed areas on the shoulder plates that might mean a rebuilt shoulder plate. Ask if the area has been checked with a black light.


Flaking paint

, as opposed to age related wear to high points. *May indicate repainting to hide old repairs or cracks. Fired on glaze colors do not normally flake or peel off, but repainted areas on top of original glaze will. A blacklight can be used to reveal repainting.

Fakes being sold as antique.

*Poor quality vintage reproductions are relatively easy to spot, however there are some copies coming out of Germany being made from old molds salvaged from abandoned factory sites. These are trickier to differentiate. Most of the German fakes are being made in bisque or parian, but a few chinas have been cropping up as well. Be cautious about perfect shoulder heads being sold as dug or factory salvage.

Hairlines, chips, cracks, and rubs.

*China dolls carry most of their value in having intact and completely undamaged heads, including shoulder plates. Any damage can take away as much as 75% of their value. Even a faint hairline can cut value in half. Such damage is more acceptable if the head is especially rare. Some rub wear to the high points on the hair is acceptable, but rubs that effect the face are more bothersome. Watch out for severe nose rubs as they detract from value.


Dolls labeled "All original".

*Few items survive over 100 years in the same state that they left the factory. Dolls were toys that children dressed and redressed. It is seldom possible to know for sure that a doll of this period is "all original". It is enough that clothing be antique and of the same time period that the doll dates from. Most china dolls were dressed in relatively simple styles, so highly decorative, ruffled and lacy outfits are suspect.


Replaced bodies.

*Bodies wore out and were replaced, sometimes with a brand new body and sometimes with another antique body. If the body is antique also, look at the way the doll is attached to the body. If the head is sewn on, do the threads appear as aged as the body? Are there signs that another head of slightly different size might have been on that body before? While an "all original" doll with original body and clothing is a plus and is more highly valued, I consider an antique head on an appropriate non-original body to be quite acceptable, especially for a rare early china. Keep in mind that most of the value of these dolls is in the shoulder head.

Note:

The term

pink luster

is frequently and incorrectly used to describe some early china head dolls which have a pinker toned complexion. Pink luster is an iridescent metallic surface, created by using gold in the glaze on the porcelain. There are no metallic glazed china head dolls. The correct term for those with a pinker skin color is simply

pink tint.



What kind of defects can you live with?

Antique china dolls are not going to be found mint in a box straight from the factory. Avoid damaged shoulder heads unless it is a rare model. Damaged heads have severely lowered value and are hard to resell later. However they are useful as study examples and to practice restoration techniques on. Damaged limbs are not as important. Replacement parts, both new and antique, can be found.
Recommended Books:
"Chinas, Dolls for Study and Admiration"

by Mona Borger : Published in 1983, this book is nicely arranged, with beautifully photographed examples without leaping to unfounded conclusions.


"The Collector's Encyclopedia of Dolls"

(volumes 1 and 2) by Dorothy, Elizabeth and Evelyn Coleman : Volume one published in 1968, volume two published in 1986. This pair of books should be a staple on the book shelves of any collector of antique dolls. The 2 volumes offer an overview of information on a vast range of different types of dolls based on well founded research. Many photographs of ALL kinds of dolls.

"

"Blue Book Dolls & Values"

by Jan Foulke, volumes 1-16 : These books were published over a series of years ending in 2003. They offer examples and values of many different types of collectible dolls. In 2006 Jan Foulke published

"Jan Foulke's Guide to Dolls"

, another excellent general value guide for all kids of dolls.

Identifying German Chinas 1840s-1930s"

by Mary Krombholz : Published in 2004, this book makes an attempt to identify the manufacturers of German china dolls based on similarities in facial paint alone. No comparison of modeling or markings to ID. A nice attempt with good photos, but too many generalizations has lead to some erroneous identifications and too few manufacturers mentioned. Still this book is the most recent and best attempt to date. No info on china dolls from countries other than Germany.


"China, Parian & Bisque German Dolls"

by Lydia Richter : Published in 1993, Many good photographs, including marks. Interesting to compare the same models of dolls that were sometimes made in both china and parian. Errors in identifications abound. This book is limited to only German dolls, though the vast majority of chinas were German made, it excludes French, Swedish, Polish, Czech and any other countries of origin.

"

Beloved China Dolls"

by Mildred Seeley : Many photographs of beautiful and rare china dolls, however very inaccurate when it comes to identifying the manufacturers.

"Conta & Boehme Porcelain"

by Janice and Richard Vogel : This book is not specifically about dolls, but does offer help in identifying some dolls made by this factory by showing shards of doll heads dug from the factory grounds.

If you have further questions about china dolls or dolls in general, you will find many knowledgeable people to ask on the
eBay Doll Discussion Board
. Just remember that no live auctions can be discussed and advertising is not allowed.
If you are interested in learning about
china doll reproductions
and/or
parian dolls
please read my guides on those subjects.
Thanks and happy hunting!
I would like to give credit to the doll book authors who have helped discover some of the history behind these antique dolls; Elizabeth Ann Coleman, Mona Borger, Mary Krombholz, and also researchers Christiane Grafnitz and Greg Mountcastle. They have all contributed towards a better factual understanding of china dolls, with more to come.