This guide offers information on some of the most highly valued saddle, chaps and holster makers of the old west. Famous individuals like Meanea, Porter, Myres, Ernst, Irick, Williamson, Collins Brothers, Furstnow and others as space allows. Some of the information presented here will be new to collectors, never before revealed. I've used my experience as a Forensic Genealogist to access databases not generally available to the general public.



J. T. Irick Cheyenne & Casper Wyoming
James T. Irick Jr. was born October 21 1889 in Gainesvlle Texas. His father at the time was a merchant and he had three sisters and two brothers. By 1910 the family had moved to Blackburn, Oklahoma where is father, James T. SR., took up a career as a saddle and harness maker. About 1911 young James came west and took a job in Cheyenne Wyoming working as a saddle and harness maker for F. A. Meanea. In 1917 he was drafted and his card stated he was still employed by Meanea. He was 27 by this time. Irick was a single man and roomed with a fellow longtime employee of Meanea's, James Hagar after Hagar's wife died. It always struck me that Irick's leather goods looked a lot like Meanea's and now we know why! Irick eventually left the Meanea shop after Meanea's death and went North to Casper where he opened his own saddlery and operated from 1929 through the 1950s. Many of his outstanding leather goods turn up here in Casper from time to time.
F. A. Meanea
Wyoming Territory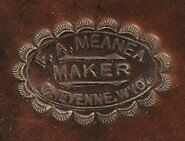 Francis (Frank) A Meanea JR. was one of the original Wyoming Territory Saddlemakers and probably one of the most desirable makers to collect. He was born in Missouri 1849. He came West to operate a branch office of uncle's Saddle Shop, Gallup & Gallatin in Cheyenne about 1868 and within 4 or 5 years he owned the shop outright. He was considered to be a pioneer in the Mail Order business and from time to time his advertising cards come up on eBay where they command many hundreds of dollars. Meanea developed some novel aspects in leather working, especially in his beautifully made gun holsters. Improving on the popular Mexican Loop style, he style incorporated the Cheyenne Plug (closed toe/bottom) and made a bulge in the holster on the recurve between the skirt loops which held the holster down in the event of a 'quick draw'. His saddles were extremely well made and very popular with the Cowboys of the West, with his design of the Cheyenne Roll (cantle). He died in 1928. Beware modern reproductions! The old antique and original goods were stamped F.A. Meanea. Family members operating the saddle shop in the 1980's (in the same location) use the stamp F A. Meanea CO. His saddles were so enduringly popular that one enterprising company, Tony Holmes Saddle shop, stamped hundreds of saddles with the Meanea mark and sold them through Western Ranchman Outfitters as the "Meanea" Cowboy saddle in the 1930's and 1940's. These saddles are stamped on the fenders, a spot in which Meanea never used. Noted Western artist Charlie Russell owned a fully tooled Meanea Saddle.
Otto F. Ernst
Sheridan, Wyoming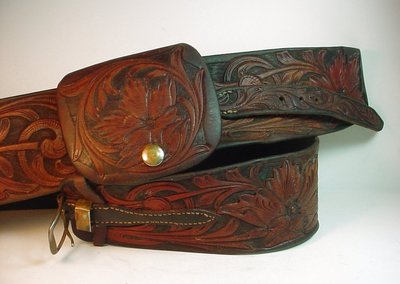 Ernst was originally partnered with John Buckley in Sheridan Wyoming from 1902 until 1907 and after Buckley left, Ernst brought in many of his family members. His brother John was master saddler, and his son Ernie joined the firm in 1921. Otto died in 1938. His beautiful leather work remains as testament to the floral carved leather items of that time. Many reprints of his catalogs can be found online and are a good resource for research. Popular Western artist E. W. "Bill" Gollings owned an Ernst Saddle with wooly saddle bags which he treasured. Ernst was saddler to many of the Dudes who first stopped in Sheridan before going on to the area's many Dude Ranches.
JS & GH Collins
Nebraska, Montana and Wyoming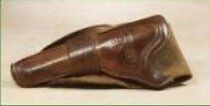 John S and Gilbert Collins are generally regarded as saddle makers to Buffalo Bill Cody and Teddy Roosevelt (who also owned a pair of Collins Sealskin chaps) Learning their craft from their father in Nebraska, they originally started as Saddlers and Harness makers at Fort Laramie in Wyoming Territory ca 1872. They had shops in Cheyenne Wyoming and Miles City Montana and marketed to Texans driving cattle through the area. The sturdy Cheyenne Rig was famous as a preferred saddle among ranchers of the day. They also made holsters in the Cheyenne style having the recurve bulge. Their early maker mark is a shield, which collectors look for in dating Collins goods. The shop in Cheyenne closed in 1885. Gilbert died in 1880 and for a short while John teamed up with John Morrison and manufactured under the name Collins and Morrison. John Collins died in 1910.
A. J. Williamson
Casper, Wyoming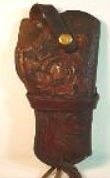 Asher Judson Williamson got his start in saddle making late in life. He was born in Indiana and was a general farmer with a penchant for leatherwork. He moved to Wyoming with his wife Althea Chloe, and three boys and owned his own saddle shop in Casper by 1920. After serving in World War I, he returned to Casper and operated until about 1935 making some of the fanciest tooled saddles west of the Pecos. Williamson died in 1954. His King Tut saddle (seen in the photo above) was inspired by America's fascination of everything Egyptian when Tut's tomb was opened in 1927. An image of the sphinx is carved into the back of the seat. This saddle is available and I will be happy to list it as a private auction, please contact me.
If you would like to see information on a specific maker please don't hesitate to put in a request, I'll try and comply. Please vote for my guide! It helps with placement in the searches on eBay and helps to educate both buyers and sellers. No links to this article without permission and all information, including photos of items from my personal collection, should be considered copyright.