As a follow-up to my first guide, American Girl Dolls: An Insider's Guide, I will provide information and photos to help distinguish the changes over time in the 18" American Girl doll Felicity Merriman. Felicity is especially popular with collectors. This may be because so many of her outfits and accessories have been retired over time, or because of the appeal of her time period ---Colonial Williamsburg, 1774. The following photo shows a first issue Felicity along with the original, solid maroon box, band, and pamphlet.
Felicity was released in 1991; the fourth doll produced by Pleasant Company since its inception in 1986. Prior to her release, the first three character dolls had white cloth bodies. However, due to the lower necklines of the Colonial fashions, the cloth on Felicity's body was a more flesh colored tan. After her introduction, the cloth on all of the characters was changed to tan.
There are some definite differences in the Felicity doll produced in 1991 and those made today.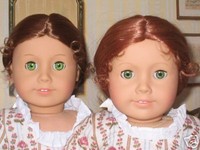 The photo above places a 2004 release Felicity doll (left) alongside a 1991, first issue release (right). The most noticeable differences are:
1)The original doll faces were more rounded giving the cheeks a chubbier look and the eyes a prettier, more natural shape.
2)Although Felicity's eye color has always been green, the original green has a more realistic look to it.
3) The original dolls had a copper-like red hair color (photo A right). Over time (probably as early as 1994), the color softened and is now more of an auburn color (photo A left).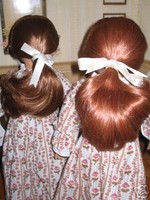 photo A photo B
4)The original doll wigs were attached differently than they are today. The oldest dolls have a ribbon like edging at the base of the wig, along the neckline (photo B).
5)The eyelash color on the dolls has also changed over time. The early dolls had reddish eyelashes that were soft. Current dolls have stiff, black eyelashes.
6)The most recently produced dolls have slightly longer necks and torsos than the original dolls.

7)In the Fall of 2005, American Girl offically changed Felicity's "meet outfit" from that of the "rose garden gown" to what was formerly known as her "traveling gown" (below). Also of note regarding Felicity's meet outfit is that while the style of her cream stockings has not changed over time, the material that they are made from has. The original socks were all wool. At some point in the later 1990s the socks were changed to a synthetic blend.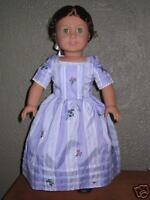 Questions often come up related to the labels found in the earliest Felicity meet dresses.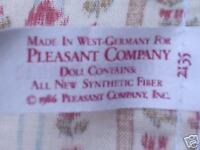 As mentioned in my other guide, the 1986 W Germany labels do not correspond to Felicity's 1991 launch date. Rumors have floated that test lots were conducted on Felicity in 1986. However, there is no proof that any such test lot existed. It is more likely that the same tags used for the meet dresses of the first three historical dolls, were used for these dolls as well. Interestingly, there seem to be no Felicity dolls wearing 1991 tagged dresses. In 1991, Pleasant Rowland (founder of Pleasant Company) signed and dated 500 Felicity dolls to be sold as collector dolls along with certificates of authenticity. Although these collector dolls were not shown in catalogs or on the American Girl website, they were available for purchase from American Girl for $500 each. These dolls came dressed in meet dresses bearing the 1986 West Germany label. It is believed that first issue Felicity dolls wear these dresses and probably did so until 1993.
I hope this guide was helpful to you. If so, please be sure to check the "yes" box below. If you have some additional information on this topic that you think I should add, please feel free to contact me.
Looking for more information on American Girl and Pleasant Company? You can click on the links below to go to my other guides.
Collectible American Girl Dolls: An Insider's Guide

Signed American Girl Dolls
American Girl/Pleasant Co HISTORICAL Boxes 1986 - 2008
American Girl/Pleasant Co GIRL OF TODAY Boxes
PLEASE DO NOT COPY THIS GUIDE OR PORTIONS OF THIS GUIDE WITHOUT PERMISSION
Copyright (c) 2006 Mama_Salama. All Rights Reserved.