Hello, and welcome to my guide on purchasing Gas for your Airsoft Guns!
For those of you know know what you're looking for, here's a helpful Table of Contents:
Correct Gas Type
- Gun Damage
- Performance Issues
Gas Types
- HFC 134A "Duster" Gas
- HFC 22 "Green" or "Top" Gas
- "Red" Gas
- CO2 Gas


Correct Gas Type
By now, you've hopefully read your new gun's manual, and are ready to buy some gas, fill'er up, and get plinkin'!
Before that can happen, however, you must be certain that you are purchasing and using the correct type of gas.
Why?
Here are a few reasons:
GUN DAMAGE*
Believe it or not, using gas that is too powerful for your gun can cause extreme damage to the internal workings, sometimes even breaking the gun completely! Damage can include:
Damaged/Broken Valves
Damaged/Broken O-Rings (Seals that keep the gas inside the magazine)
Ruptured Gas Container (Area inside the magazine that holds the gas)
*Gas Blowback (GBB) gun owners/users should pay careful attention to this fact: too powerful a gas can cause the slide to rocket back and either crack, split, or (even worse) fly completely off the gun in pieces! These results all entail the purchasing of a new slide, a costly and time-consuming process (as many companies to not make "replacement" slides for their guns).
PERFORMANCE ISSUES*

On the other end of the scale, using gas that is too weak for your gun, while not damaging the internals or slide, will cause a distinct loss in performance, such as:
Loss in Feet Per Second (FPS) Speed
Lack of Hop-Up Effect
Pathetic-Sounding Gun (i.e. NOT intimidating at ALL)
*Again, GBB owners/users especially need heed this warning: using a gas that is weaker than the one perscribed in your owner's manual can cause the Blowback function to cease working, rendering your new weapon useless as a semi- or full-auto piece (You'll have to pull the slide back manually each time you shoot in order to chamber a round!).
So, now that you've classified WHY you need exactly the type of gas your manual says you need, let us move on to the various types available for purchase!
Available Gas Types
OK, so by now you've re-checked your manual to ensure that you know which type of gas you are after, and are now ready to browse the available selections. Here they are:
HFC 134A "Duster" Gas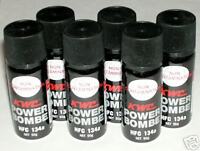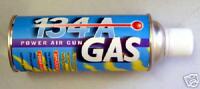 This gas is the weakest of the three gases available, and is generally used in either cheaply made Airsoft guns (their cheap o-ring seals and gas chambers cannot contain anything stronger) or extremely high-quality (and thus extremely fragile!) Airsoft guns. FPS using this gas is usually well below 250, and if guns rated to "Green" Gas use HFC 134A instead, then you can expect an even lower drop. (Note: I believe it is called "Duster" gas because it has about the same power as those gas cleaners that you use to blow the dust and such off of your desk). Pricing can range from $11.00 to $17.00 for a 750 mL canister, and slightly more for the larger 1000 mL canister. With the larger canister, though, you get anywhere from 4000-6000 shots (depending on gun type, magazine capacity, and trigger-happiness).
HFC 22 "Green" or "TOP" Gas*

This gas is the staple "Airsoft Gas" that most people think of when they think "Airsoft Gas." Much stronger than HFC 134A, it works in most "stock" guns (i.e. just out of the box, with no modifications whatsoever), and only a few guns are unable to take HFC 22 without modifications (these would use HFC 134A instead). Usually shooting around 250-350 FPS (depending on the gun, as well as any modifications, of course), this is the gas that your manual most probably recommends buying (Note: there is no real difference between "Green" and "TOP" Gas besides the names). Pricing can range from $11.00 to $30.00 for a 1000 mL canister ($11.00 being the best deal I ever saw, and that being on eBay), and slightly less for the smaller 750 mL canister. Again, with the 1000 mL canister, you get around 4000-6000 shots.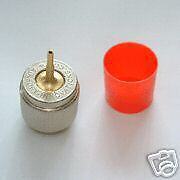 *Note: For the more experienced Airsofter, it has been determined that Green Gas is basically Propane mixed with silicon for internal lubrication purposes. If you are a veteran Airsofter and happen to have a large amount of Propane that you have no other use for, you can buy the above attachment (approximately $30-$50) for use on a Propane canister, while buying your silicon lubrication at a significantly reduced price. However, I only recommend this for experienced Airsofters, as separate lubrication necessitates knowledge of the internals of your gun well enough to dismantle it, lube each part, rebuild it, and have it still function. Those interested can search "Propane Adaptor for Airsoft Guns" on eBay for more information.
"Red" Gas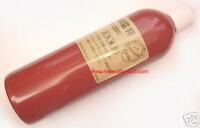 A very vague name, I've never heard it called anything else - however, seeing as this is the most powerful Airsoft-made gas on the market, it can afford to sound vague. Very few guns can take this gas "stock," and most require a large amount of costly upgrades and modifications to enable them to take Red Gas without extreme damage. The effort is worth it, however: Red Gas generally adds around 30-50 FPS to your gun's FPS rating, and can easily push that rating over 400 if used correctly (and the gun is able to take it). Pricing can range from $20-$40 for a 2000 mL container (I have not yet found Red Gas in a smaller container), and as such you generally get twice the amount of shots as from a 1000 mL container (in the neighborhood of 7000-9000).
CO2 Gas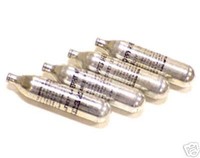 CO2 gas is by far the most powerful Airsoft propellant, even compared to Red Gas. CO2, however, is in a whole different category from either Red, Green, or Duster Gas: CO2 can only go in guns that are specifically made to carry the CO2 cartridge in their magazines (very, very few guns out there are able to take both CO2 and Red/Green/Duster Gas magazines). For Airsoft usage, CO2 gas comes in 12g canisters (enough for approximately 50 shots before needing replacement), and unlike the other gases, the entire canister of CO2 is placed inside the magazine of the gun (making the magazine rather large and heavy). In the firepower department, CO2-powered guns can reach FPS speeds far in excess of 400, with some hitting around 500 (pistols) and even 600 (rifles), and are generally full-automatic in nature. Many people prefer these types of guns over the Red/Green/Duster Gas counterparts due to their enormous range and fast Rate of Fire (ROF). However, with prices for individual CO2 canisters ringing in at around $3-$8 per canister, CO2 gun owners/users can find themselves spending a fortune on propellant (if they didn't already on the gun itself, which is usually much more expensive than the Red/Green/Duster Gas counterparts). Thus, CO2 offers a huge increase in firepower, but an equally huge increase in price.
Well, there you have it! You should now be able to accurately gauge the type of gas that your gun can safely use, as well as knowing which types to avoid without massive modifications.
Now go out there and HAVE A GAS with your new gun!